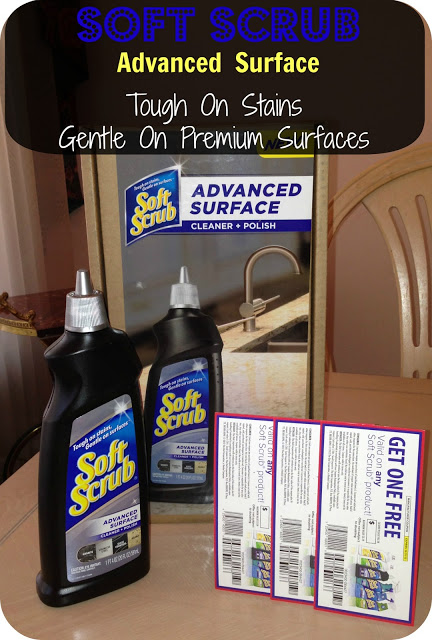 Who doesn't enjoy a cleaning product with multiple uses? Most of us who do the cleaning on our homes would never object! It's nice to find an efficient cleaning product that will not only do the job, but also work in more than one area and on more than one surface. It just makes life much more easier in the world of cleaning. For myself, the hardest room to maintain is the kitchen. It's a high traffic area with a ton of sticky spots, caked on stains, and greasy streaks. At times the cleaning process can make the mess even bigger, with puddles of dirty water covering the counters. I can't stand this and when I was given the opportunity to try and alternative cleaner that would eliminate this annoyance, I

jumped on it.
This new Soft Scrub advanced formula provides a better way to clean premium surfaces in your home. This may include granite, marble, and also stainless steel. For those of you who have high quality counter tops and appliances, I highly recommend this specialized product. It is designed especially for these areas within your kitchen and home. Why use regular soap and a sponge when you have something that will gently clean and maintain those delicate surfaces?
This product is also unlike most I have used. It is a rinse-free gel that cleans and polishes without any water. You can pretty much squirt, clean, and wipe away! There won't be any need for excess water all over your counters, dripping on the floor and making a bigger mess. I think that is what I like most about this. It gets the job done but in a much more efficient manner. Once it is applied to the surface you can wipe it with a sponge, cloth, or paper towel. The grease and grime will glide off with no effort whatsoever. How could you not love this product?!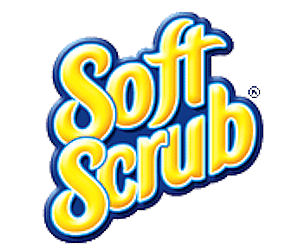 In conjunction with the NEW Soft Scrub® Advanced Surface Insider Kit, Soft Scrub is proud to introduce the Don't Worry, Be Happy Sweepstakes featuring NEW Soft Scrub® Advanced Surface! One lucky winner will receive $1,000, while 250 second place winners get to try NEW Soft Scrub® Advanced Surface for FREE!
Once again, the great and powerful team behind Purex has provided me with FREE product coupons to give away to my readers. You can enter below to win one of three product coupons to redeem for a Soft Scrub product of your choice. Good luck!
Disclosure: The Purex Brand provided me with a sample of Soft Scrub Advanced Surface in exchange for a product review. However, all the opiions expressed are my own.