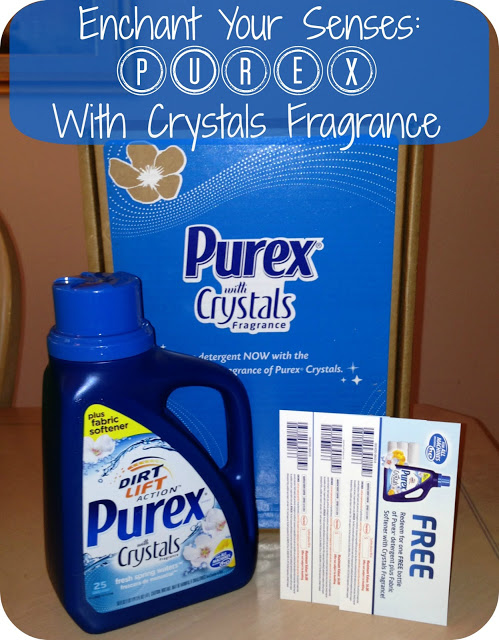 I seem to be on a roll with these Purex posts lately! I guess it's hard to hide my love for their products. It has quickly become a brand I respect, trust, and love. Next up, Purex with Crystals Fragrance. I recently shared my review of the Purex Crystals which seriously changed every single aspect of how I do my laundry. It's all I have been using lately! I was excited when the liquid detergent arrived at my doorstep and it had the same fragrant crystals combined within the formula. It also contains fabric softener! Everything you may need to get your clothing

squeaky

clean and smelling fresh is in this bottle.
Like the Tropical Splash detergent, this also delivers the deep cleaning power of Purex DirtLift Action. This keeps your clothes bright, white, and clean. It is created to work deep into clothing, eliminating any deep stains or residue. I compared this detergent to another leading brand when washing my daughter's sheets. I noticed that a little really did go a long way and

I didn't need a lot to get the job done. Her bedding came out bright, vibrant, and smelling fresh. It was also soft to the touch! Whether you are doing your own laundry or your whole households, I recommend the Purex with Crystals Fragrance because it is superior to other products on the market. You can find this product at your local Target, Walmart, Kroger, and other Purex retailers.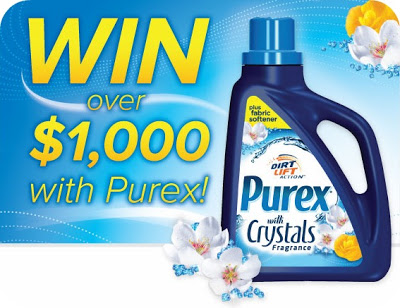 As a fan of Purex, it may be no surprise that they have launched another sweepstakes full of prizes. The "Experience The Enchantment" sweepstakes will have quite a few winners, just over 500! The Grand Prize winner will receive $1,000 and a year supply of FREE Purex detergent plus fabric softener. 500 second place winners will receive a bottle of the Purex With Crystals Fragrance detergent. There are many chances to win in this one!

As a Purex Insider, I was provided with three FREE products coupons for my readers. If you would like the chance to win a bottle of Purex Baby detergent you can enter through the rafflecopter form below. Three will win!
Disclosure: The Purex Brand provided me with a sample of Purex detergent plus Fabric Softener with Crystals Fragrance in exchange for a product review. However, all the opiions expressed are my own.