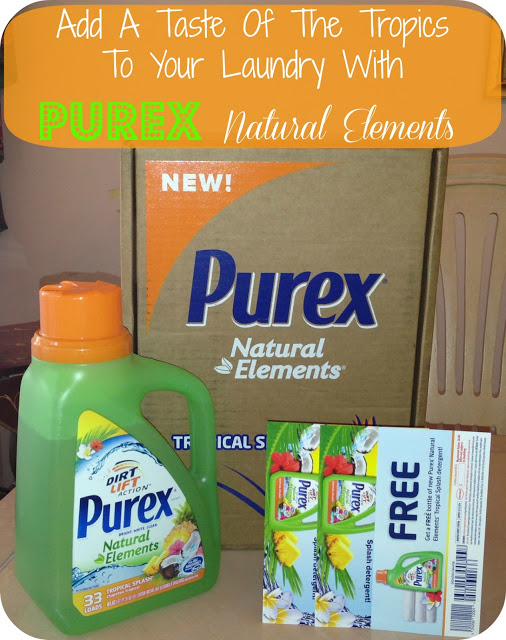 Purex has done it again folks! In addition to their many respected products, a new laundry detergent is making it's debut. The new Natural Elements: Tropical Splash detergent is t

aking laundry rooms to the next level!
Exotic fruits, fresh pineapple, sweet coconut, and exotic flowers are all combined to create a medley comparable to a tropical paradise. This splash of scents and flavors will send you straight to that exotic location you dream about vacationing to. The first time I loaded my clothing into the dryer, I was taken back by a fruity whiff of pure heaven! When it comes to laundry I am very conscious about the scents I choose. After all, we all want our clothing and linens to smell divine right? I've found with many leading brands that the scent only lasts 10-15 minutes after the batch is taken out of the dryer. I used to think that all detergents had the same outcome and result. Once I began using Purex I realized that I was wrong about the results and also the price. I never noticed before but Purex is actually half the price of most competing brands on the market. So you are not only saving money but you are also getting a high quality detergent. The smell is incredible hours, even days later! Tell me that is not high performance right there. Finally, a product that keeps its promises and delivers what I have been looking for.
As a hypo-allergenic and dye free formula, this detergent will not irritate sensitive skin or cause any irritation. It is made with naturally sourced i

ngredients

and

natural fragrance extracts.

Like many Purex products, it can be used in a traditional and high efficiency washing machine. It's Dirt Lift action works hard to remove stains and preserve the

quality

of your clothing, towels, and linens.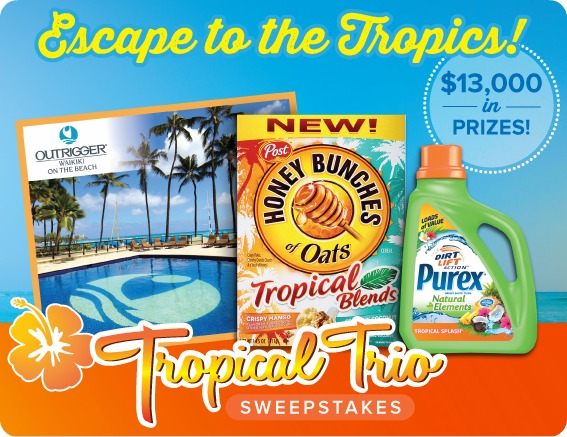 Now onto the sweepstakes where you have a chance to win some fabulous prizes. You will probably recognize this one from my previous post on Honey Bunches of Oats Tropical Blends! In case you missed it, Honey Bunches of Oats is hosting a sweepstakes called the "Tropical Trio" which will have several winners and tons of great prizes. One GRAND PRIZE winner will be sent on a relaxing tropical paradise vacation to Outrigger Waikiki on the Beach! FIVE 1st place winners will receive one-year's supply of Purex Tropical Splash Detergent and Honey Bunches of Oats Tropical Blends Cereal. ONE HUNDRED 2nd place winners will receive coupons for FREE Purex Tropical Splash Detergent and Honey Bunches of Oats Tropical Blends Cereal. Enter now through April 15, 2013 for your chance to win.
In addition to the Tropical Trio Sweepstakes, I am giving away THREE free product coupons for a bottle of the new Purex Natural Elements laundry detergent to three lucky winners. Enter below!
Disclosure: The Purex Brand provided me with a sample of Purex Natural Elements detergent in exchange for a product review. However, all the opiions expressed are my own.