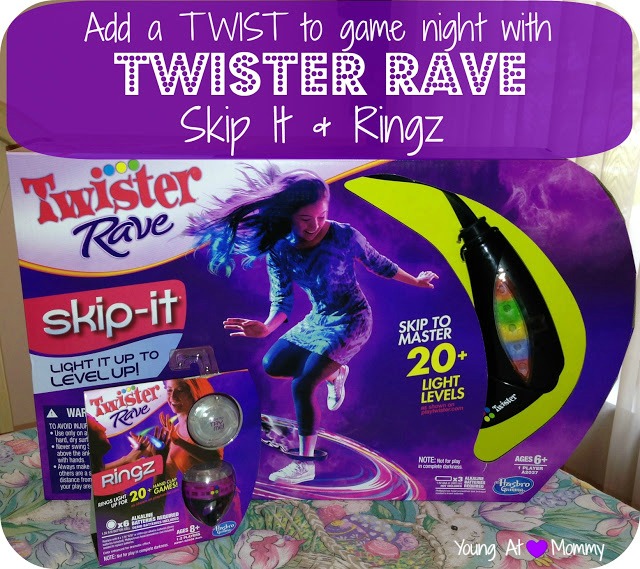 Growing up one of my very favorite games to play was and still is TWISTER. It's a a family friendly classic that never gets old. Whether it is played with two people or five, it is sure to end in laughs and odd positions! When Hasbro offered me the opportunity to try two of their new games within the TWISTER family, I happily accepted. TWISTER RAVE Skip It and TWISTER RAVE Ringz are two games of four in the line. Both can be found at most mass retailers such as Toys R Us, Target, Walmart

, etc.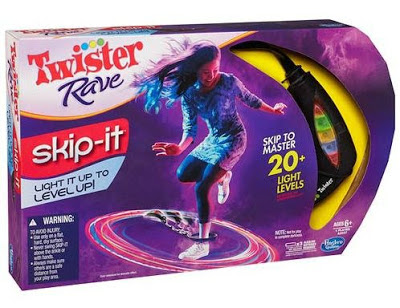 TWISTER RAVE Skip It
really brings me back to my childhood! When I was younger I asked for a similar skipping game for my birthday. It wr

apped around your ankle and
spun around in a 360 degree rotation while you continuously skipped. It was simple fun but I could have done it for hours and been perfectly content. The concept with Twister Rave Skip It is similar but modernized. The device is worn on your ankle and you use your leg to move it in the same motion, swinging it around as fast as you can. Swing and hop to make each color glow. When all four colors glow you know that you have leveled up. This game is designed for one person but can easily be shared amongst a group. This would be a ton of fun to challen

ge friends especially during a sleepover!
Age: 6+; Players: 1; Approximate Retail Price: $19.99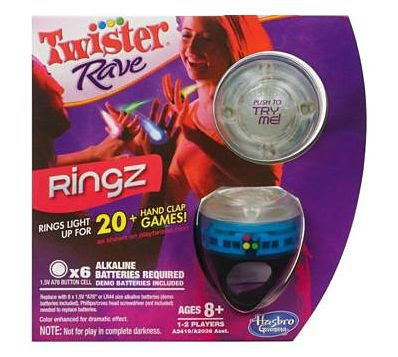 TWISTER RAVE Ringz gives players the ability to take traditional hand clapping games to a new level. When I was in elementary school I remembered playing similar games like "Miss Mary Mack" and "Rockin Robin" during recess with friends. With the Rave Ringz you can play on your own or with another player. When a player snaps and claps their hands together, the rings light up and change colors. The more you move the more colorful your rings will become! You will have to get clapping and moving with this one. The rings make the games more exciting and encourage you to move fast and keep with the beat. This quick-action game challenges you to twist, snap and clap to keep the beat to more than 20 different handclap games. With each movement, the rings light up and change color. If you complete the handclap games in perfect sync, all rings in the game should start and finish on the same color! This game is perfect to bring on road trips or pack in your bag for some quick entertainment for the kids.
Age: 8+; Players: 1-2; Approximate Retail Price: $7.99

Enter below for your chance to win a TWISTER RAVE Skip It and TWISTER RAVE Ringz of your own!

Disclosure: I received my own Twister Rave Ringz and Skip-It for free. I was no compensated for this post and all opinions are my own.