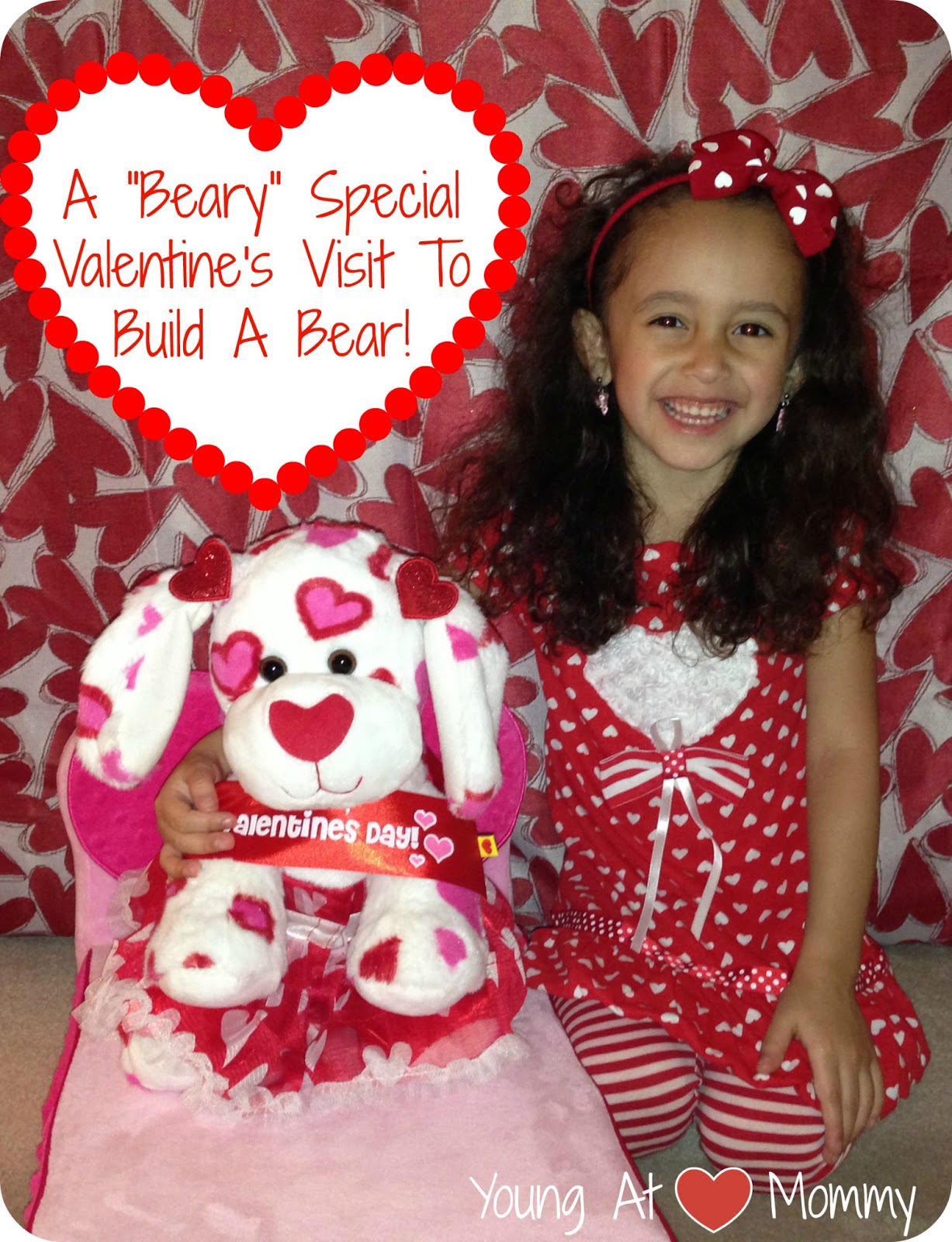 The month of love is finally upon us and that means it is time to continue a "beary" fun tradition. Each year in February my daughter and I take a trip to Build A Bear, only the coolest place to customize your very own teddy! Since Valentine's Day is also Toodie's birthday, we always create a new friend together to add to her growing collection. This year we had the unique opportunity to visit Build A Bear for a very special in store experience. For the month of "Bear-uary" Build A Bear has a selection of Valentine's Day friends to build, dress, and bring home. These include the Love Hello Kitty, Hugs-A-Plenty Puppy, Sock Monkey, and many more. You can personalize your little friend in festive accessories, clothing, and even a love song! In February, Build A Bear is offering a set of free Valentine's cards with the purchase of $20 or more so your child can spread the love to friends.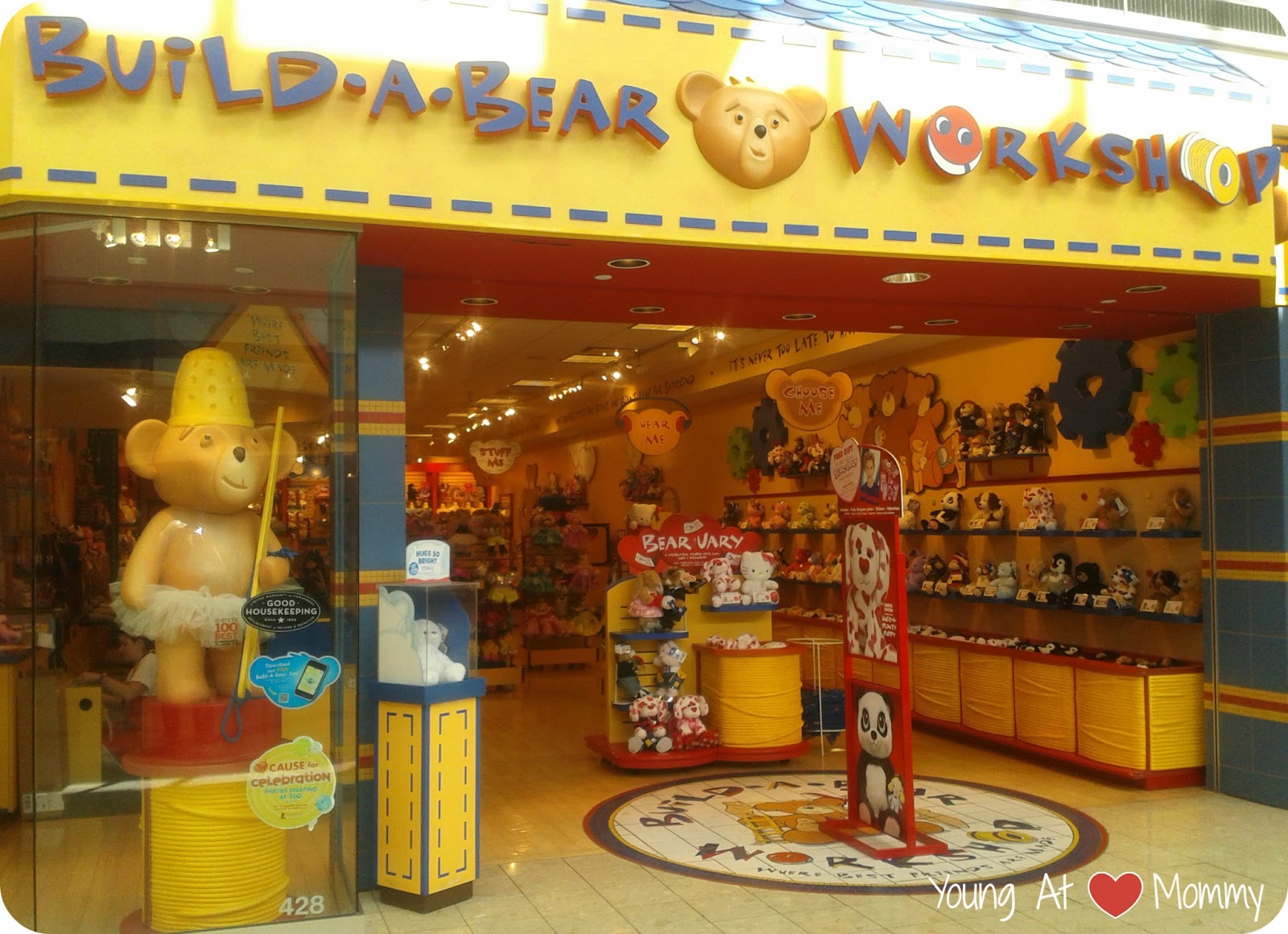 When the day came to

make a

vi

sit to

our nearby Build A Bear Worksh

op

, we were very excited to see the seasonal selection. You can't help but feel

welcomed

when you first walk in. The store inside our local mall has always been a hot spot and popular place for children and adults. It's a wonderful place to create memories and gifts with love for those you care about. As an adult, I have even made bears for a few important people in my life! With the wide variety of clothing and accessories, it is truly the gi

ft that keeps on giving.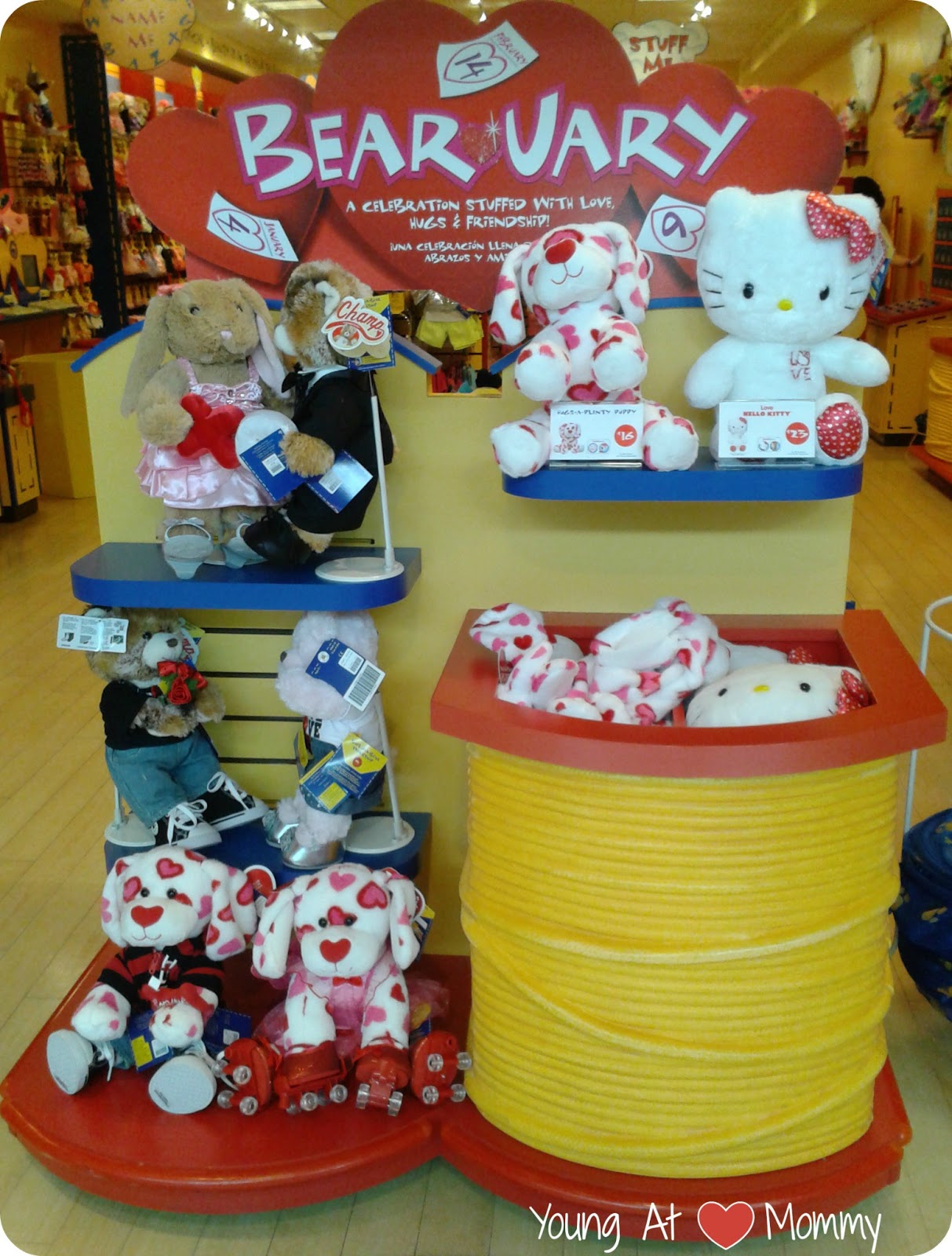 Upon entering the store we were presented with a display of Valentine's Day friends stuffed with love, hugs, and friendship. One

puppy

even had a cute pair of sparkly red roller skates on!
The entrance also had a wall covered in a vast array of stuffed animals for the choosing. There were so many to pick from and each visit I notice there are new

additions

to the wall. I love that Build A Bear always keeps up with the trends and follows what children are into at the time. Their recent

D

isney Princess line is to die for. Not only do they have the

costumes, but you can also buy wigs to make your bear look like your favorite princess. Such

a cute idea!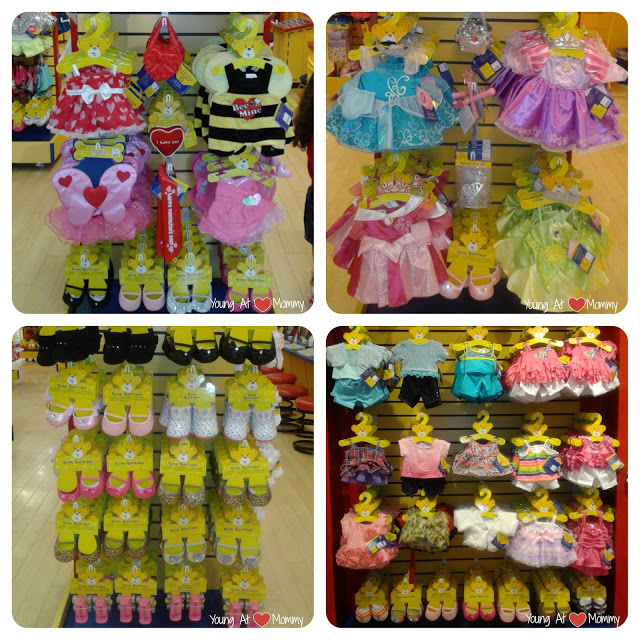 Before getting started we couldn't help browsing around the store to see all of the different accessories available. There were clothes geared towards boys and girl, allowing each to customize their plush animal to their liking. Shoes, sunglasses, hair clips, hats, purses, AND cars? Yep, they have it all! Your bear can have it's own bed, suitcase, sleeping bag, and closet. Even a motorcycle is available for those that seek adventure. These furry friends seem to have more clothes than I do! Most importantly, everything was

affordable

and reasonable. You can dress a bear in a complete outfit for around $20.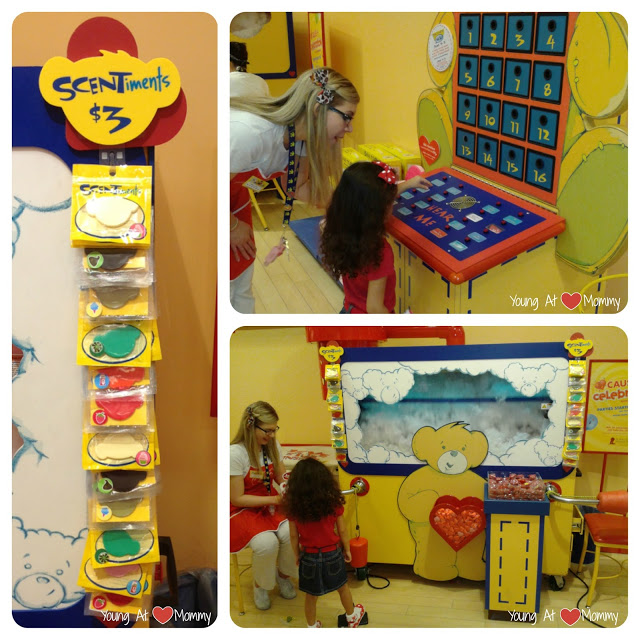 Before we arrived to the store, Toodie was set on picking out the Hugs-A-Plenty Puppy because right now dogs are her THING! My daughter assisted the very helpful Build A Bear employee in filling her puppy. Placing her foot on the pedal, small bursts of fluffy stuffing began to bring her to life.
Once stuffed with softness, her puppy was in need of a heart! Following the trusty "Heart Ceremony" she was instructed to do each small step with love and care. Given a miniature cloth heart, she placed it in the palms of her hands and rubbed them together to get it warm. This was just the beginning of a list of tasks that were very important in creating a friend for life. In addition to the fabric heart, she also added a realistic heart beat button and a Bubble Gum scented disk inside. Each time Toodie would cuddle her puppy, there was an aroma of sweet bubble gum coming from his tummy. After all of these things were placed inside with care, the puppy was sew

n up and ready for her bath.
Heart Ceremony
Rub your heart in your hands so your animal has a warm heart.
Rub it on your head so your animal is smart like you.
Rub it on your cheeks so it has a big, pretty smile.
Rub it on your nose, so the animal knows who you are.
Rub it on your hair so it never has a bad hair day.
Rub it on your tummy so it's never going to go hungry.
Rub the heart on your knees so your animal is always going to need you.
Rub it on your back so it will always have your back and protect you.
Rub the heart on your side so your animal will always stay by your side.
Rub it on your toes to the animal is toe-tally awesome like you are.
Shake your heart up high in the air to give it high hopes.
Bring your heart down low, so it never lets you down.
Jump up and down to get the heart pumping.
Give your heart a kiss, close your eyes and make a wish.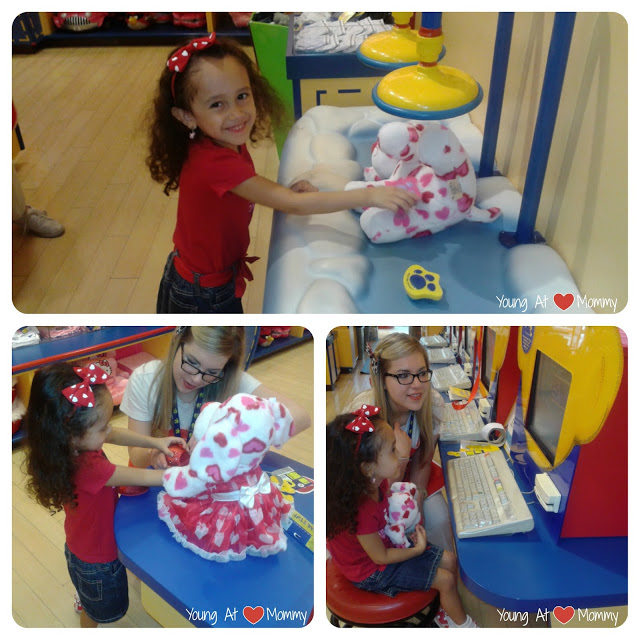 Decked out in the cutest outfit, named with love, and cleaned from a good scrubbin'– "Valentine Puppy" is sure to be the cu

test pooch on the block.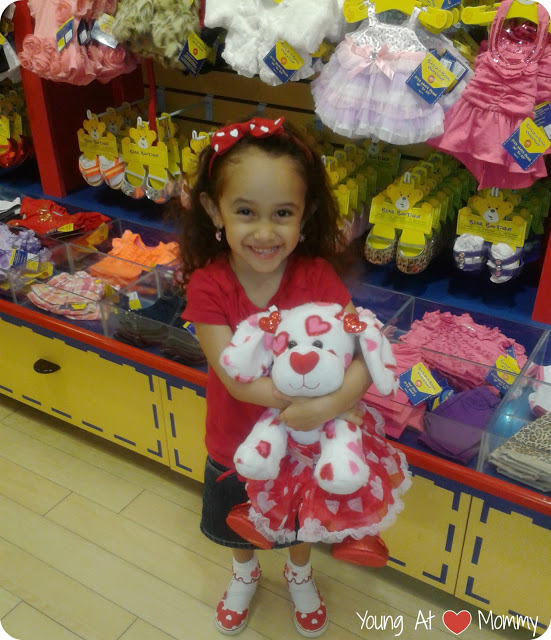 After looking at all of the Valentine's Day outfits and accessories, this puppy came out dressed to impress! She is wearing the Heart Print Dress, Pink Heart Sunglass

es

, Red Bow Glitter Flats, Red Glitter Heart Bows, and a Happy Valentine's Day Sash. Inside she has a Heart Beat effect button and a tummy smelling of delicious bubble gum thanks to the
SCENTiments™ disk! I still am amazed at how strong the scents are. I was skeptical at first but WOW, days later I can smell her puppy

immediately

when I enter her room.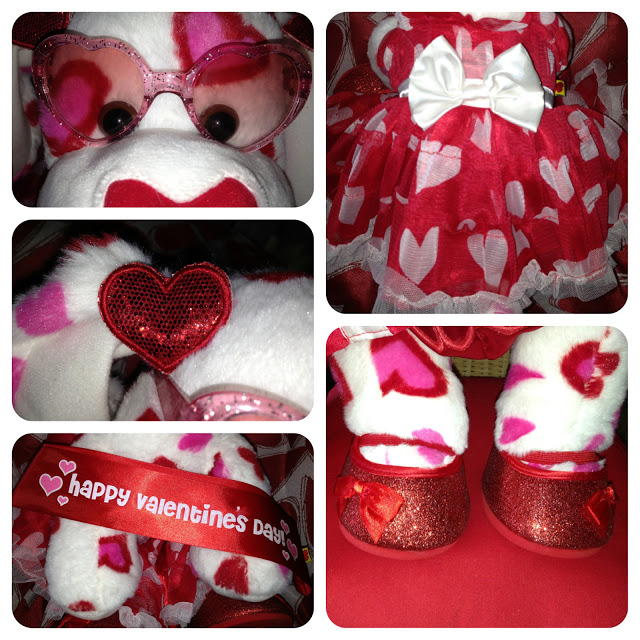 Toodie was excited to welcome home the newest

member

of her teddy bear family. "Valentine Puppy" will fit right in to the bunch. She will also be making an

exclusive appearance

in her birthday photos this year!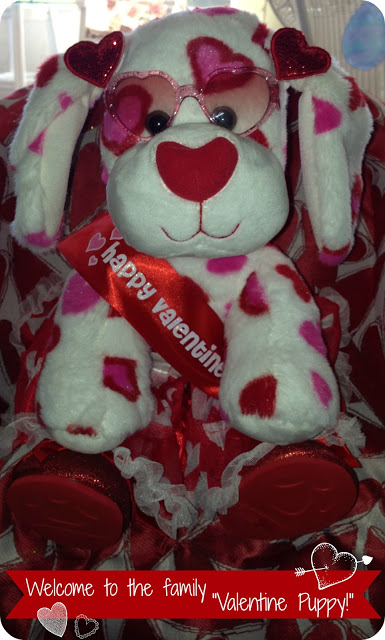 A special thanks to the friendly staff at Build A Bear Workshop for making this memorable experience possible.
You can visit the Build A Bear website to browse the entire Valentine's Day line along with the new Princess and Harajuka Panda collections. Also, get social by following along on Twitter and Facebook for updates, promotions, and much more. Give the gift of love, hugs, and friendship this Valentine's Day!
Disclosure: This post has been sponosored by Build A Bear Workshop! All

opinions are my own.