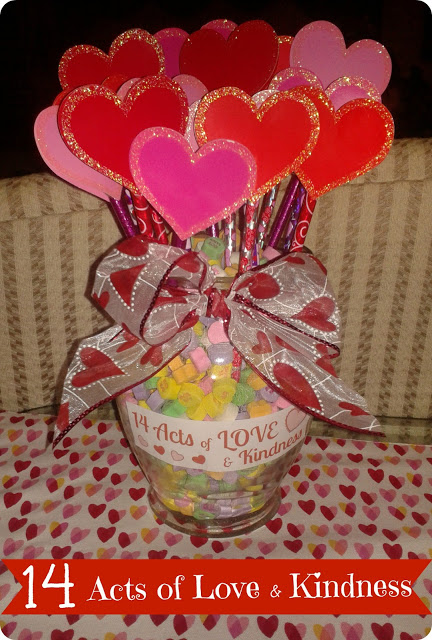 Valentine's Day is one of my favorite holidays, if not my TOP favorite of all time. It's one of those "feel good" kinda holidays and also my little girl's birthday, exciting

!

It is also

filled

with love, kisses, hugs, candy, cards, flowers, and everything else we would love to receive on a daily basis. With all of these wonderful things in mind, it is not only a time to receive but also give. This year I will be beginning a new tradition with my daughter in hopes of creating a humble appreciation for this time of year. The "14 Acts of Love & Kindness" craft promotes doing nice things for others and spreading love to those you care about in the month of February.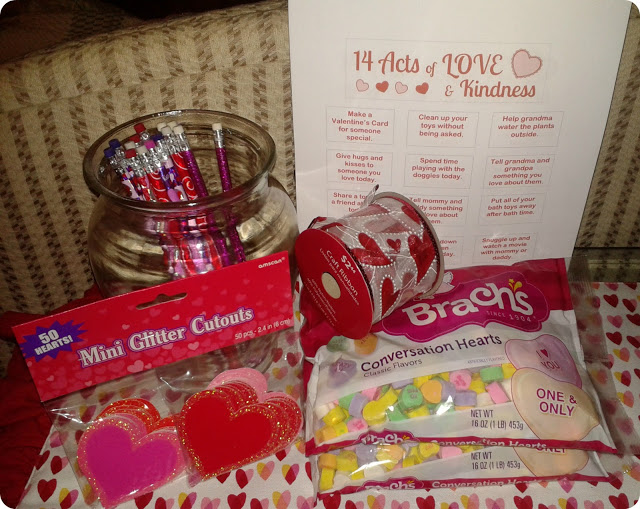 Medium sized clear jar

or vase

Valentine themed r

ibbon

Mini h

eart cut outs

14

festive pencils

(2) bags of Brach's Conversation Hearts

Elmer's glue & a hot glue

gun

Printed sheet of 14 Acts of Love &

Kindness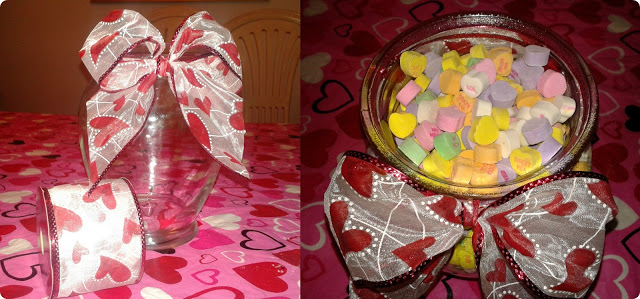 Before getting started create a bow with your festive ribbon. Wrap it around the neck of the vase or jar you are using. You can make the bow as large as you would like depending on the size of your container. Once finished you can add in your conversation heart candy.

These will be the base for your

pencils

. If you do not have enough candy they will not stay in place. Since I went with a medium sized vase, two bags were

sufficient and filled it to the rim.

Using a hot glue gun you can attach your pencils to the heart cut outs. Place a generous amount of glue towards the tip of the heart and secure you pencil in place. While it is still tacky place an additional dot of glue on the metal portion and along the lining of the heart. Take another heart cut out and place it on top while attaching the edges with your finger tips. Press down lightly to ensure the hot glue does

not seep out. I have seen other people use pixie sticks and straws for this craft. I went with pencils because the hearts make a fun topper and your kids can use them afterwards for school or drawing at home
! Repeat these steps with all 14 pencils
.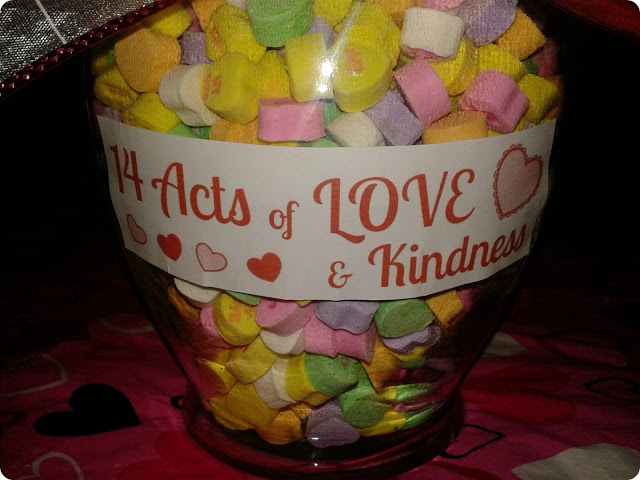 On the front of the vase I used sticky photo squares to add the banner. After you have all of your acts of love and kindness cut out into small rectangles, use Elmer's glue to attach them to the back of the heart

s.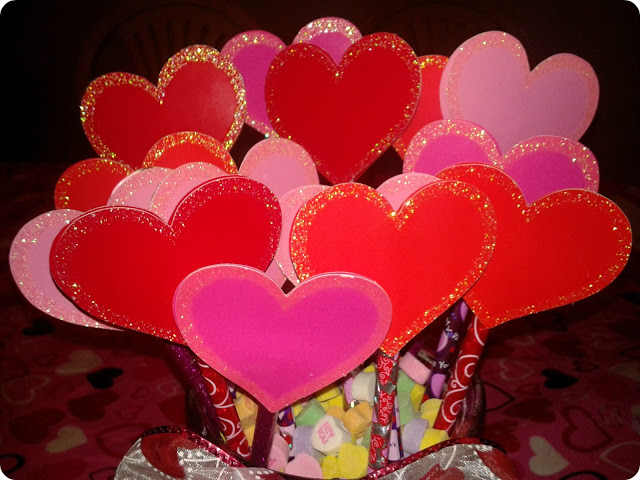 The next part may cause a few problems if not done correctly. Instead of trying to wiggle each pencil into the candy, dump half of it out first. Put the remaining candy into a cup. Hold the pencils together in a bundle and place them into the middle of the vase. Without letting go, pour the candy hearts all around the ends of the pencils until the vase is completely filled. There may be a few gaps and holes but you will fix those afterwards. Once covered, let go of the pencils and maneuver them so the blank side of the hearts are facing forward. You will notice that while moving the pencils around, the candy falls into place and fills the spaces.
Beginning on the first day of February, give your child the opportunity to choose a pencil and read them their task. They can be anything that you feel fits your family or their age. Since Toodie is younger I went with simple acts that she would not only enjoy but also understand at her age. The whole point of this activity is to share love and kindness. This is a fun way to countdown the days until Valentine's Day!