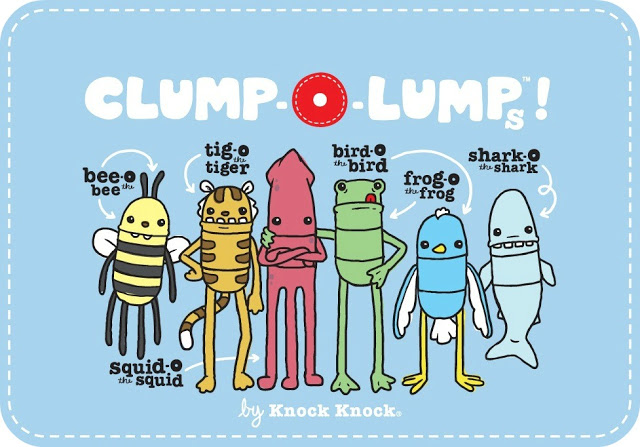 Do you ever find that you child plays with their most simple toys more than those with a million parts or pieces? I know I do on a daily basis. While Toodie has a treasure trove of puzzles and blocks in her room, she always goes for that one strange toy that gives her hours of enjoyment. It may not make much sense to me as a mom but it goes to show that the

silliest

toys can be the most entertaining! If you find yourself in the same position as I am then you may appreciate the wacky hybrid creatures known as Clump-O-Lumps. What the heck is a Clump-O-Lump? It is a large stuffed toy that is available in six different animals including a tiger, squid, frog, shark, bumble bee, and chirpin birdie. But don't be fooled, these aren't your traditional snuggly

stuffed animals.

What makes these fuzzy whimsical creatures so different

?

Well here is how it works. Each Clump-O-Lump creature comes with three

separate

components. These include a head, torso, and rump! All pieces zip together to make a complete animal. But that's not the fun part! The more Clump-O-Lump buddies you have, the more wacky creations you can make from combing their parts together. It's simple- unzip, mix, match, and re-attatch. Each part can be

attached

to the another, regardless of which animal it came from. These are obviously not your typical "stuffed animal" that will sit in a corner in your child's closet

for months.

I'm in my late twenties and have found myself playing with ours

when my daughter isn't even around!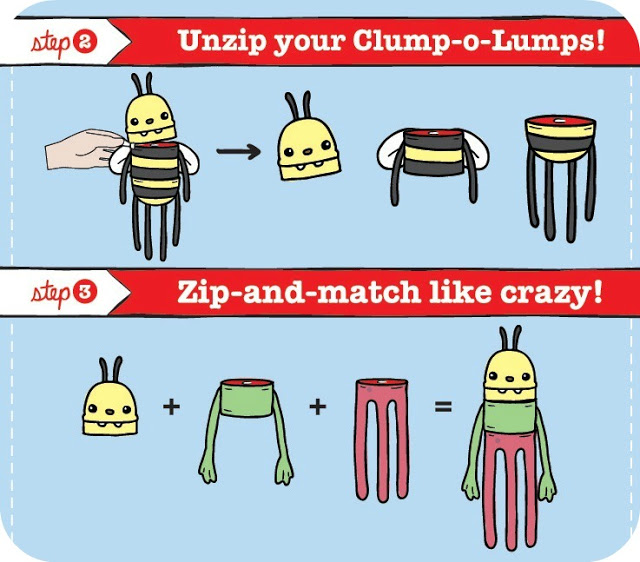 Meet Squido-O-Squid, the first addition to our Clump-O-Lump family and not our last. The generous folks at Knock Knock Stuff gave me the option of which animal I would like to have and as usual, I left the choice up to Toodie. I thought she would go for the bee or even the bird but I guess my predictions were incorrect. I am learning that my child likes all things different and non-traditional. After asking, double checking, and asking some more– the squid was the winner. When he arrived at our door I couldn't believe how adorable he was in person! Who ever thought a squid could

be so darn cute?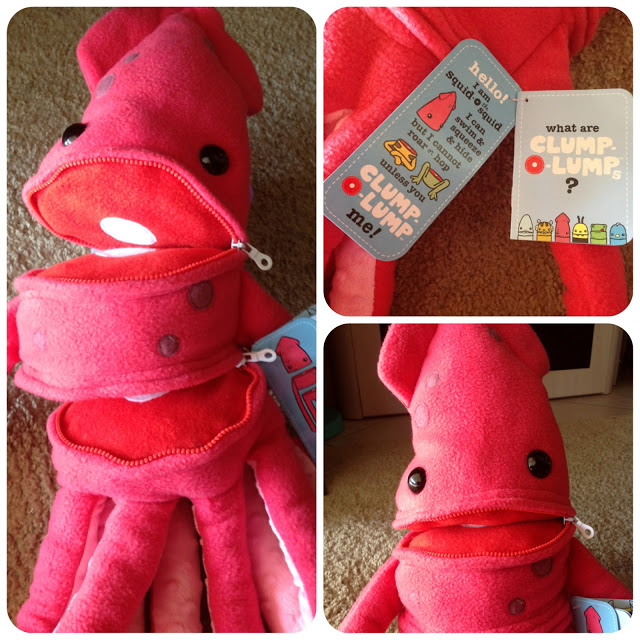 When he arrived at our doorstep, he was just as neat as I expected. I had to comtemplate whether to give it to my daughter now or wait for Christmas. He was just too cool to wait! I've never s

een a toy quite like this.

One thing that I did want to point out is the size of Squido. I was not expecting him to be so big and this was a great surprise. He is almost as tall as Toodie and according to her, very cuddly. We had fun unzipping him and putting him back together a few times. She thought the torso would be a good spot to stuff her bracelets, lip gloss, and My Little Pony figurines. I guess the Clump-O-Lump has multiple uses after all! All of her other stuffed animals are back in the toy chest since Squido has become so popular around here.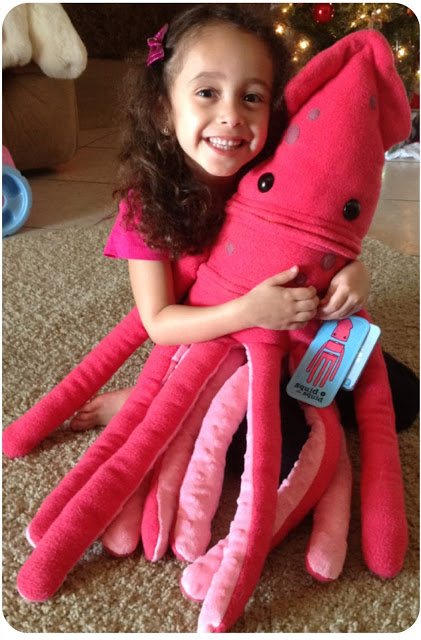 For more information on the Clump-O-Lump gang and other creative products from Knock Knock, you can visit their website. Also, get social and follow along on Twitter or like them on Facebook for updates. Right now they are offering FREE Shipping on orders $50+ so it is the perfect time to give the gift of a cuddly Clump-O-Lump to yourself, a friend, or your little one. Through December 31st, you can even get a pre-mixed combo including three different parts for a fun surprise. It is sure to be the most unique present!
Disclosure: I received the product above from

Knock Knock

for my consideration and to share my honest opinion and experience. I am under no obligation to post a positive review on them. I will not be compensated for this post. As always, opinion are my own!