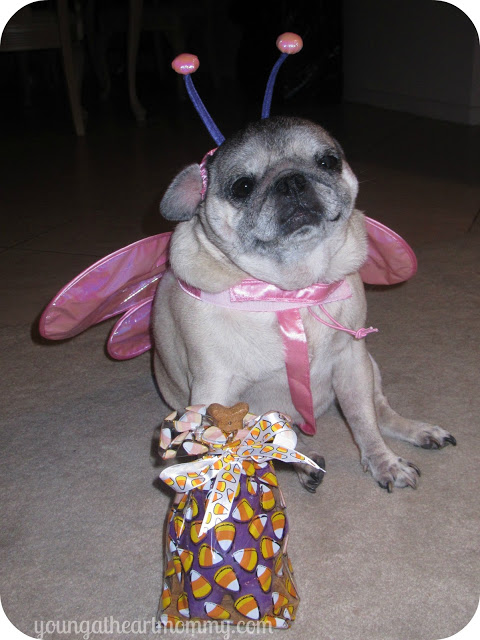 The weeks have flown by and Halloween is quickly approaching. By now you probably have a stock pile of candy and delicious goodies to give away to

trick-or-treaters

. Children aren't the only ones seeking a special treat this time of

year.
If you have a dog that is anything like mine, you know that they somehow find a way to get into the candy stash. Last year I caught my pug hiding under the kitchen table with a peanut butter cup between her teeth! She was one happy pup but didn't enjoy me chasing her around the house attempting to get it from her death grip. This Halloween I decided to minimize the

temptation

and have pet friendly treat bags on hand.I can't

guarantee

that this will keep those wet noses out of your little one's treat bag BUT it sure will keep them occupied.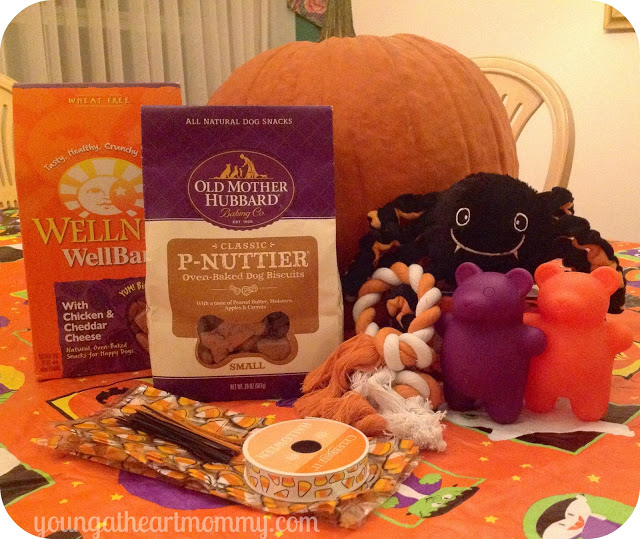 Creating a special treat for your four l

egged friend only takes a few simple steps and supplies. Depending on how many bags you are making, you can purchase everything accordingly. For my "spooky pooch pouches" I gathered two types of treats, bags, decorative ribbon, twisty ties, and most importantly new toys. When putting everything together you want to make sure the toys you choose are small enough to fit inside the bag. The rounder the better! The toy will help give the bag a fuller shape.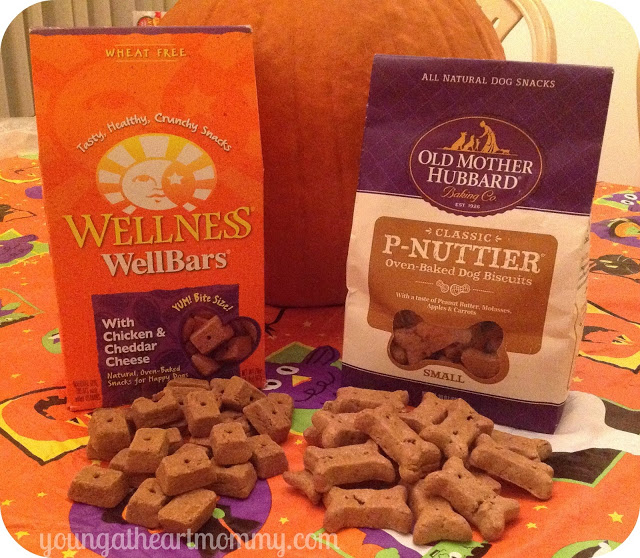 You can start by filling your festive treat bags with Wellness Chicken & Cheddar Cheese Bars. These oven baked snacks are wholesome, natural, and made with real-food ingredients including chicken. They are also wheat free which means my little pug can eat these without sparking up her allergies. For the size of the bar you would be very surprised how many healthy components are packed inside. In addition to the chicken, they also have sweet potatoes, barley, real cheddar cheese, brown rice, oatmeal, flaxseed, AND vitamins within them! Your dog will love these savory nuggets. I could tell both of mine did when they came back for seconds.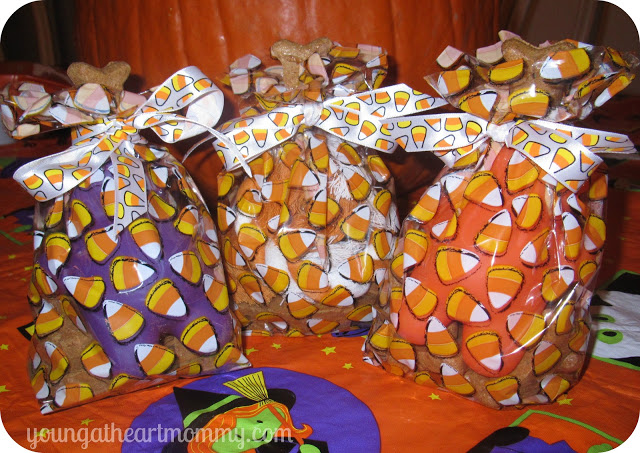 With the Wellness snacks on the bottom, place your toy inside and gather the excess wrapping to be tied off. Before using your twisty tie to secure the bag, take an Old Mother Hubbard P-Nutter Dog Biscuit and place it in the center. The top of the bone should be sticking out of the top and you can conceal the tie with a decorative ribbon. These oven baked biscuits are made with a taste of peanut butter, molasses, apples, and carrots.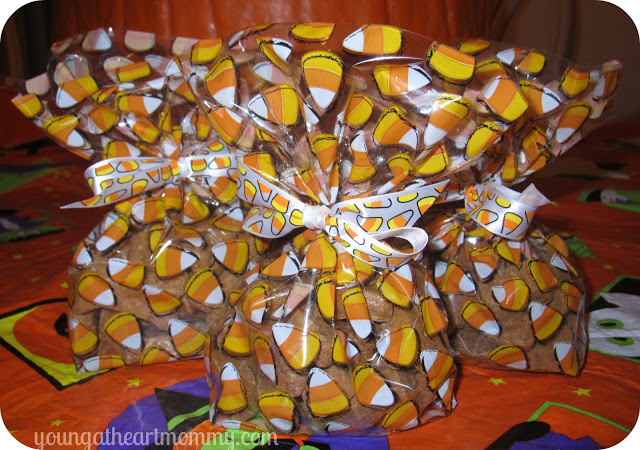 If you have extra treats you can fill the remaining bags and hand them out to any pooches that may end up at your door this Halloween. Their owners will be happy and the kids will appreciate not having to swat away any wandering paws. It's the least we can do for our dogs since we insist on dressing them in ridiculous costumes that they have no say in! Also consider leaving a courtesy bowl of water outside of your door to keep them hydrated after a long night of trick or treating.
Disclosure: I received the products above for my consideration and to share my honest opinion and experience. I am under no obligation to post a positive review on them. I will not be compensated for this post. As always, opinion are my own!