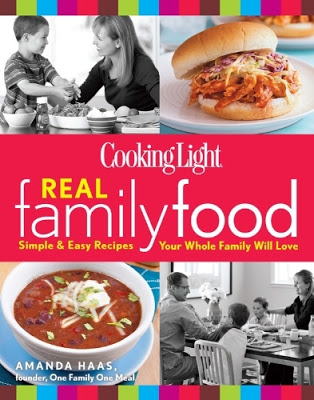 Home cooked meals are few and far between these days. With all of the fast food chains, TV dinners, and restaurants, we tend to forget how nice it is to sit down and have a meal at home with our family. It has crossed my mind, that at some point we just think dinner is too darn hard and too time consuming to take care of each night. Recipes can be over complicated, long, and boring. These are some of the reasons author Amanda Haas joined forces with Cooking Light to create the "Real Family Food" cookbook. This unique cookbook contains 150 recipes to inspire families to return to the kitchen table!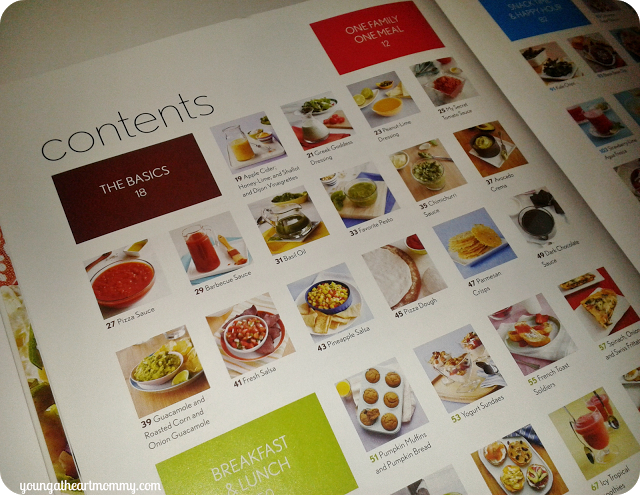 The table of contents is one of my favorite things about the Real Family Food Cookbook. It's easy to browse through all of the recipes because they have small thumbnail photos of each according to the categories. The first section titled the "basics" has convenient recipes for things like sauces, dressings, salsa, and even pizza dough. Some of the other groupings include Snack Time & Happy Hour, Salads & Side Dishes, Dinner Tonight, Sweet Treats, and more. Something I found very unique about this cookbook was the section on family meal planning which offers tips and guidance to starting one successfully. This is definitely not your typical cookbook. It's so much more! The author, Amanda Haas, even shares her favorite tools and staple items that should be in every family's pantry. You can tell she put an extensive amount of thought and care into creating this guide for the typical family. Not everyone is an expert chef and after reading this you will realize you don't have to be to get a savory meal on the table!

There are so many recipes

,

that I had a hard time choosing which I would like to make for dinner tonight. I almost went with the French Toast Soldiers but figured I would save that for the next morning! Am I the only one that enjoy eating breakfast for dinner? Show of hands! After flipping through the pages, going back and forth, and a trip to the grocery store- I finally made a decision. I wanted to try something from at least two of the categories which lead me to make the Parmesan-Panko Chicken Tenders and the Hot Pink Smoothie. Dinner was delish and most importantly EASY to make.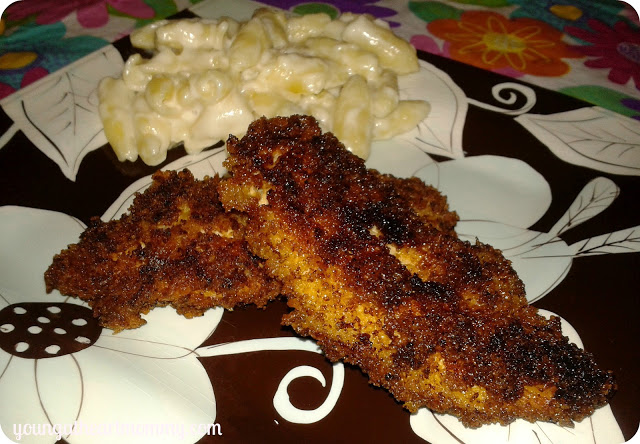 Parmesan-Panko Chicken Tenders
1 1/2 pounds

chicken breast tenders (about 12 tenders)

1/2 teaspoon

kosher salt

1/4 teaspoon

freshly ground black pepper

1/8 teaspoon

garlic powder

2

large eggs, lightly beaten

1 cup

panko (Japanese breadcrumbs)

1.3 ounces

grated fresh Parmesan cheese (about 1/3 cup)

2 tablespoons

canola oil, divided

2 tablespoons

finely chopped fresh parsley (optional)

4

lemon quarters (optional)
Preperation:
Sprinkle chicken with salt, pepper, and garlic powder. Place eggs in a shallow bowl. Combine panko and cheese in another shallow bowl. Dip chicken in egg; dredge in breadcrumb mixture.
Heat a large nonstick skillet over medium-high heat. Add 1 tablespoon oil; swirl to coat. Add half of chicken; cook 3 to 4 minutes on each side or until browned and done. Remove from pan. Repeat procedure with remaining oil and chicken. Sprinkle with parsley, and serve with lemon quarters, if desired.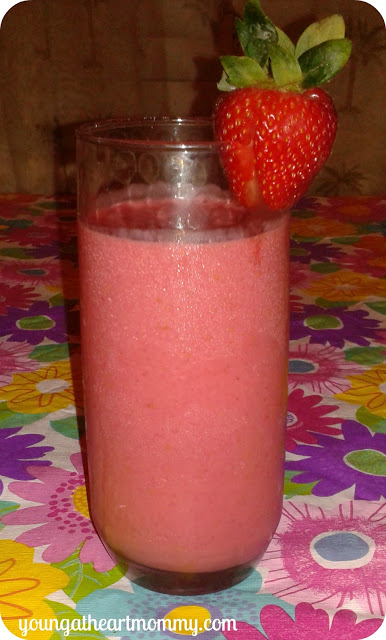 Hot Pink Smoothie
1 cup

frozen unsweetened raspberries

1 cup

frozen unsweetened strawberries

1 cup

orange juice

1/2 cup

plain 2% reduced-fat Greek yogurt

2 tablespoons

agave syrup
Preperation:
Place all ingredients in a blender; process until smooth.

The Real Family Cookbook has pages upon pages of delicious, SIMPLE, and quick recipes to help make dinner stress free. If you would like to win your own copy please enter below through the rafflecopter form.
Disclosure: I received the product above for my consideration and to share my honest opinion and experience. I am under no obligation to post a positive review on them. I will not be compensated for this post. As always, opinion are my own!