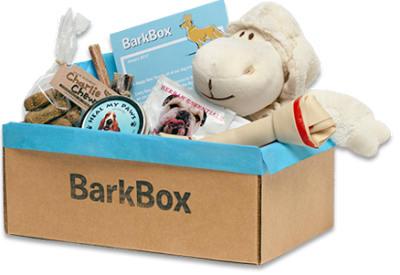 Are you a doggie owner that is guilty of spoiling your loving pet by showering them with toys, treats, and goodies galore?
Barkbox, the monthly subscription program specially designed for your pet, is the gift that will keep on giving! Around the 15th of each month, Barkbox will be delivered to your door stuffed with new things for your pet to indulge in. While you are making your own pet extra happy each month, 10% of the box proceeds will be donated to a local shelter or rescue. Each month Barkbox sponsors a new shelter and by becoming a member you contributing too!

Signing up to receive a Barkbox for that special pooch in your life only takes a few easy steps. First thing is first, a brief questionnaire to find out a little more about your dog. By choosing your dogs height and weight from the three options given, your box will be carefully put together to match your pup's profile. Next, you are given three subscription options. While most monthly subscription services only give you the option to pay a standard fee once a month, the Barkbox has a few selections. These include $29/monthly, $22 a month/three months, and $17.50 a month/6 months. All include free shipping. As you can see being a loyal Barkbox member will save you at least 24% each
month.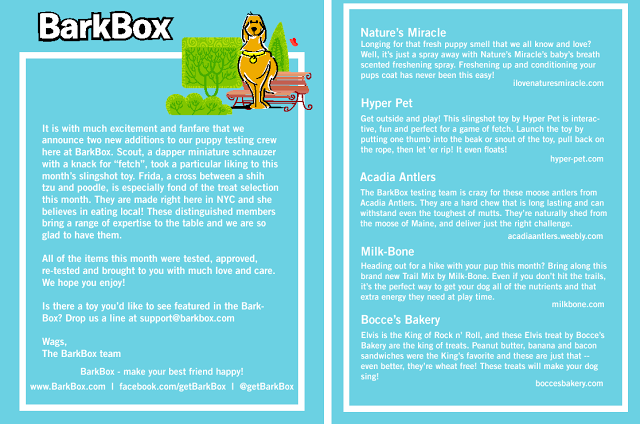 Courtesy of Barkbox, I was sent the August box containing an exciting new toy, delicious treats, and a freshening spray. Each product was full size with the exception of one, the Milk Bone Trail Mix. But even the Milk Bones were the perfect size for my smaller dog. As you can see, there is a ton of variety in this box and it was packed full when I opened it! From looks alone I am already loving the Barkbox. Can't wait to see what the doggies think.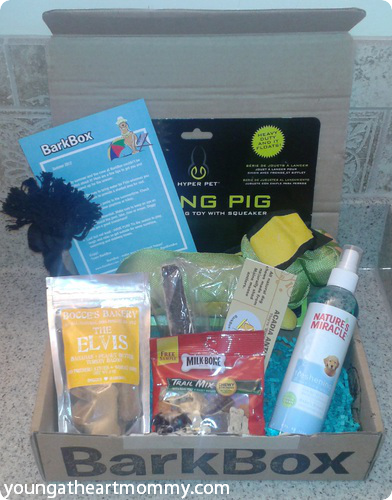 In my home we have two dogs, our American Eskimo Sam and my Pug princess Chloe Marie. Yes, my dog has a middle name- I'm weird like that! When I chose my box I decided to go with the "Just Right" sized dog since they are both close to the given weight. Even though Chloe is a runt next to Sam, I wanted there to be something special for them both to enjoy. Both of my dogs have polar opposite personalities and always tend to gravitate towards different toys and treats. Sams a grumpy old man and Chloe is a sweet cuddler.
As soon as I rationed out the contents of the box, I could tell that there were plenty of entertaining items for each of them to go crazy.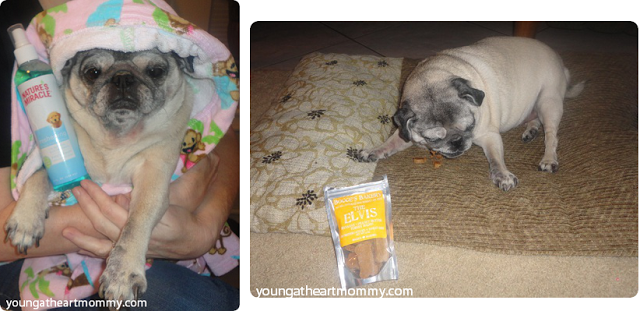 Chloe was not a fan of the Nature's Miracle Refreshing Spray but I couldn't help was shower her with the fresh baby scent. It's helpful in keeping your dog smelling clean between baths or after running around in the stinky grass. Chloe is my pampered pooch and I think she secretly liked it! She was also a fan of the Elvis treats by Bocce's Bakery. They we're banana, peanut butter, and turkey bacon flavored. Someone couldn't stop smacking their lips around here. Being a pug, Chloe has very bad allergies and is sensitive to many ingredients. I was very excited to see these treats were wheat free. She obviously wasn't doing much complaining either way… CRUNCH CRUNCH.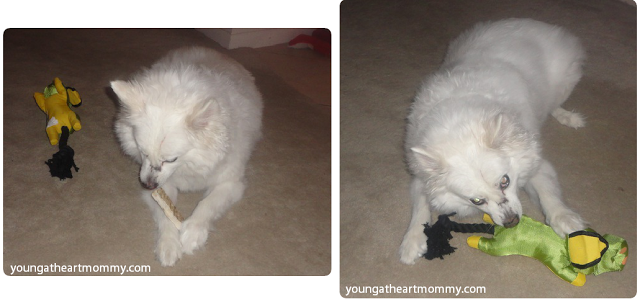 Sam went straight for the Hyper Pet
Slingshot Pig
and dug right in. This slingshot toy can shoot over 100 feet and even floats in water! With Hurricane Isaac passing, it's been windy and rainy here everyday. We haven't been able to take the Hyper Pet outside to test its full potential. But it did make it clear across our living room for some indoor fun. Usually Sam can rip apart a toy with minutes, but this piggy is in tact and awaiting it's play time outdoors. There was also a Moose Antler from Arcadia Antlers. I have never given either of my dogs an antler to gnaw on but I must say, Sam was in heaven. After hours of chewing, that antler didn't get any smaller! It also did not leave any residue or stains on my carpet. These would be a good replacement to the smelly pig's ears he loves.
Another one bites the dust. The Barkbox was a HUGE hit here. This is one of my favorite subscription boxes I have ever reviewed. The products were amazing and my pupperoos enjoyed every single thing inside. If it wasn't for Barkbox I would have never been introduced to new brands and new products my dogs obviously love. If you have dogs and would like more information on the Barkbox you can visit their site here. You can also connect with them by liking their Facebook page & following on Twitter.
Disclosure: I received the products above from Barkbox for my consideration and to share my honest opinion and experience. I am under no obligation to post a positive review on them. I will not be compensated for this review. As always, opinion are my own!