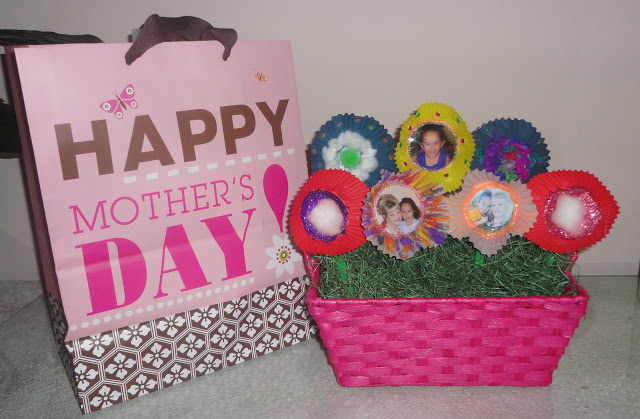 Mother's Day is one of my favorite times of year! If you are looking for a cute homemade craft for Mother's Day, here is something special I came up with. Try making this cupcake holder flower basket. You won't have to worry about these flowers dying in a week and it will make for a really cute decoration around the house!
Here are a few things that I used for this craft. Everything is optional. All of these items I found at my local craft store. You can use so many different things for decoration and assembly. It's all up to you & your little artist! Let the creative juices flow.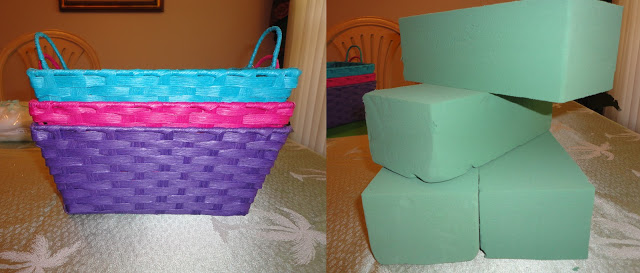 Colorful baskets

Popsicle Sticks

Elmers Glue or glue stick

Buttons, Stickers, Shredded Paper, Sequins, Gems, Tissue Paper, Washable Paint, Beads, Cotton Balls, Glitter, etc. for decoration.

Green Wet Foam Blocks (4 pack)

Decorative Shredded Grass

Hot Glue Gun
Before you begin you will want to take the the wet foam block and fit it into the basket. The blocks I purchased fit PERFECTLY into the baskets so I did not need to cut or alter them. If yours do not, it is very easy to alter their shape with scissors or a knife because they are so soft. If you do shave off any excess, make sure to save the pieces so you can put them to use after. You can also add the shredded grass to the sides for a tighter fit.
With the extra foam pieces you have cut them into thick strips so you can create a tiered effect on the larger block. This will help to display the flowers individually so they are not blocking each other. I used a hot glue gun to secure them in place. Do not worry about it being perfect because everything will be covered by grass at the end.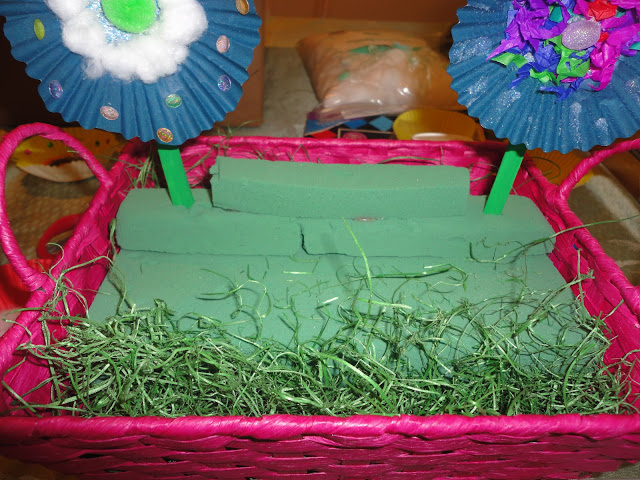 To save from a huge mess I decided to paint the popsicle sticks ahead of time. I painted one side at a time with green paint and when dry, I flipped it over to take care of the other. I painted my sticks with two coats because I noticed that they were looking streaky. It really depends on what kind of paint you use for this. I utilized what I had which was Crayola washable paint. For this project I made three flower baskets so I prepared about 25 sticks in case I made any mistakes or needed to add anything. It's better to have too many than have to go back and re-paint!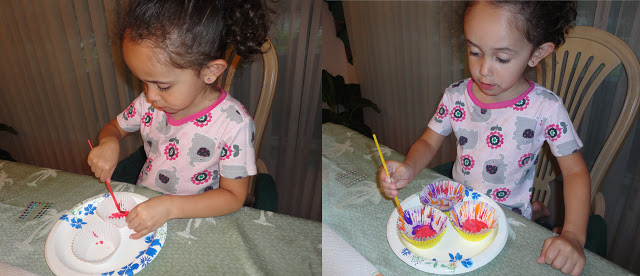 When it comes to creating your cupcake holder flowers there is no right or wrong design. I purchased a pack that contained three different colors – blue, red, and yellow. I also bought a pack of white. Since the inside of the cupcake holder was colored and not the outside, I turned them inside out before decorating. Now you have a colorful canvas. I let Toodie use cotton balls, gems, buttons, beads, stickers, glitter, paint, tissue paper, sequins, and shredded paper to decorate hers. The possibilities are endless. Let your child create whatever he or she would like. This is a great craft to use those old buttons or beads you have sitting in your sewing box. Since we made these for Mother's Day I decided to cut photos of Toodie out and put them in the center of the flowers to make it more personalized. After the flowers were decorated and dry, I took a hot glue gun and attached the popsicle stick to the back.

Securing the flowers from the back is optional. I only did it on the flowers with the photos on them to add a little extra support.

It can be time consuming cutting out the back circle pieces but if it bothers you that the popsicle sticks are showing, you can do so.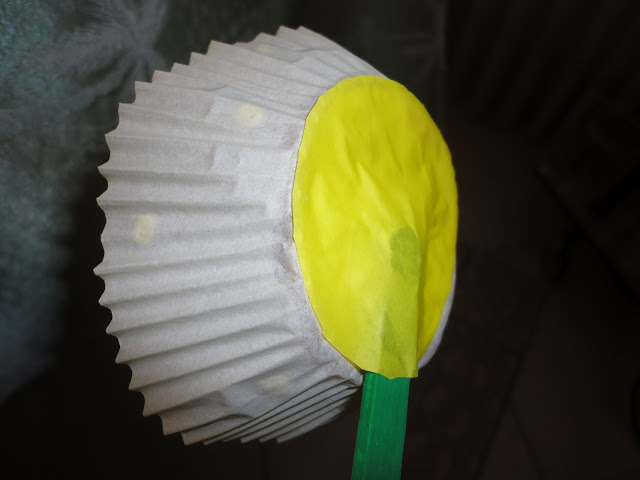 The same goes with the insert point for the popsicle sticks. I was trying to angle some of the flowers so that they would be spaced apart and laying at an angle. I had a few extra green fluffy balls from a previous craft and decided to use them to hold a few of the sticks in place with a hot glue gun. I did this for the top layer only because it was visible and sticking out from the basket.