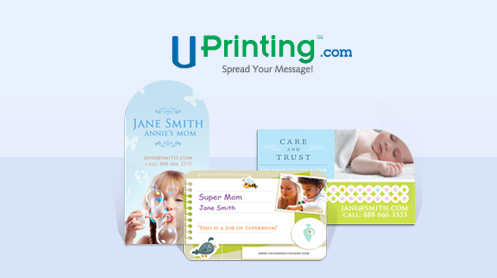 Have you been thinking about getting your own business cards lately? If your answer is yes then you have came to the right place! Let me introduce you to this fabulous service by UPrinting. UPrinting lets you print your own business cards online, whether you are looking to create standard cards or die-cut ones. You can either upload your own file or create your business card design from scratch using their Easy Design Tool. They offer high quality business cards available at a variety of prices, found to be affordable to small business owners and independent designers.
UPrinting makes creating your own business card easy, effortless, and enjoyable.
Whether you own your own business or run a blog like I do, UPrinting can get you on track in making your own customized business cards. No more boring business cards with a lifeless face and bland design. You will be provided with free templates that will add personality and reflect who you are as well what your business offers. UPrinting will help assist you in leaving the best first impression! Enter today to win your own set of 250 Die Cut Business Cards!
250 Die-cut Business Cards for one winner
2×3.5″ Rounded Corners, 2×2″ Rounded Corners, 1.75×3.5″ Rounded Corners, 2×3.5″ Leaf, 2×3.5 Rounded one corner, 2×3.5″ Half-Circle Side, 2×3.5″ Oval, or 2.5″ Circle
14pt Cardstock Gloss / Matte / High Gloss (UV), or 13pt Cardstock Uncoated
6 Business days print turnaround time
Free US shipping only
Restrictions:
This giveaway is open to US residents only, 18 years old and above.
No prize substitutions allowed.
Winners are allowed to win once over a six-month period.
Only email addresses used for the giveaway will be eligible to claim the prize.
You should assume that I will receive free print products in exchange for the post. Any and all reviews posted are based solely on my own experience and may be atypical. Please practice due diligence in making any related purchase decisions.