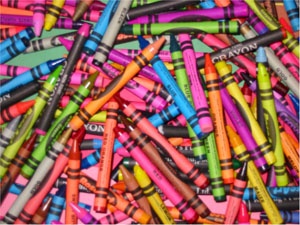 Ever wonder what exactly to do with all of those broken crayon pieces scattered around your house? Most of the time I just pick them up and throw them out because I am so tired of stepping on them everyday. Toodie has tons of crayons but within a week they end up mutilated and destroyed. I even find them in her clothing hamper! I can't even say how many times I have washed crayons with her laundry. After searching for crafts on Pinterest I found a new use for those crayons pieces without a home. Instead of tossing them RECYCLE! You can make your own chunky crayons at home.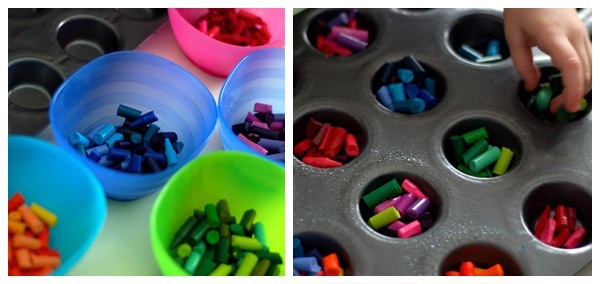 Make sure to peel off all of the paper from the crayons. Collect all of the broken pieces and keep them in a jar or tupperwear container until you have enough of each color. If you want to make giant rainbow crayons, you can just throw all of the colors in together. Don't worry about sorting. For the molds you can use disposable baking pans or rubber silicone shape molds. Once you have enough pieces you can begin with the five easy steps below.

1- Turn on your oven to 300 degrees

2- Spray the inside of the mold lightly with cooking spray to allow the crayons to be removed easily. (optional)

3- Fill the molds with the broken crayon pieces. Here is where you can sort like colors together or mix them together for the rainbow effect. Experiment and have fun.

4- Place into the oven and wait until all of the crayons are visibly melted. It only takes about 10 minutes.

5- Remove and allow to cool before popping them out of the tray.