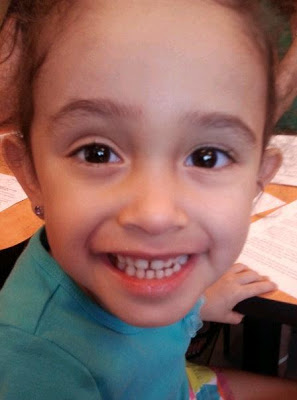 The terrible twos have passed and now that we have entered the terrific threes a wave of confidence and independence has taken over my Toodie girl. Whether she is putting on her socks then tying her shoes or washing her hair in the bath, she no longer needs the help of mommy. I try and I try to give my assistance not even realizing she really is able to do so many things on her own now. Whenever I do step in I always get the same reply, "Mommy I do it, I DO IT!."
It's hard to believe that only months ago she was dependent on me for everything. I washed her hair, got her dressed everyday, tucked her in, and even cleaned her room. Now she is doing all of these things by herself – sometimes without even being asked to! I won't pretend that it isn't nice not to have to pick up the millions of toys stored in her room and put them away each day. Sometimes she will be so quiet in her bedroom and when I go to check on her she is straightening up her own mess. I can tell she always feels proud that she did it on her own and takes me by the hand each time to show me her accomplishment. Simple acts like flushing the potty and washing her hands have become some of her favorite tasks each day.
With independence becoming the new trend around here, along with it comes the moments of stubbornness. Just as fast as she can say, "Mommy I do it, I do it!," she also likes to throw the very common "No No No Mommy!" in there. Also pointing her finger up and waving it back and forth to me while saying this. This age sure is full of sassy attitude and personality. I thought the terrible two period was painful but this one is not so easy! I am trying on a daily basis to accept that my little girl is not so little anymore. While I love being a nurturing mommy I know that these years are so important. I have to let her experience and learn things on her own. Thankfully I have quite a few years before she is wearing makeup, going on dates, and asking for the keys to my car! I guess I can live with these small requests for independence for now.