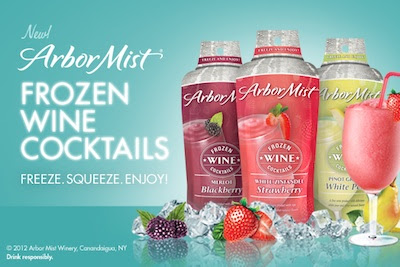 The kids are back in school, the house is empty, and it's time to kick back and enjoy a cocktail! Through the SheSpeaks blogger program, I was given the opportunity to try the Arbor Mist Frozen Wine Cocktails in three yummy flavors. These flavors includes Strawberry White Zinfandel, Blackberry Merlot, and Pear Pinot Grigio. Every time I go to the grocery store I see these

convenient

little pouches for sale but have never picked one up to try. That's why I was pretty excited when selected to review these first hand. When it comes to drinking alcoholic beverages, I have become much more of a wine lover than hard liquor. But I have never drank any sort of frozen wine concoction. As soon as these arrived I stuck them in the freezer and played the waiting game.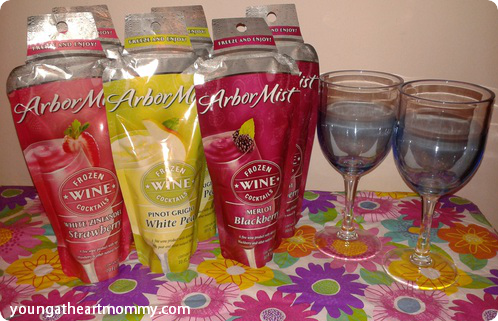 These frozen wine cocktails take about 5 hours to freeze. Any longer, and I noticed the consistency was a little too frozen. If this happens you can let it sit out for a few minutes to thaw. I like my frozen cocktails to be less frozen and more on the slushy side, so I let mine sit for about 10 minutes. When you feel it's ready, you just have to tear open the top of the pouch and pour into your favorite glass. If serving to guests or enjoying on our own, you can add a little fruit garnish on the side. These are great for parties or even small get together s because you don't have to put any thought into serving a delicious fruity beverage. Everything you need comes in the little pouch, pre-measured and ready to go! Each pouch is also 10 ounces which roughly filled the whole wine glass with a tiny bit to spare. I love that they are practically a full serving size for one person. Makes it even easier for me!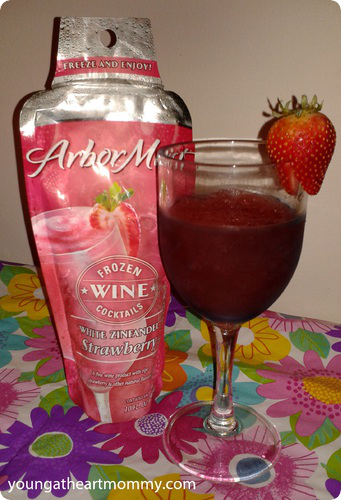 The Strawberry White Zinfandel was the first flavor I tried and has become my favorite. It was cold, refreshing, and satisfied my sweet tooth. I also like that it was not too strong, preventing me from feeling sluggish. When the frozen slush starts to melt, I did notice that I the alcohol became more potent. If this happens, you can always add crushed ice to dilute it a bit.
Arbor Mist Frozen Wine Cocktails are wonderful for Summer BBQ's or upcoming holiday parties. They will not only please the typical alcohol drinker but also those who prefer a glass of wine as well.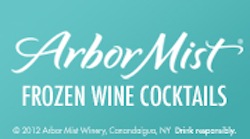 Disclosure: I received the product above in participation with the She Speaks Arbor Mist Blogger Campaign to share my honest opinion and experience. I am under no obligation to post a positive review on them. I will not be compensated for this review. As always, opinion are my own!