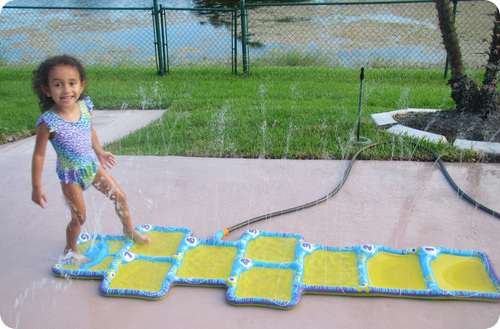 A few weeks ago my mom found this Aqua Blast Hopscotch at Target, along with a slip & slide. I was hoping to save this for Fourth Of July but Toodie was anxious to give it a try. I remember when I was her age, we used to draw hopscotch on the side walks with colored chalk. We never had anything fun like this! Not only does it shoot up fountains of water but every step collects a pool of water to give the perfect splash during each jump. What a fun twist to a classic game. I love finding different water activities for the outdoors during the hot and humid Summer. It's brutal here in Florida!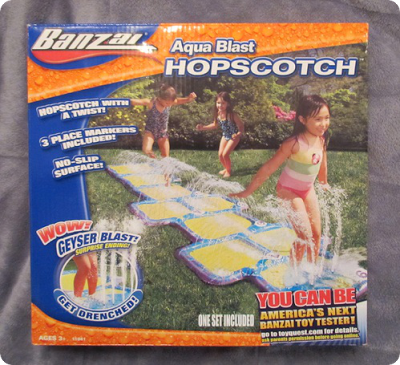 The Aqua Blast Hopscotch took less than five minutes to get up and running. All it took was a simple unrolling of the mat and a quick hose attachment. The water immediately flowed through the pockets and shot out into several small shooting fountains.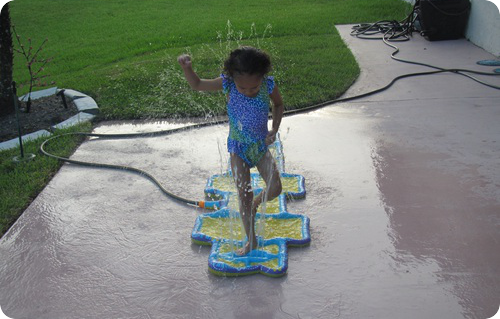 Quick, painless, and refreshing fun for the warm Summer days. I
t seems to be a lot more fun than running through the boring old sprinklers!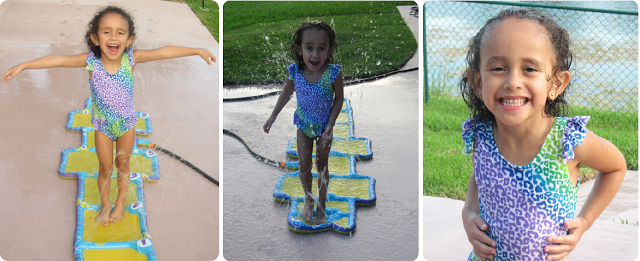 After an hour of water fun, Toodie was pooped and ready for a long hot bath. Seeing her excitement from the water hopscotch has me looking forward to the slip & slide. I wasn't sure if she would be interested in it, but this kid loves playing in water! She didn't even want to get out of the bath tonight.. I think it is safe to say we are ready for Summer!