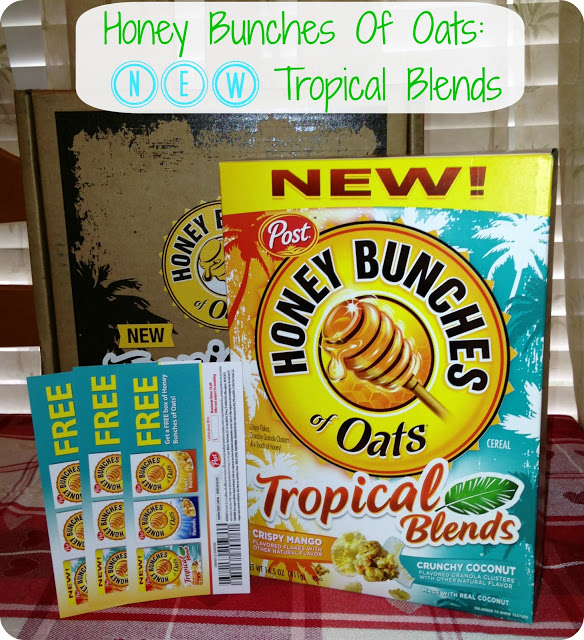 Sweet, tangy, and crispy all in one box? Yes, it is possible! The makers of the popular Honey Bunches of Oats cereal have introduced a new flavor to their lineup, Tropical Blends. The unique medley of mango and coconut give each bite a punch of sweet and tart flavors. Every box is packed with crispy mango

flavored

flakes, crunchy coconut

granola

clusters, and a hint of honey. It is also Hearty Healthy.

This means
there is absolutely no trans fat, has only 0.5 g saturated fat, and contains no cholesterol. Hard to believe by taste alone, but it has just 120 calories! There a

re

10g of whole grain, 9 essential vitamins & minerals, and only 6g of sugar. Those are the facts and I am sure if you are a parent you know how much healthier this cereal is compared to other leading brands. Other sugary cereals are full of empty calories and do nothing special for your children. Like many, I try and steer clear from unhealthy cereals and snacks for my little one. If you are the same, you may want to check out this cereal as an

alternative

.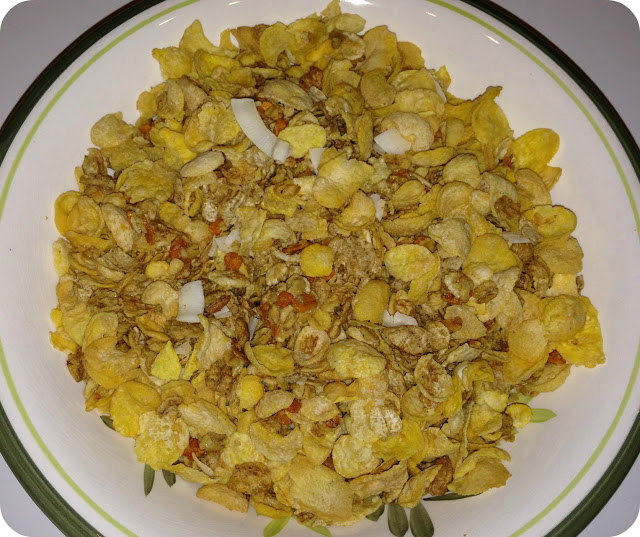 You know those people who enjoy cereal so much that they have no problem eating it for every meal or even odd hours of the day? You may be one of them, or have a family member that can't get enough. I know that I am. Ever since I was pregnant with Toodie I have had a craving for cereal. Some months I won't touch it when others, I can't get enough. I can't even count how many boxes of Honey Bunches of Oats with Strawberries we go through a week here. I love cereal that contains dry fruit or the hint of fruity flavor. This is why I was excited to try the new Tropical Blends. At first I was not sure how mango and coconut would mesh together, but after a few spoonfuls I completely understood where they were going with this. Not only was it tasty, it also satisfied my sweet tooth and took away any hunger. The cereal is dense, contains a balanced amount of flavor, and isn't too sweet. I really enjoyed it and thought it was a great addition to their other fruity cereals on the market. It would also be yummy tossed around in a homemade trail mix!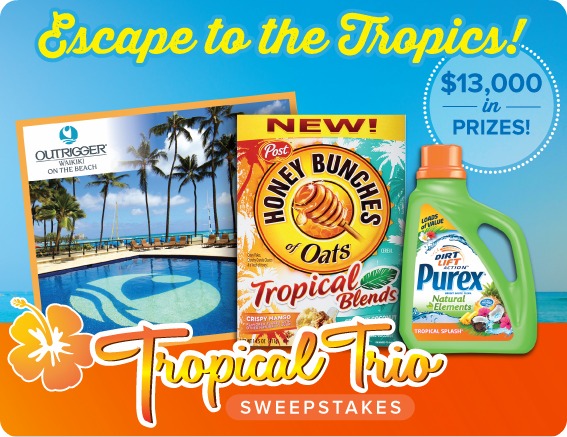 Honey Bunches of Oats is also hosting a sweepstakes called

the "Tropical Trio" which will have several winners and tons of great prizes.

One GRAND PRIZE winner will be sent on a relaxing tropical paradise vacation to Outrigger Waikiki on the Beach! FIVE 1st place winners will receive one-year's supply of Purex Tropical Splash Detergent

and

Honey Bunches of Oats Tropical Blends Cereal. ONE HUNDRED 2nd place winners will receive coupons for FREE Purex Tropical Splash Detergent and Honey Bunches of Oats Tropical Blends Cereal. Enter now through April 15, 2013 for

your chance to win.
In addition to the Tropical Trio Sweepstakes, I am giving away THREE fre

e product coupons for a box of the new Honey Bunches of Oats Tropical Blends cereal to one lucky winner. Enter below!
Disclosure: As a Purex Insider, I was provided with a sample of the new Honey Bunches Of Oats Tropical Blends cereal to facilitate this review and host a giveaway for my readers.