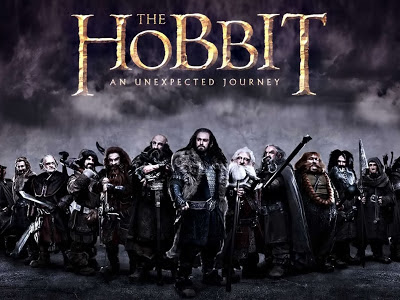 Academy Award®-winning filmmaker Peter Jackson has created another action packed film! "The Hobbit: An Unexpected Journey," is the first of a trilogy of films adapting the enduringly popular masterpiece The Hobbit, by J.R.R. Tolkien. You may recognize many of the characters and similar story line from the popular Lord Of The Ring series. Mixing fantasy and action together, this film takes viewers on a journey through the Misty Mountains where they end up having a close encounter with a dragon.
In conjunction with the films DVD/Blu-Ray release next week, an interactive Blog App is available for fans to get amped up! Within the app you are able to do the following:
Are You 100% Hobbit Quiz!

What has a tendency to be very brave, is around 4 ft. tall with sharp eyesight, little to no facial hair, and loves cake? If you thought we were talking about you, then you might be a Hobbit Indeed! Take the quiz to find out just how much of a Hobbit you are!
Creatures of Middle-earth! Hobbits, Elves and Dwarves are just a few of the magical creatures that call Middle-earth home. Check out vital stats and unique features about each one!
Browse The Hobbit Handbook! Our Hobbit Handbook includes everything you need to throw the best viewing party in Middle-earth right at home.
Here is what you can expect from the movie

:
" J.R.R. Tolkien's epic adventure follows the journey of Bilbo Baggins, who is swept into an amazing quest to reclaim the lost Dwarf Kingdom of Erebor from the fearsome dragon Smaug. Approached out of the blue by the wizard Gandalf the Grey, Bilbo finds himself joining a company of thirteen dwarves led by the legendary warrior, Thorin Oakenshield. Their journey will take them into the Wild; through treacherous lands swarming with Goblins and Orcs, deadly Wargs and Sorcerers."
Sounds mystical and enchanting! Being a follower of the Lord of The Rings, I am looking forward to seeing this one for myself.

Are you a fan of the Lord Of The Rings and looking forward to seeing the Hobbit? You can add it to your collection by entering for the chance to win a
The Hobbit: An Unexpected Journey

B

lu-Ray combo pack below! It will be available in stores on March 19th on DVD & Blu-ray

.

Disclosure: Warner Bros has supplied me with the materials for this post.