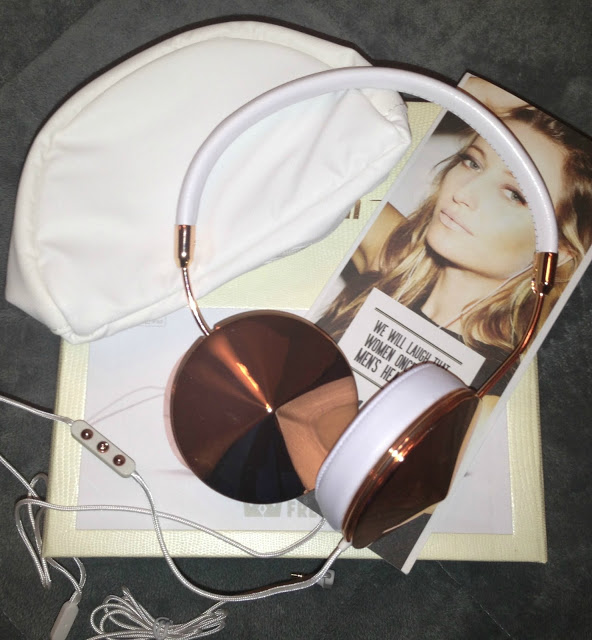 Music is my escape. Sometimes I just need to curl up on the couch, grab a cup of coffee, and drift off into a land of beautiful tunes. This is one of my favorite things to do when I am taking "mommy" time out of my typical day. Having high quality headphones is important for someone like me, but I've never made the time to search for the perfect pair. I was elated when accepted into a recent Best Buy blogger program in which participants would receive a pair of GORGEOUS Frends Taylor headphones. Finally, a high end listening device for the ladies to appreciate!

I placed my online order through Best Buy and scheduled a pick up from my nearest Best Buy Mobile store. Before this visit I wasn't familiar with the mobile locations and spent some time exploring what they had to offer. They had several mobile devices, tablets, phone cases, and a wall geared towards to the music lover. There were various headphones to test but I went straight for the rose gold Taylors. I plugged my iPhone in and it was time to jam. I was blown away at the sound quality and the comfort of the ear pieces. Time to get my own!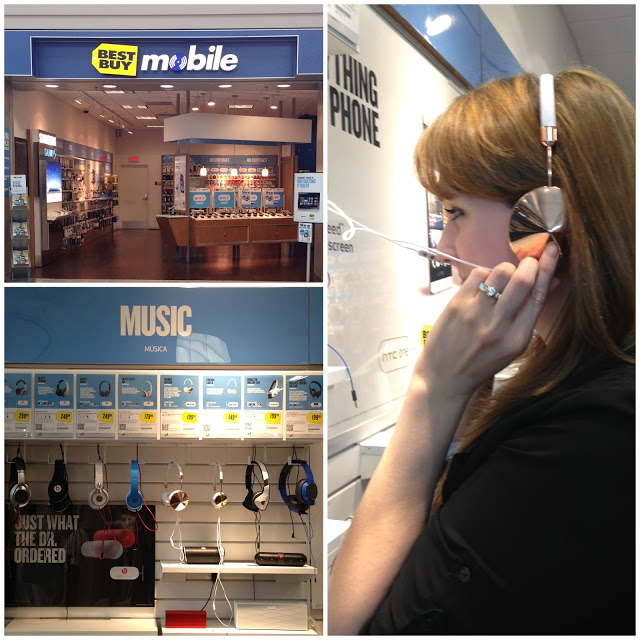 Being this was my first Best Buy blogger project, I had no idea what to expect when I arrived at my local Best Buy Mobile store. The staff was helpful, willing to answer questions, and even inquired about my blogging endeavors! The Taylor headphones had been sold out for quite some time but there was a special package waiting just for me in the back room. The kind store associate assisting me handed over a black package with a welcome note attached. I felt like I was receiving the V.I.P treatment! It made me realize how thankful I am to be a blogger and receive these opportunities. I was encouraged to continue looking around the store and take as many photos as I desired.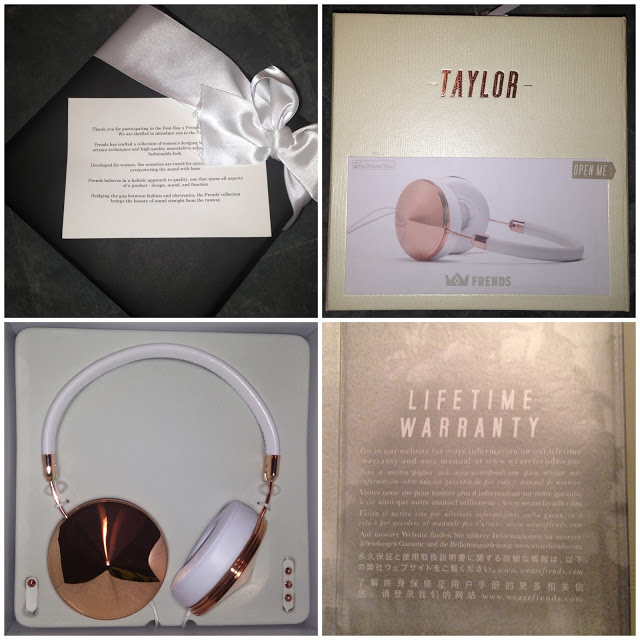 Even though I had already experienced the Taylor headphones at the Best Buy Mobile Store, I was excited to open my own once I got home! I fell in love all over again with the beautiful rose gold hardware. The jewelry inspired designs and carefully handcrafted metal are what make these particular headphones unique. They are stylish, trendy, and eye catching. I have never owned such a beautiful set of headphones before! Impressed would be an understatement. I remember spotting a girl on the street wearing these a few weeks ago and I honestly could not stop looking at them.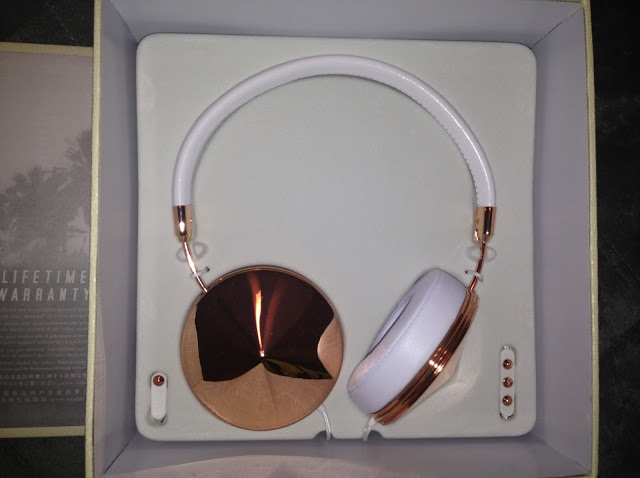 The white and rose gold accents really do compliment one another. Together they create an elegant look that ladies get to rock! They're edgy and sleek but at the same time they give off a very "rich" appearance. The crisp white leather is classic and versatile while the rose gold adds that special bit of glam to the headphones. I felt like a million bucks wearing these!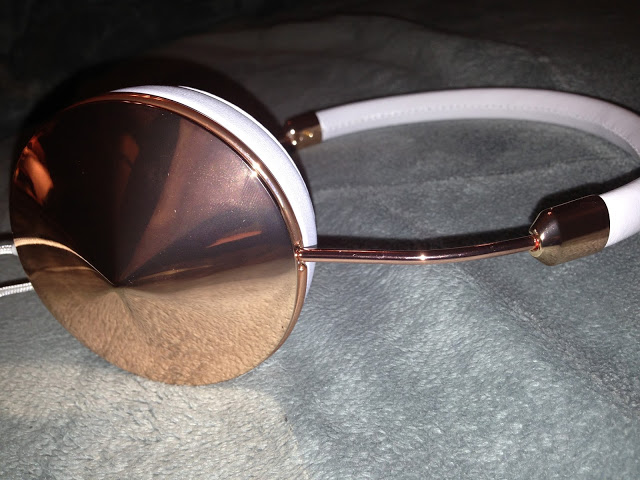 One of the most important features I look for in headphones would have to be comfort. I prefer over the ear headphones because they don't apply pressure and the quality of sound is greater. The ear pieces on the Taylor headphones have memory foam cushions to ensure that your listening experience is enjoyable. The softness doesn't stop there! The soft touch fabric cord is also designed for comfort. These headphones look just as good as they sound, if not better.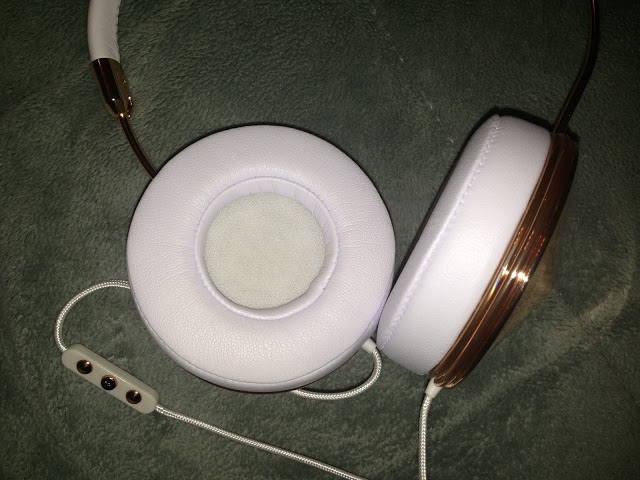 The soft touch cord is equipped with a three button mic which includes volume, music, and phone control. These headphones are not only to listen to your favorite playlist but can also be used to hold a conversation with a friend. Either way the sound quality is amazing. There is so fuzzy interference or cutting out. When I am wearing them I almost become unaware of what is going on around me! It may sound odd but this is another favorite feature of mine. I hate when I am listening to music and can hear the dogs barking like crazy goons. The Taylors block everything out and allow me to listen my music in peace. Close your eyes, lay back, and let the 40mm drivers give you a surround sound experience.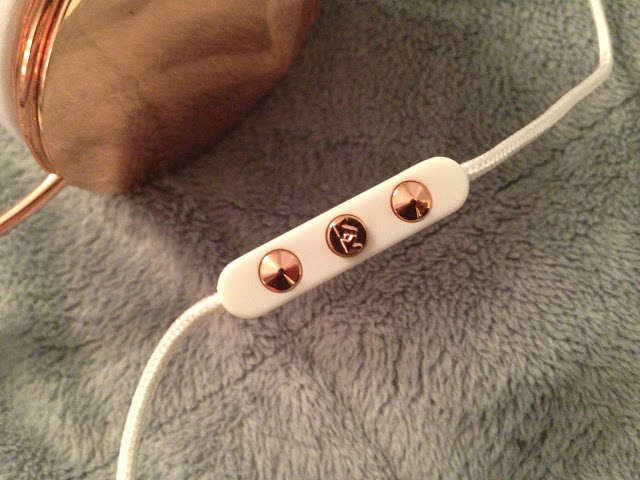 The headphones even came with a softly lined white pouch for storage. This makes it easy to fold them up and take on the go! I normally bring my existing headphones with me when I leave the house, but to avoid getting tangled in my bag I have to keep them in the car. With the Frends Taylor headphones being collapsible, all I have to do it fold them nicely and tuck them into the small pouch. This way they fit perfectly in my purse and work bag without getting damaged!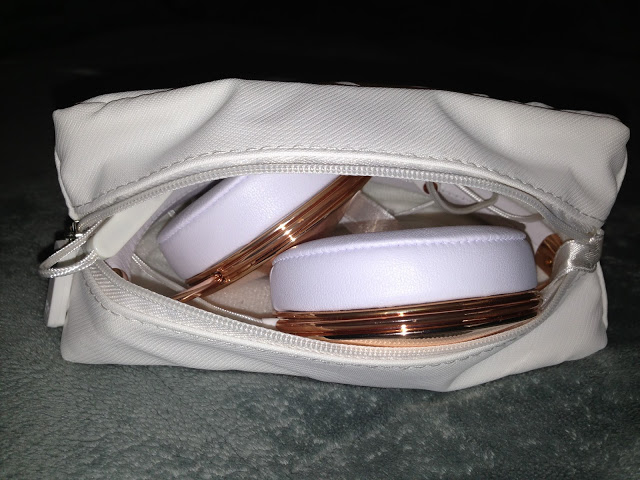 You can also be the proud owner of stylish Frends Taylor headphones by visiting and purchasing at your local Best Buy Mobile Store. These stand along stores are typically found in your nearby malls or shopping centers. They are focused around mobile devices, accessories, and popular electronics. Since the friendly staff is highly trained and non-commissioned, your shopping experience is guaranteed to be more personable. The employees take their time in getting to know what you are looking for and what product will best suit your needs. If you are in the market for a cell phone, they are prepared to compare plans and also educate you on the devices sold. In addition, they can set up and activate your new phone, transfer your contacts and data and set you up with the complimentary Walk Out Working™ program. To find a Best Buy Mobile specialty store, go to www.BestBuyMobile.com. Happy shopping!

For 10% off your Frends headphone purchase, visit here! This promotion is only valid between 7/28/13 and 8/10/13 so make sure to act fast. This coupon can only be used at Best Buy Mobile Specialty Stores.
Disclosure: Young At Heart Mommy has been compensated in the form of a Best Buy Gift Card and/or received the product/service at a reduced price or for free.