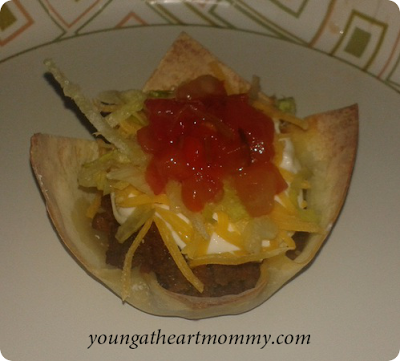 Ground Beef (1-2 pounds depending on how many you are serving)

Taco Seasoning Mix

Muffin or Cupcake Pan

Won Ton Wraps

Toppings ( Sour Cream, Shredded Lettuce, Hot Sauce, Cheese, Salsa, Guacamole, Beans, etc.)
"Taco Nights," are very common and popular
in our home, but realistically speaking … they get pretty dang boring after a while.
When I was just about to give up on the good old taco, I found a recipe that would add a new twist to one of our favorite meals. All of the ingredients needed for this recipe are the same you would buy if you were making a regular taco. The only extra item needed is the pack of won ton wraps. These can be found in the produce section in the supermarket. You prepare your ground beef the same exact way- brown, drain, and add the taco seasoning. Once it's simmered and seasoned, you can move on to creating your mini won ton taco bowls.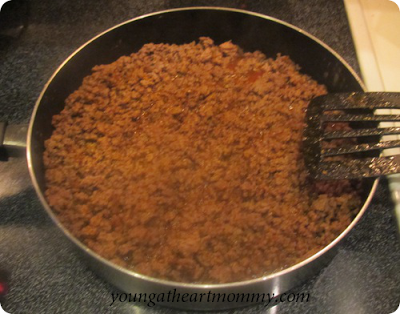 Spray the pan with PAM to keep the won ton wraps from sticking to the bottom. Place one won ton sheet in each cup and with your finger, gently push down the middle. Your finger is your best tool because using the end of a spoon may cause rips or tears given how thin the won ton sheets are. This step will create the wavy bowl-like shape needed to hold the seasoned meat.
Fill your mini won ton bowls with the desired amount of ground beef. A spoon full or two should be enough. Make sure not to put too much into each because it will weigh down the bottom. You also want to leave enough room for the tasty toppings to be added!
Allow the taco bowls to cook for 8-10 minutes. Since the ground beef is already cooked through, you only need the won ton wraps to cook until brown and crisp. While waiting, prepare your toppings and extras. I used sour cream, shredded lettuce, cheese, hot sauce, and salsa. The only thing missing was my favorite- guacamole!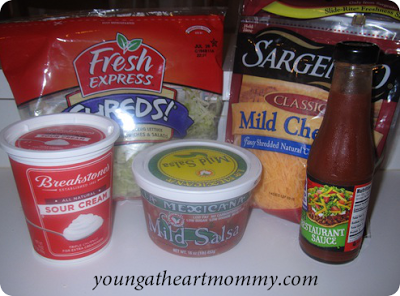 When you notice the edges getting brown, this is a sign that they are just about done. Leave them in for a minute or two more if you want them to be very crispy. Keep in mind that everyone's oven is different. If you are making more than one batch make sure to keep an eye on the time so you don't burn them. These cook quickly.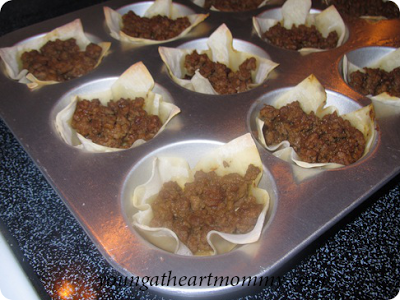 After they are cooled off, everyone can add their own toppings!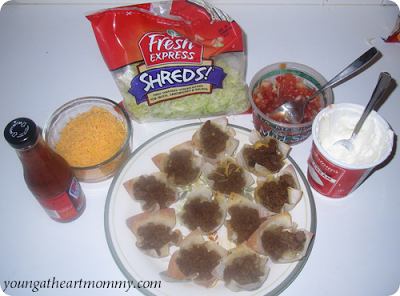 For this recipe I used two pounds of ground beef and two taco seasoning packets. This was enough to serve 6 people and we had about 5 leftover. If you are looking for a quick and easy twist to the traditional taco, this is it! It took no time at all to make and everyone loved that they were"bite size."