If you are a fan of the monthly subscription beauty boxes you may have recently heard about the grand and girly- GlossyBox! While GlossyBox has been available in 19 other countries, it has just made it's appearance here in the United States recently. Each month a curated box of 5 deluxe sized luxury beauty samples will be delivered at your doorstep for you to indulge and pamper yourself with. After creating your beauty profile and selecting your subscription plan, your personalized samples will be on their way. I have read a lot of positive reviews from other beauty box lovers in the U.K and once I received my own GlossyBox I realized what all the hype was about.Yes, another box of beauty-ful goodies to feed my addiction!

If you follow GlossyBox on Twitter you may know that this month they held an Olympic themed giveaway in which you could win on of their popular boxes. I tweeted my entry and was lucky enough to be one of the winners chosen. Last week I received the July Summer Nights Glossybox and could not wait to see what was inside this pretty pink box!

The Summer Nights Glossybox contains everything you need including essentials to help show off your sun kissed skin and hair while enhancing those sultry eyes.
There were 5 expected deluxe samples but also one special surprise bonus.
I've never actually received a subscription box in which I truly felt I could utilize every single item it came with. Glossybox must be the first because I loved every single sample that I received, especially the Sebastian duo for color treated hair. Not that I need another shampoo or conditioner to add to the 10 bottle collection lining my shower…but seriously- I have to buy the full size of both of these products!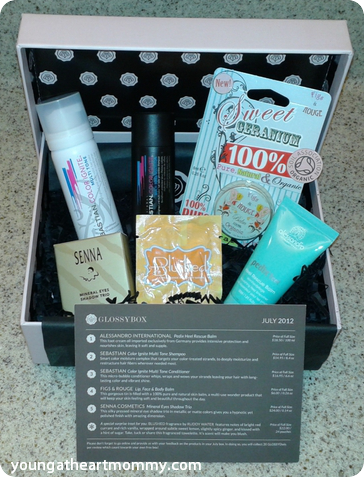 Alessandro International Pedix Heel Rescue Balm: This foot cream oil imported exclusively from Germany provides intensive protection and nourishes skin, leaving it soft and supple.

Sebastian Color Ignite Multi Tone Shampoo: Smart color moisture complex that targets your color-treated strands, to deeply moisturize and restructure hair fibers wherever needed moist.
Sebastian Color Ignite Multi Tone Conditioner: This micro-bubble conditioner whips, wraps, and wows your strands leaving your hair with long lasting color and shine.

Figs & Rouge Lip, Face, & Body Balm: This gorgeous tin is filled with a 100% pure and natural skin balm, a multi-use wonder product that will keep your skin feeling soft and beautiful throughout the day.
Senna Cosmetics Mineral Eyeshadow Trio: This silky pressed mineral eye shadow trio in metallic or matte colors gives you a hypnotic yet polished finish with amazing dimension.
*Bonus* – Blushed Fragrance by Ruddy Water: Features notes of bright red currant and rich vanilla, wrapped around subtle sweet lemon, slightly spicy ginger, and kissed with a hint of sugar.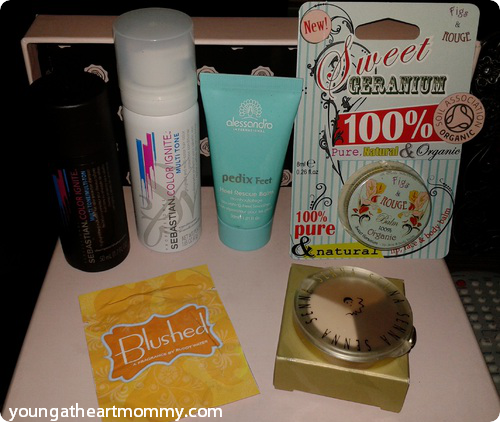 After giving each sample in the box a few tries, I can say I am honestly satisfied with my first Glossybox experience. For $21 a month, the value is there and I feel you are getting what you pay for. The full size eyeshadow trio alone retails for $24 making the box already worth it. This box compared to others, contains products that are higher end and recognizable. Some of these brands include O.P.I, Burberry, Ole Henriksen, Zoya, & First Aid Beauty. I also like that you can cancel anytime without any fuss or frustration. I didn't think I would ever say this but Birchbox may have met their new competition! Glossybox has got it all- presentation, delivery, and a variety of exciting beauty products.
Disclosure: I received the products above from GlossyBox as a winner in their Twitter promotion. I am taking it upon myself to share my honest opinion and experience. I am under no obligation to post a positive review on them. I will not be compensated for this review. As always, opinion are my own!