For most of us, bamboo is just a plant or decoration for our home. It may not be something we see often but when you do, I guarantee that you haven't thought about sleeping on it! At least I didn't until I was introduced to the luxury brand retailer, Cariloha.
Cariloha is like a hidden treasure that I never knew existed. Their products are made from bamboo which makes their merchandise ultra soft and comfortable. This includes bath, bedding, clothing, and numerous accessories.
Cariloha was generous enough to provide me with a set of their bath towels and bedding to review. I have never worn, used, or slept on anything made from bamboo so I was very anxious for my package to arrive!
At my house, bath towels do not last very long. I am not sure if it's because of my water pressure or just the quality of the towels I am buying. They are always stiff and not very pleasant to dry off with after a shower. After using the bamboo bath towels, I can't believe I have been drying off this long with something the equivalent to sandpaper! Soft isn't even the word. These are so cozy that they feel like a blanket.
They are also highly absorbent and made from rayon, cotton, and renewable bamboo. This blend ensures they are durable, fluffy, and thick. Available in Blue, Chocolate, Green, Taupe, and White these towels can accommodate any bathroom.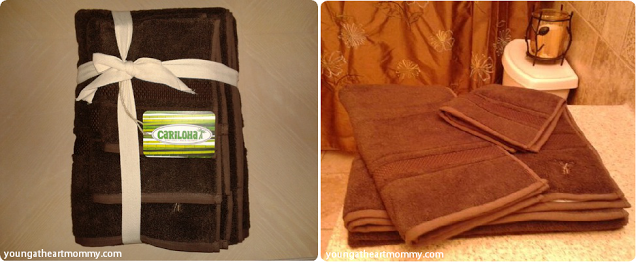 Just like the bath towels, the sheet sets and pillow cases are made with Cariloha's special bamboo fiber blends making them softer than 1,000 count Egyptian cotton! Their exclusive collections are soft to the touch and also created from a renewable eco-friendly resource- bamboo. These luxurious sheets will take your night's sleep above and beyond. They are available for Queen, King, California King, Twin, and Full sized beds. While there are several colors available to choose from I decided to go with the Sage, which is a muted green with a hint of grey. The sheets and pillow cases are also available in Blue, Ivory, Tan, & White. Each sheet set consists of 1 fitted sheet, 1 flat sheet, and 2 pillow cases with the exception of the twin set which only includes 1 pillow case. With bamboo being twice as soft as cotton, I could not wait to get my set in the wash before bedtime.

The Sage color was exactly what I expected and with my furniture being such a dark wood, it complimented it nicely. But enough about how their appearance, can I rave about how incredibly soft they were? I have never owned bedding that felt this silky smooth! The bamboo fabric truly does make a difference. Bamboo is actually 3 degrees cooler than cotton and keeps moisture away from the body. I normally get hot very easily in the middle of the night, but this didn't happen at all with this bedding They kept my body the perfect temperature and prevented them from sticking in the middle of the night when the AC was off. There are several stores that I visit when shopping for linens. The one thing they ALL have in common is the higher the thread count, the steeper the price. This is probably why I have never treated myself to a thread count over 500! These Cariloha Bamboo Sheets retail for $139 and are well worth every penny. I guarantee you could not find anything even close to 1,000 thread count for this price. It's incredible and I don't think I ever want to go back to cotton. Yes, this experience has left me feeling a tad bit spoiled! Even my dog took a siesta on these new sheets, and their were no complaints on her end either.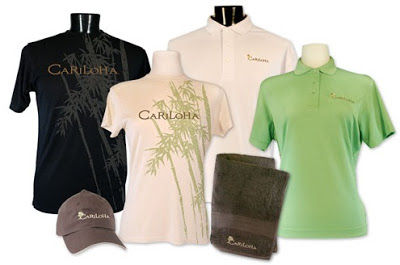 While I could go on and on about how much I loved the bamboo towels and bedding, I should probably remind you that Cariloha has other great merchandise available. They offer a full selection of clothing for men, woman, and children that are all fabricated from their unique bamboo blend. You can also find accessories and even phone covers on their site!

Want to jump on board with the bamboo craze? Here is your chance. One of my lucky readers will win a bamboo Cariloha Bath Towel Set valued at $69. Enter below to win and good luck!
Disclosure: I received the products above from Cariloha for my consideration and to share my honest opinion and experience. I am under no obligation to post a positive review on them. I will not be compensated for this review. As always, opinion are my own!