If your are like me and have been trying to kick your unhealthy soda habit for quite some time, then this review is just for you! Last year I came across the new ZERO CALORIE soda sweetened with the all natural sweetener- Stevia.
Zevia has completely satisfied my soda cravings for a good year now. You don't have to worry about artificial sweeteners or drinking your calories because Zevia contains all natural ingredients.
I think that Zevia is an excellent alternative to drinking normal soda. It has the same amount of fizz minus the unnecessary sugar.
Looking back, I wish I would have known about Zevia all natural soda when I was pregnant with Toodie. One of the worst things I did during my pregnancy was consume too much Coke and Dr Pepper! Later on this led to me having a severe gall bladder attack which resulted in surgery. Not fun!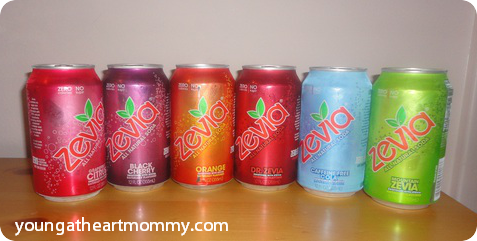 Zevia sent me quite a few flavors to sample and I was really excited to see the variety. The only Zevia sodas I have tried prior to receiving these were Cream Soda and Caffeine Free Cola. I normally purchase Zevia from my local Whole Foods and had no idea that there were so many different kinds available.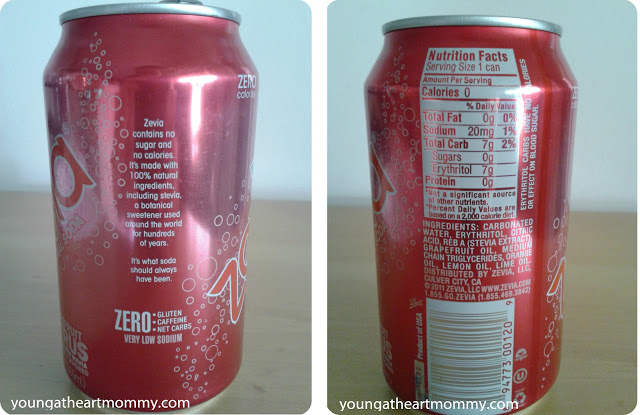 The first flavor I chose to try was Grapefruit Citrus. I expected the soda to come out a pinkish color but it was in fact clear like most of them. I made sure to place all of the cans in the refrigerator prior to drinking so that they would be nice and cold! It is recommended that you drink Zevia ice cold to achieve the best taste. Zevia also suggests you drink the soda from the can as opposed to a cup- to avoid it getting flat quickly. I happened to really enjoy the Grapefruit Citrus flavor. It was tangy, fruity, and had the right amount of citrus.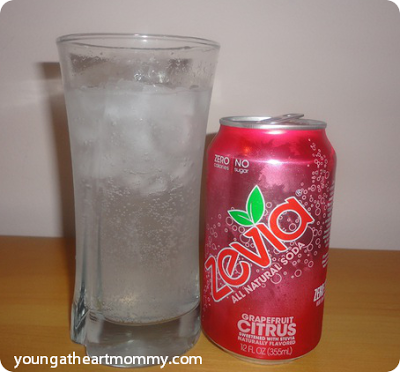 So far my favorite flavors are the Orange and Dr. Zevia. They both taste like regular soda with a little kick! Now that I am aware that Zevia offers so many different flavors I am going to be on the look out during my next Whole Foods trip. Zevia also just release three new flavors- Strawberry, Lime Cola, and Cherry Cola. They are so good I just want to try them all!
Connect with Zevia!
Would you like to try a 6 pack of Zevia for yourself? Here is your chance! Enter below through the raffle copter form and good luck.
Disclosure: I received this product from Zevia for my consideration and to share my honest opinion and experience. I am under no obligation to post a positive review on them. I will not be compensated for this review. As always, opinion are my own!