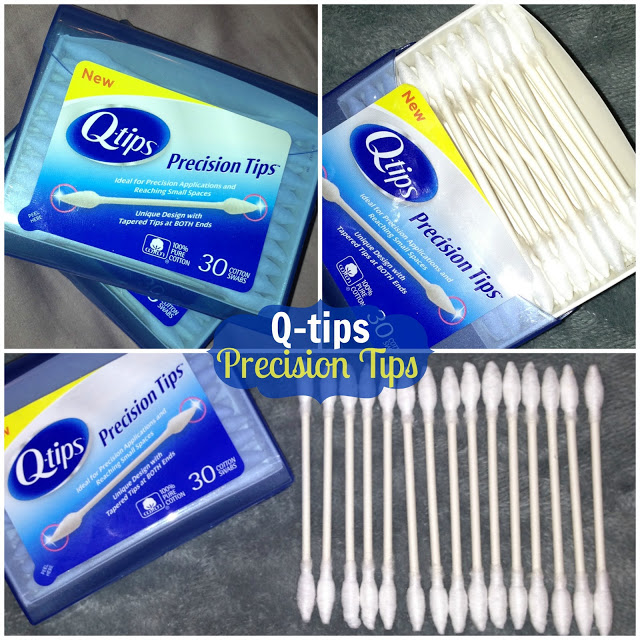 As I continue to rummage through my Something Blue voxbox, there is one brand that I recognize from a mile away! The Q-tips brand has been around for years, more than 85 to be exact. I grew up using Q-tips mainly to clean my ears after a bath or pop the hard pieces of play-doh out of my toys. As the years went buy I learned that they are actually quite helpful in removing gunk from sippy cup straws, perfecting smudged eyeliner, painting, and touching up excess nail polish from your cuticles. Q-tips sure do grow with you. I couldn't function without em' and to ensure I don't have to there is always a brand new box awaiting me in the bathroom.
Inside of the #IdoVoxBox I found two 30 count purse packs of the Q-Tip Precision Tips. These new additions to the q-tip family have pointed tips at both ends and are made from 100% pure cotton. This makes them them the softest cotton swab around! I bet you didn't know that they are also biodegradable. The paper sticks attached to the ends of the fluffy swabs are sourced from sustainable forest too. Q-tips seem to be the most simple tool but they can be used for so many different things. The little purse packs are convenient and small enough to fit within a clutch or purse. Since receiving mine, I have kept one inside of my makeup bag and one in my car for emergencies. I often touch up my makeup during the day and having these little guys on hand makes the task much easier. They are perfect for removing eyeliner, mascara, and any eyeshadow that makes it way out of place. I even use them to clean the tiny crevices in my car near my stereo and console.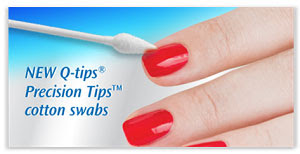 Between work and being a full time mommy, I don't always have the spare time to head to the salon for pampering. Sometimes I prefer to do my own manicure and pedicure at home. I have a vast nail polish collection and enjoy coming up with my own designs. While I am almost a pro at painting my left hand, the right always ends up looking like I did the job with both eyes closed. The Q-tip precision points help me clean up the mess and touch up all of the extra nail polish. The pointed tip does a clean job of removing the excess and leaves my nails looking much nicer. Just another example of how versatile they really are!
You can get your hands on Q-Tips Precision Tips at your local grocery retailer, drugstore, or online. Visit the Q-Tips website for additional information and a look at the other products they offer. Stay connected on Facebook and follow along on Twitter. Pay close attention! They frequently have mini giveaways on Twitter where you can win prizes including Q-tips, nail polish, and skincare products.
Disclaimer: I received the products in this post compliments of Influenster for purposes of this review, however all opinions are my own.