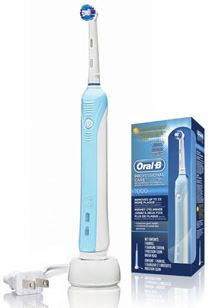 For years my dentist has suggested replacing my manual toothbrush with a new and improved electric device. I always walked out with the thought in my head but would never remember to make the switch when it came time. Toodie even has her OWN Hello Kitty electric toothbrush, so why don't I? I liked my good old toothbrush. I could pick out the shape, bristle size, and hardness. I have a habit of brushing the heck out of my teeth and for some odd reason, it's the only way I feel they are getting clean! Well, I was wrong. This whole time I was actually removing the enamel from the top layer of my teeth, which is meant to protect them. It just so happens that you can obtain healthier gums and your teeth can actually have a better cleaning with softer bristles. When given the opportunity to try the Oral B Professional Precision 1000, there was no way I would pass it up! It was time to leave the "Toothbrush Stone Age" and get modern with an electric.
The Oral B Precision 1000 is a rechargeable toothbrush that is not only designed to clean thoroughly but it also removes up to 5 times more plaque along the gumline. This toothbrush comes with an informative manual, waterproof handle, charger, and brush head. The Oral B Precision 1000 has several features that make the experience more affective compared to using a manual toothbrush.

The round brush head surrounds each tooth for precise cleaning in all of those hard to reach areas. Unlike a manual brush, it pulsates to break up plaque and oscillates to sweep the excess away. I really like that when you are brushing too hard the toothbrush actually stops pulsating. This is helpful for someone like me who is used to a more aggressive brush.
Every 30 seconds the toothbrush also vibrates, reminding you to switch to a different quadrant of your mouth for brushing. The toothbrush guides you to make sure you are getting each section cleaned well. One of the obvious benefits of having an electric toothbrush is that you can change the brush heads and the handle can be re-used. When it is time to replace your brush head, the bristles will fade half way. I always have a hard time knowing when to toss my toothbrush so I can appreciate the reminder. This is recommended for a better clean and to also prevent any germs that may linger around your toothbrush over time. I also noticed that in the manual it states you can use a variety of Oral B brush heads with this model.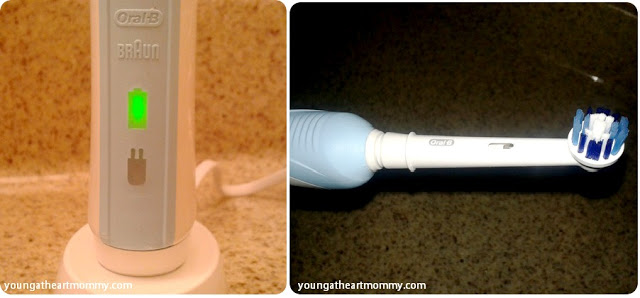 When I am finished using the electric toothbrush, I always put it back on the charger immediately. The charge is supposed to last a full seven days but because I always have it attached, I never experienced it running low. On the front of the device there is also a small battery light that lets you know when it is running low or full. This toothbrush comes with quite a few nifty little reminders!
After using the Oral B Precision 1000 for two weeks, there is not one manual toothbrush left in my bathroom. It was love at first brush and my teeth have never felt so clean. Even though it provides a more vigorous cleaning, this electric toothbrush did not leave my teeth or gums irritated. I also noticed a huge difference in how white my teeth looked. Using the Crest 3D White Toothpaste like I normally do, the Oral B toothbrush made a visible difference in the overall color and brightness of my smile. I would recommend this product to anyone who is skeptical on making the switch from manual to electric. The experience was beyond pleasant and I highly doubt I will ever go back to the standard toothbrush.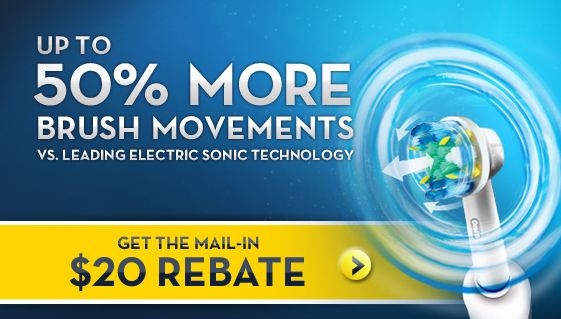 Interested in trying an Oral B Power toothbrush for yourself? Right now the Oral B website is offering a $20 rebate on your qualifying purchase between July 1, 2012 and September 30, 2012. If you have never used an electric toothbrush or would like to update your current model, take advantage of the savings! Oral B allows you to try your device with no risk for 60 days. If you are not satisfied then you are guaranteed your money back. You can find this Oral B model and others at major drug stores, mass merchandisers, grocery stores and online retailers.
Disclosure: I received the products above from Modern Mom & Oral B for my consideration and to share my honest opinion and experience. I am under no obligation to post a positive review on them. I will not be compensated for this review. As always, opinion are my own!