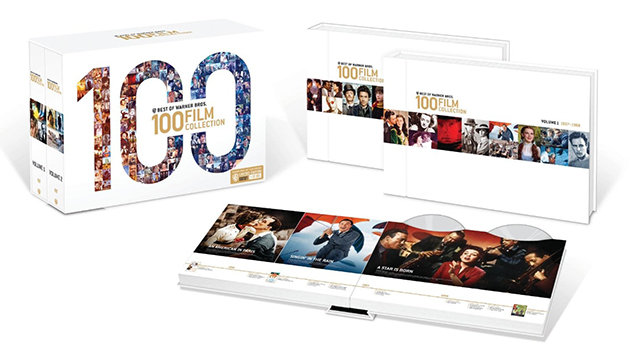 Nothing says "I Love You" on Mother's Day like a classic movie night made for mom! Warner Bros has created a huge collection of their most beloved films including titles such as "The Goonies" and "Batman." It is sure to not only provide entertainment for the whole entire family but also put a huge smile on any mother's face this upcoming holiday. To celebrate the release, Warner Bros has come out with an interactive blog app for fans. Check out the app below and enter for your chance to win the complete film collection!


The Best of WB 100 Film Collection includes 100 movies including all 22 of Warner Bros. Library's Best Picture™ winners on 55 discs presented in book style premium packaging. Plus two all-new documentaries: Tales from the Warner Bros. Lot and The Warner Bros. Lot Tour. With hours of commentaries, behind-the-scenes featurettes and more on select films. Also includes a limited edition 27" x 40" poster, plus a postcard series of Warner Bros. movie posters designed by legendary Bill Gold.
Here are a few things you can do within the Mother's Day Movie Night Blog App:
Guess-the-Scene Game! How well do you know the silver screen's most famous love stories and sing-a-longs? Play the Guess-the-Scene game to test your knowledge on the world's greatest films! The quicker you pick, the more points you score. Ready? Action!
Words in Film! Select your mood and let quotes and images from film express how you're feeling!
Movie Night Conversation Starters! Watching a classic flick together is the perfect opportunity to catch up and share stories… this Mother's Day make it a point to connect with your family and give them a chance to learn something about mom they never knew!
Partners Hub and Warner Bros have generously provided Young At Heart Mommy readers with the opportunity to win The Best of WB 100 Film Collection! This would make an awesome Mother's Day gift and would put the cherry on top of any movie night. To enter, use the rafflecopter form below.
Disclosure: The materials provided for this post were supplied by Warner Bros and Partners Hub. I am not being compensated and all opinions are my own!