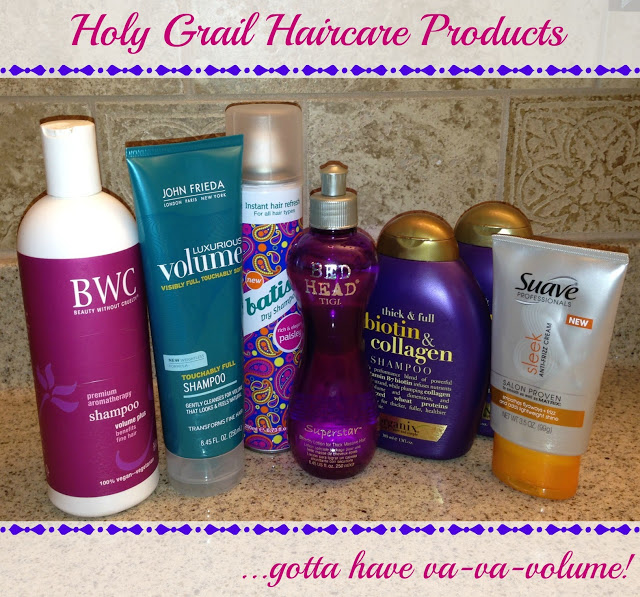 "The higher your hair, the closer you are to heaven."
I know it's a Jersey thing to say, but as a Florida girl who loves big hair, it's a quote that has stuck to me after five years of avidly watching Jerseylicious. I'm not a fan of the outrageous poof, but I sure don't mind having some extra lift. This year in particular I started to really take the time to nurture my hair. I took a break from the bleach and harsh chemical coloring. I grew it out, limited my trims, and started to pay attention to the products I was using. It's finally healthy and long, just how I wanted it for years. The only downfall? Having length can cause you to sacrifice volume. The weight of the hair makes it hard to keep the crown fluffy, causing the "flat" look. After trial and error with many different products, I found a handful that I have added to my "Holy Grail Haircare" list. Seeking extra volume? Take a look at my favorites and what I love about each.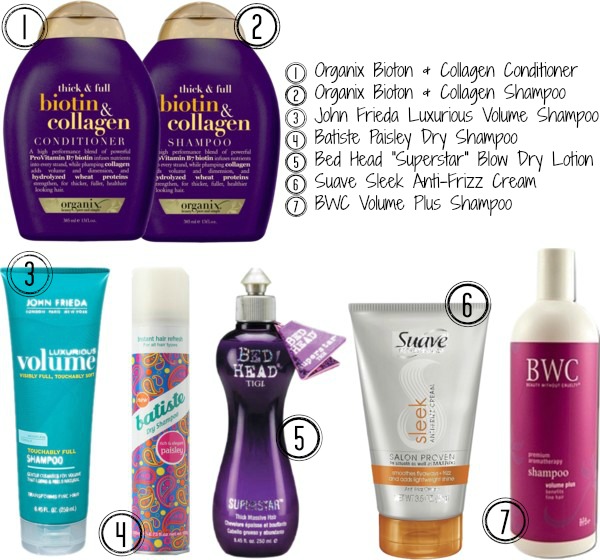 Organix Biotin & Collagen Shampoo & Conditioner:

About a year ago I tried Organix on a whim after browsing through the hair section at Ulta. Now I can't be without it. I have tried a few of the different formulas but this one delivers exactly what I am looking for- volume! Right now my hair is the healthiest it has ever been and I give all the credit to this duo. All of their products smell amazing and the scent lingers throughout the day.
John Frieda Luxurious Volume Shampoo:

The John Frieda Volume shampoo is designed for fine limp hair. I use this about once a week just to give me hair a boost. It cleans my hair without leaving it dry and brittle. Although, I wouldn't suggest using it everyday because it does tend to create build up which will leave your roots flat.
Batiste "Paisley" Dry Shampoo:

This has become my favorite dry shampoo since I received a sample in a past beauty subscription box. The paisley scent is soft, girly, and fresh. It has notes of Grapefruit, Lime, Raspberry, Apple, and Jasmine. Dry shampoo is a must have in my beauty arsenal. It's suitable for all hair types and leaves my hair feeling fresh even after a long day. With a few bursts, my hair is bouncy and voluminous. Love this stuff! I have tried numerous dry shampoos in the past and this remains at the top of my list. They even have additional scents available including Cherry, Blush, and Wild.
Bed Head "Superstar" Blow Dry Lotion:

An essential part of getting that desired volume in my hair is starting off with what I like to call a "hair primer." We put primer on our face before foundation, so why not prep your hair before you blow dry or straighten? I've been using Bed Head "Superstar" for a month now and have been extremely pleased with how full my hair is. It only takes a quarter sized amount to get massive volume. I put a little bit in my roots and run it through the ends. After blow drying, my hair is really soft and bouncy. It smells like fruit punch too!
Beauty Without Cruelty Volume Plus Shampoo: For those of you who prefer all natural products, this is one shampoo that I use on a daily basis.

It doesn't contain any parabens or chemicals. I can see a visible difference in my hair immediately after I blow dry it. It's softer, stronger, and cleaner.

Also, the brand doesn't do any sort of animal testing which makes me love it even more.
Suave Sleek Anti-Frizz Cream:

After the styling, teasing, and molding (as my mom would call it), a lightweight cream can help fight the frizz or fly-aways. The Suave Sleek Cream doesn't make your hair oily and it isn't as heavy as others. I use it mainly on the ends of my hair and to smooth out any stragglers. It's great for the Winter months when there isn't a lot of humidity in the air. My hair tends to get a lot of static when the weather changes and I always have this on hand in my purse!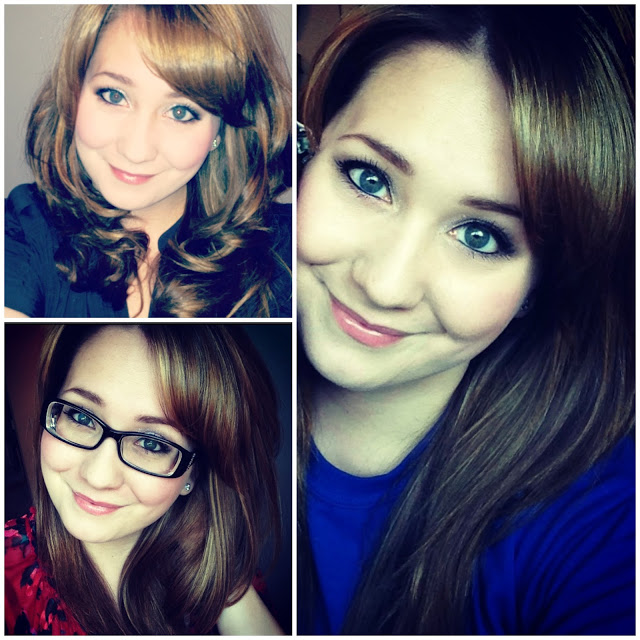 I hope that my va-va-volume recommendations help those of you who are indecisive or looking for new products to try. I know I personally HATE going to the store and spending the money on a total dud. Before I make a purchase I Google reviews on what I am considering and it's always helpful reading other's experiences. Again, this is only a short list of my favorite voluminous hair products. There are SO many out there that I have yet to try. If you have any favorites to share, please leave me a comment below!