Toodie is very picky about her meals, but when it comes to snacking she is all over it. There is never a fight to eat a snack, just pure willingness to invade and rummage through the pantry! About a month ago I came across Buddy Fruits at Publix and decided to purchase a few of their Pure Fruit Bites to try. Of course, Toodie loved them- but so did i! I ate a whole pouch by myself and wished I had purchased more. Buddy Fruits generously sent me several samples of their popular fruit bites and fruit blend puree pouches. We couldn't wait to give them all a try.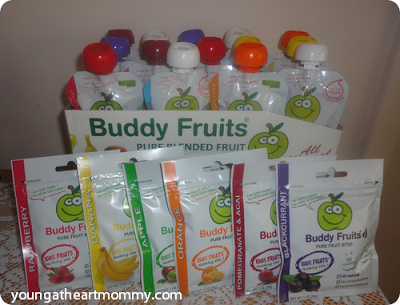 Buddy Fruits provides a healthier option for snacking and their products are packed with nutritional value. This can be hard to find when shopping for snacks to take on the go. Walking down the aisles in the grocery store you see pre-packaged cookies, chips, and fruit snacks loaded with additives. With Buddy Fruits, you do not have to worry about food coloring, preservatives, or artificial flavoring. They are also dairy and gluten FREE. Their convenient packages contain 100% fruit and are the perfect portable snack.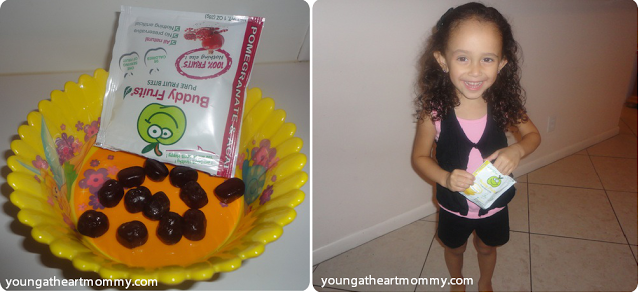 There are six different flavors of fruits bites. Each package is only 95 calories and provides 1 whole serving of fruit. The flavors include Blackcurrant, Orange, Pomegranate & Acai, Apple, Raspberry, and Banana. Finally, a healthier alternative to the typical fruit snack! Toodie had no problem eating two bags as soon as these arrived. These will be a new addition to her lunch box each week.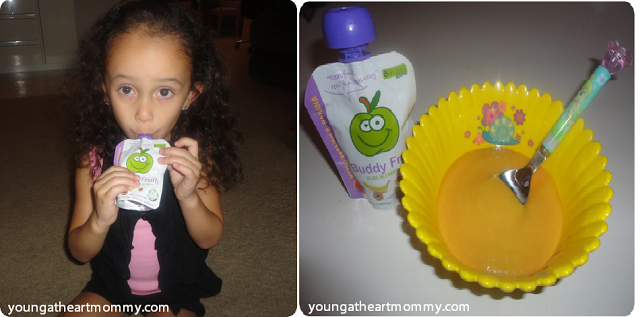 There is also a wide selection of blended fruit flavors as well. You can choose from Banana, Strawberry, Apple Cinnamon, Mango Passion & Banana, & Multifruit. These pouches are only 60 calories and the contents are 100% fruit. No peel, no seeds, and no mess! They can be eaten straight from the pouch or squeezed into a bowl. Either way the package can be re-sealed for later use.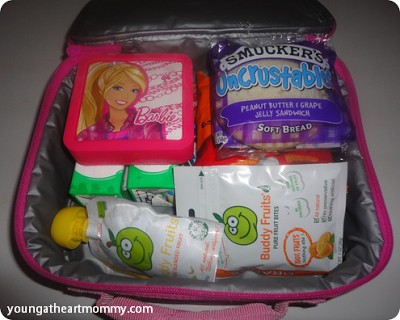 The Buddy Fruit Mission:
Simplify your everyday life
Help your kids to eat more fruits
Contribute to a healthier life
Combine eating with fun

Would you like the chance to win your own Buddy Fruits display mix? This will include their Fruit Bites and Blended Fruit Pouches! Enter below through the rafflecopter form.
a Rafflecopter giveaway
Disclosure: I received this product from Buddy Fruits for my consideration and to share my honest opinion and experience. I am under no obligation to post a positive review on them. I will not be compensated for this review. As always, opinion are my own!