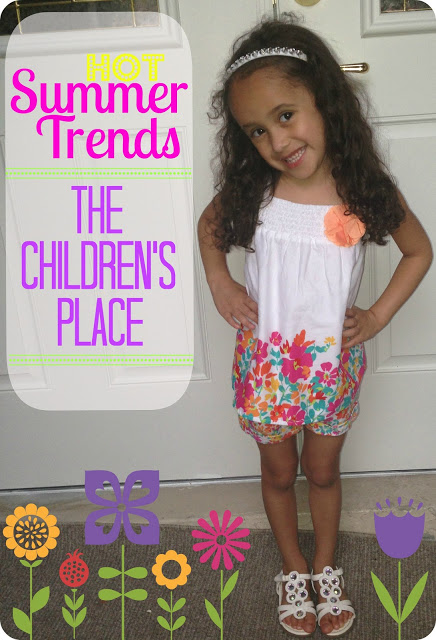 Summer FUN has just begun! The previous school year will be ending

shortly

and a new season will be upon us. It's time for splashing in the pool, walki

ng sandy

beaches, long days full of sunshine, ice

cold

popsicles, and breaking out the flip flop collection! I love this time of year because it brings about so many activities and sweet fashions for children. With the help of The Children's PLACE I had the opportunity to extend Toodie's wardrobe and add in a pop of color for the Summe

r.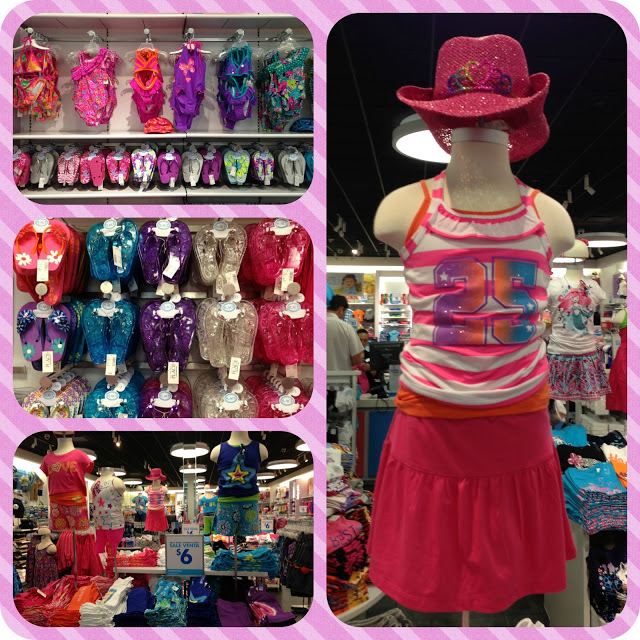 I was so happy to see new sparkly jelly sandals and flip flops in Toodie's size. Every time I purchase shoes at The Children's PLACE, they last forever and really hold up for quite some time. They also had so many bright colors that would match with every clothing item in the store. I picked out the clear pair with the chunky glitter because I knew they could be worn with anything and everything I purchased. One piece and two piece swimsuits are back. All the swimsuits are lined with rash guards and UPF 50 protection to make swim time worry free and comfortable for boys and girls. There are tons of frill, beachy patterns, and foil prints to give each suit personality.
This was also prime time to stock up on some of their graphic shirts and solid shorts. They were on sale for $5! Whether you prefer flowers or flourescent halter tops, you can once again mix and match for variety. For toddlers there were also flowy dresses and sassy rompers. Loving the funky Summer styles. They really hit the nail on the head when it comes to what's "HOT." Living in South Florida can be extremely warm these next few months so I appreciate the light loose material for all ages.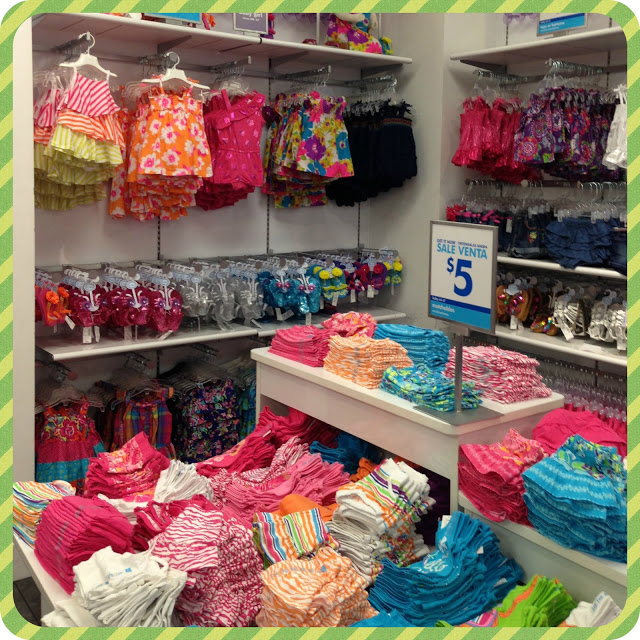 Within the little girl's section I came across an assortment of embellished tops and layered skirts. Many of them were bright colored and could be mix and matched with one another to create different outfits. I love the length on the skirts because if your daughter is tall like mine, the longer the better. You don't have to worry about these shrinking up or losing inches after a few washes. Most skirts I found within the store also had shorts built in. This "fresh" collection features mixed patterns, designs, and frills. These duos are perfect for days of play in the sunshine.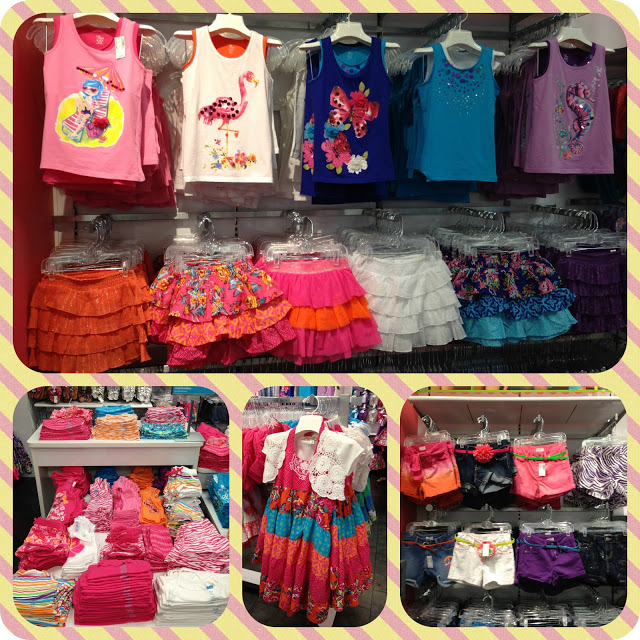 For the boys, big and small, you can find sporty graphic t-shirts paired with bright colored board shorts lined with mesh. They also have stylish long sleeve polos available in solids and vibrant stripes. Let's not forget the footwear this time around. I spotted cute patterned flip flops that will be perfect for the beach or a day at the pool.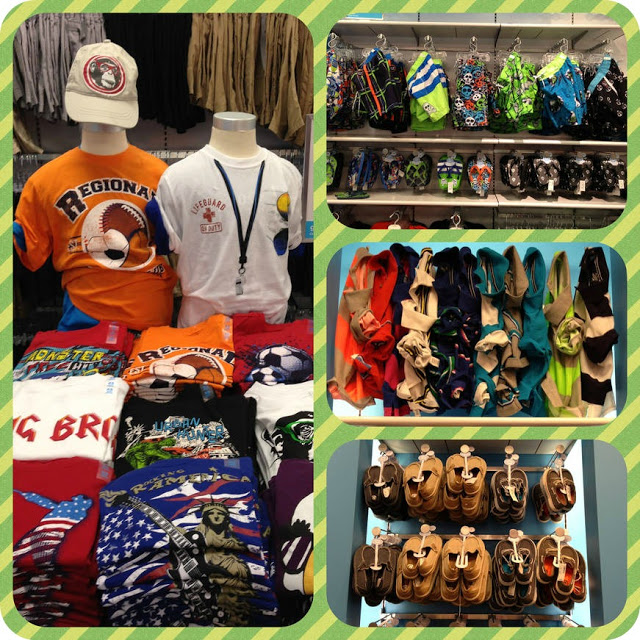 The Children's PLACE offers really great sales and deals in store and online on a weekly basis. But did you know that you can use a coupon in addition to their current promotion? By joining their email list you will receive frequent emails containing coupons and updates. You can also get on the mailing list to get them sent to your home. Either way, print them out and save even more money on clothing for your little one! I was able to get everything below for less than $100. This includes clothing, shoes, and accessories to prepare for the Summer time! I STILL can't get over how adorable the floral jean shorts and matching tops are. They are definitely my favorite finds from this season's shopping trip.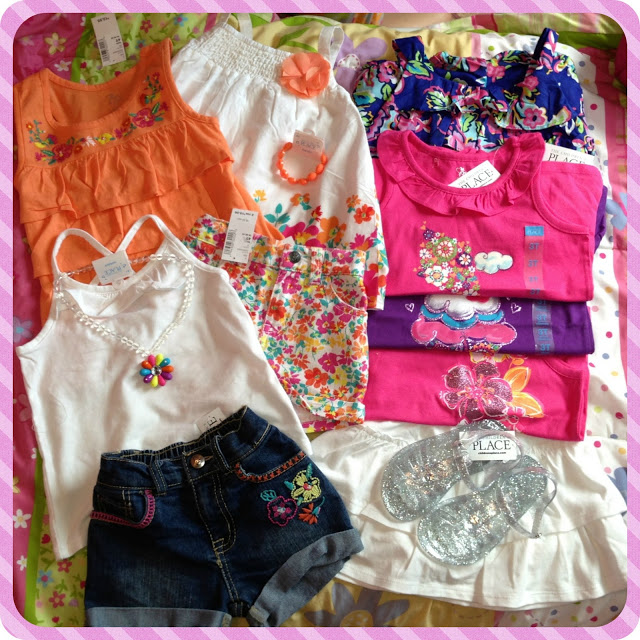 Get social and connect with The Children's PLACE on Twitter and Facebook. Want more? Head on over and view all of their fun Summer looks in their Summer Lookbook here.
Disclosure: I was provided with a gift card to shop the Summer Styles at the Children's PLACE. All opinions are my own!