Next time you're in South Florida check out the Miami Seaquarium! This 38-acre oceanarium is located on the island of Virginia Key in Biscayne Bay. It's home to world-class sea life exhibits, wildlife experiences, educational presentations, and more. Post sponsored by Miami Seaquarium. All opinions & images are my own.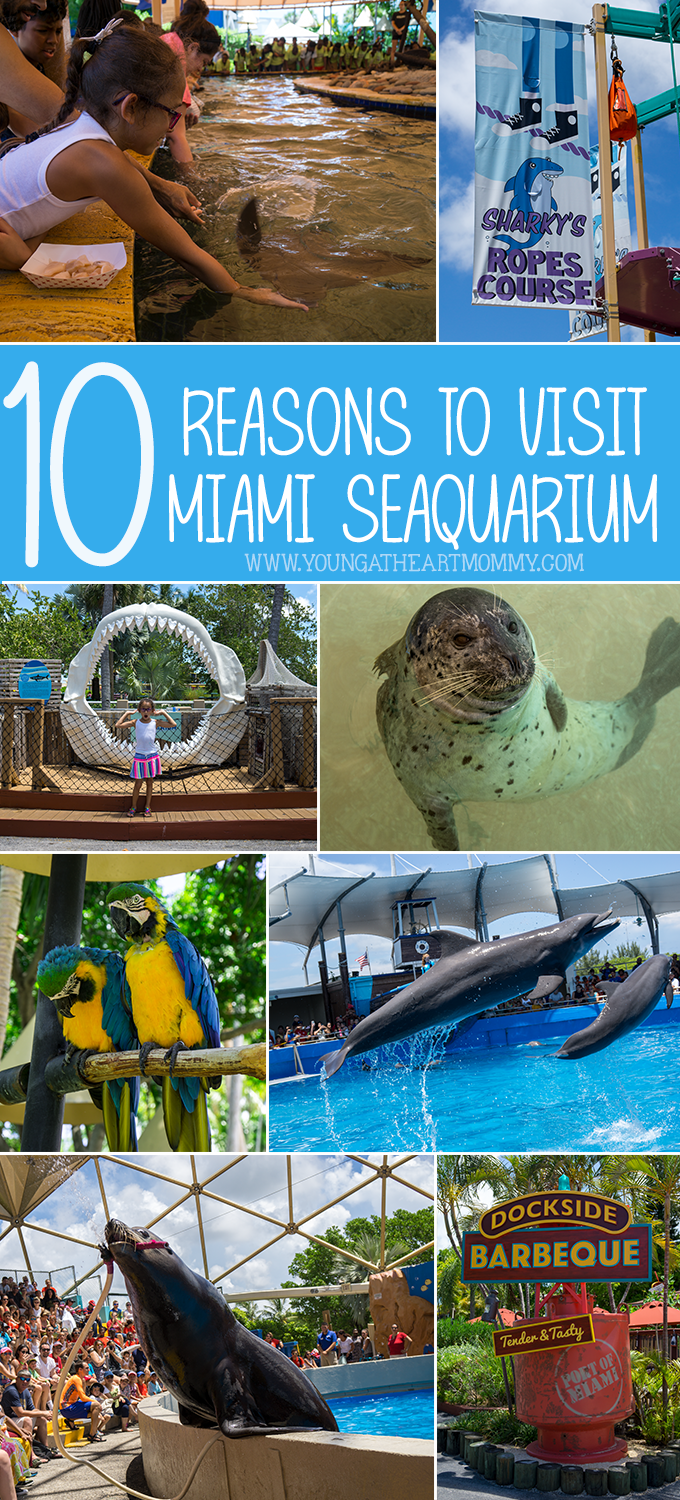 Summer, summer, summertime. Time to kick back and unwind! Schools out and so is the sunshine. Know what that means? Parents are on the hunt for fun activities to keep kids entertained. Since returning from our adventures in Orlando, we wanted to check out some local activities before venturing out-of-town for our next getaway later this month. South Florida has everything from wildlife sanctuaries to water parks to beaches and museums. There's never a shortage of things to do here, especially when it comes to Miami. Last week we spent the day at Miami Seaquarium and had a blast. Here's 10 reasons to visit with your family this summer.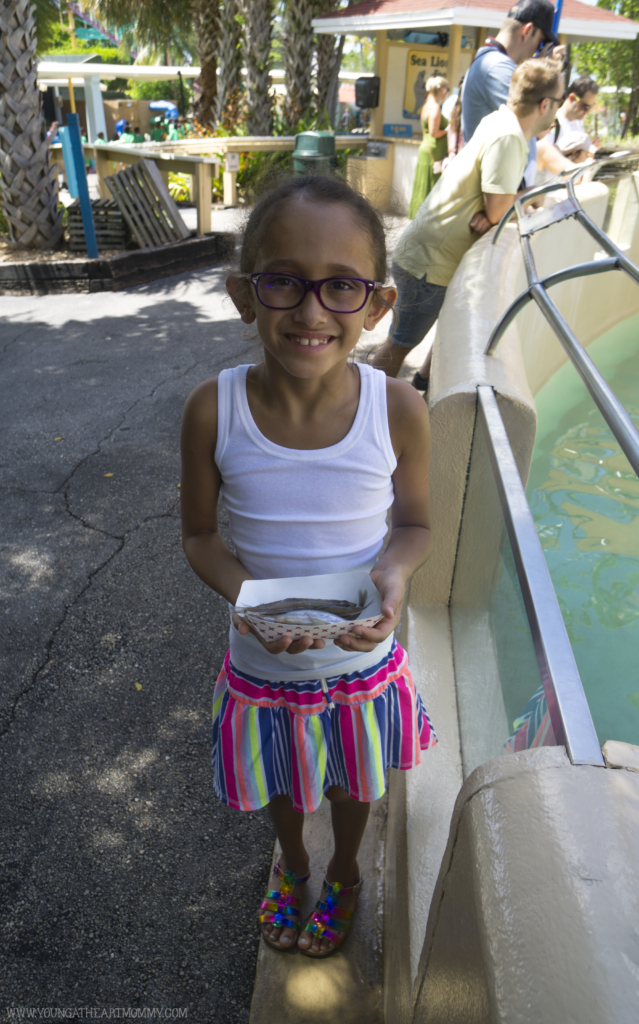 1. SEAL AND SEA LION FEEDING

There's nothing like interacting with cute creatures! At the Seal & Sea Lion Feeder Pool, you'll learn a lot about these little guys and even have the chance to toss them a snack as they frolic in the water. Each tray of five fish is sold for $5 so be sure to bring a little cash for these type of interactive activities. Feedings take place daily and at different times. However, you'll receive the schedule upon purchasing tickets and entering the park.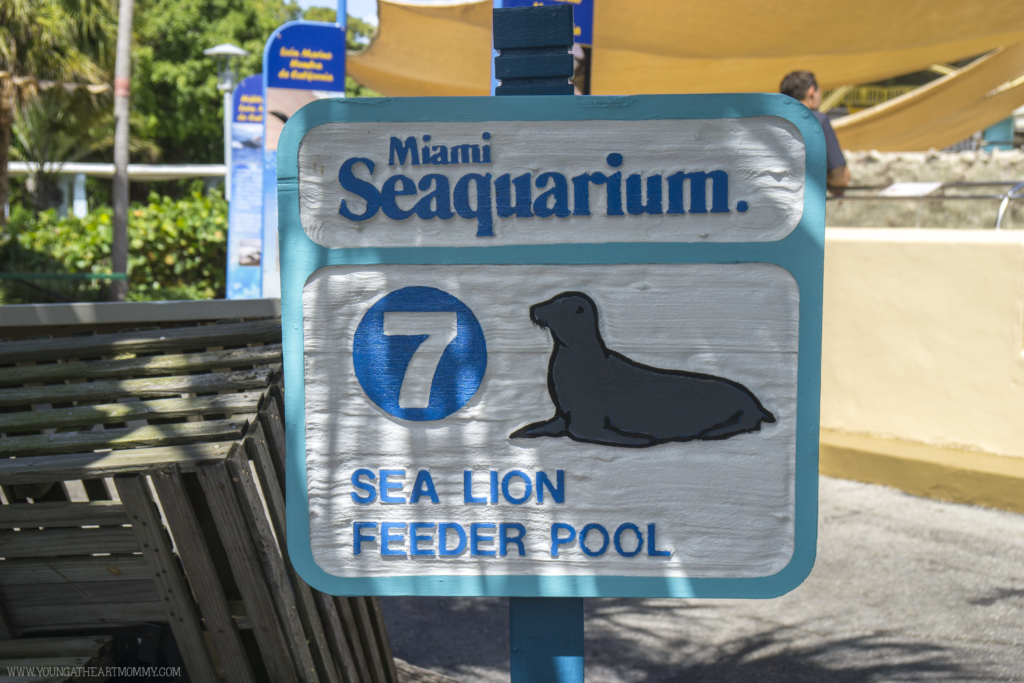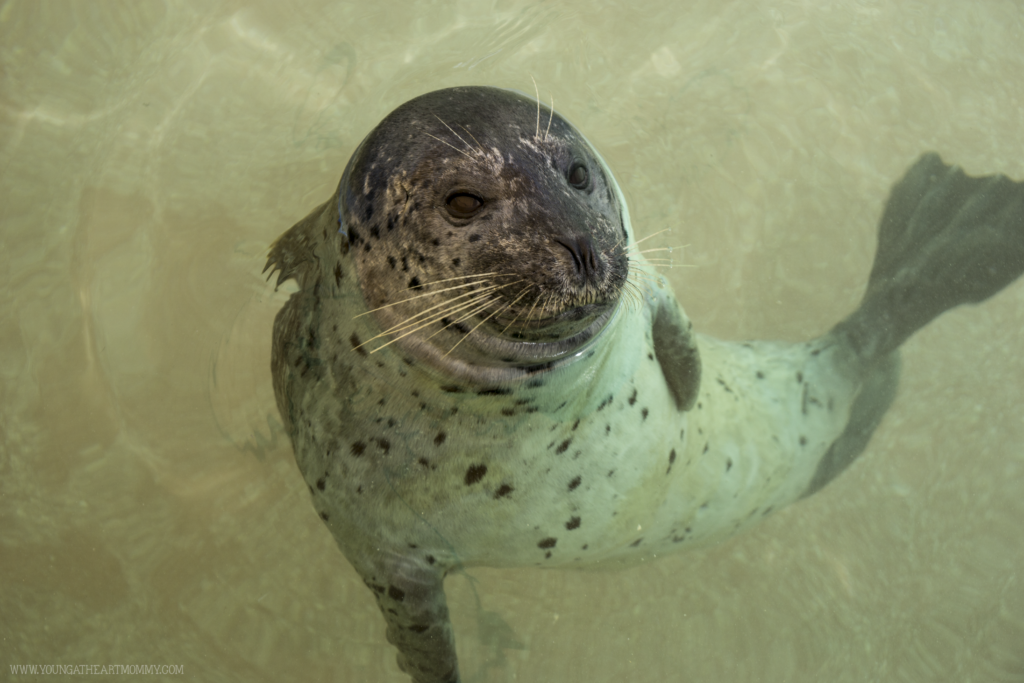 2. TOP DECK DOLPHIN SHOW
The bottle nose dolphins can be viewed anytime throughout the day from above and below the water. Although, for the high-flying antics and acrobatics, top deck is the best spot to see them perform breathtaking leaps and rolls. They're one of the most beloved marine animals and for good reason. Not only are they extremely intelligent but their friendly personalities make them absolutely lovable. This is a spectacular show and like the others in the park, it fills up quickly. Get to your desired showtime early for good seats.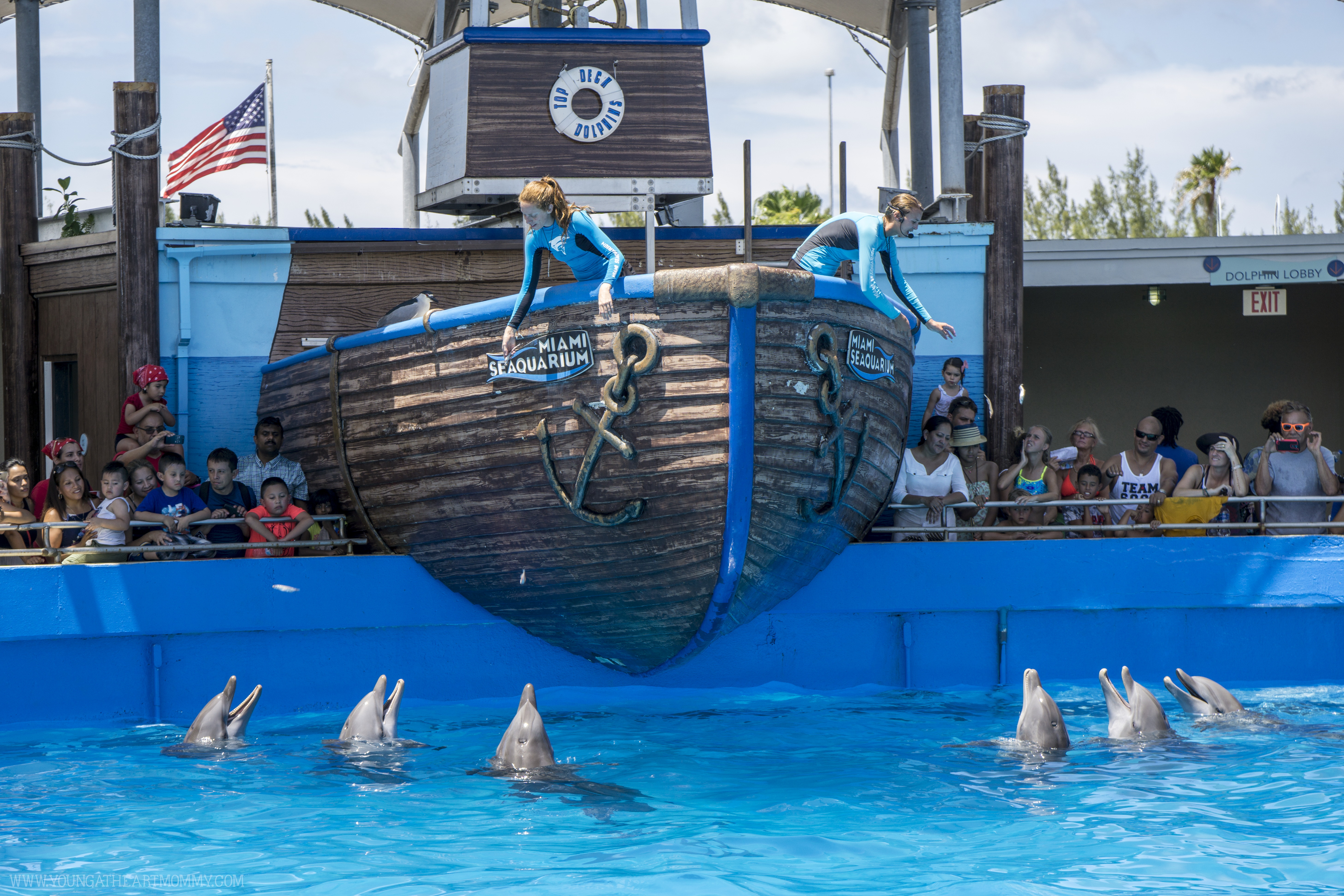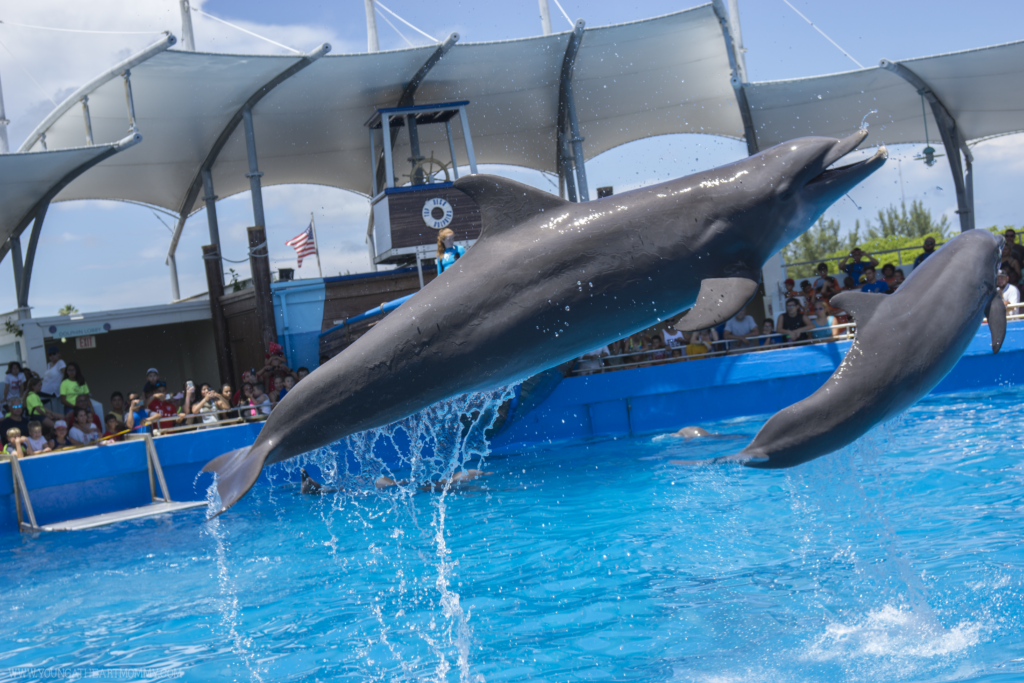 3. GOLDEN DOME SEA LION SHOW

Located around the corner from the Seal & Sea Lion Feeder Pool is the Golden Dome. Get there early enough to grab a front row seat for the hilarious adventures of Salty the Sea Lion and his Reef Rangers. Be warned, this show is known to "cool off guests" sitting in certain areas. If you don't want to get wet, head to the back and avoid the section of rows labeled "Splash Zone." Although, it IS in the high 90's here in FL and it feels pretty darn good with the scorching sun beating down! During this performance they'll display their athletic and comedic abilities as they explore the reef searching for a littering diver. Stay nearby afterwards and snag the perfect photo opp with Salty himself.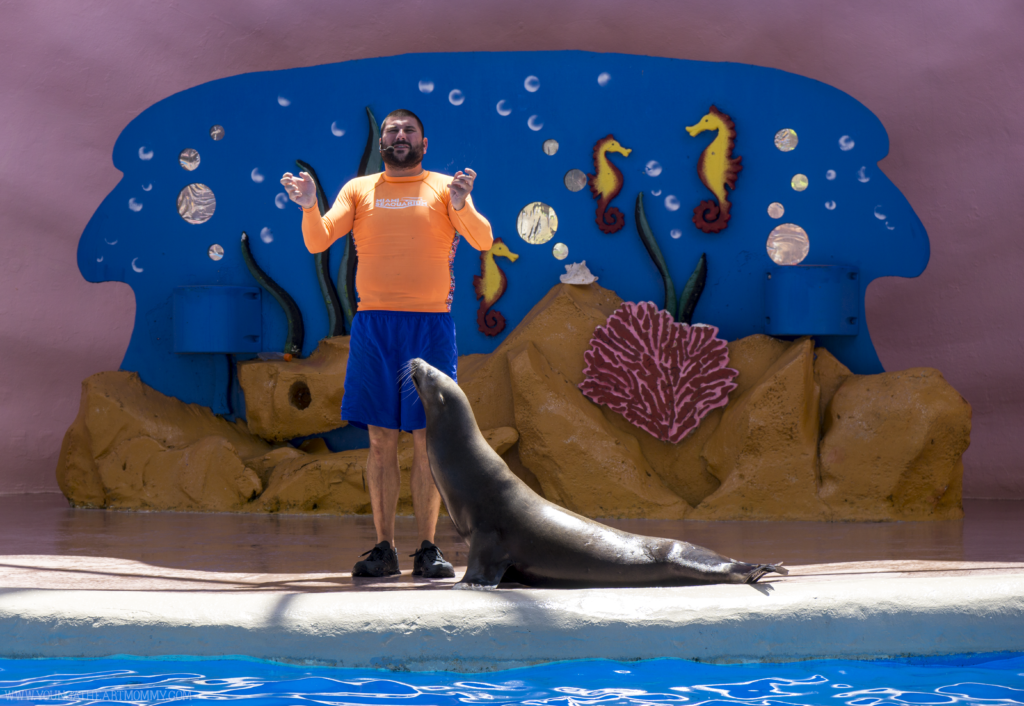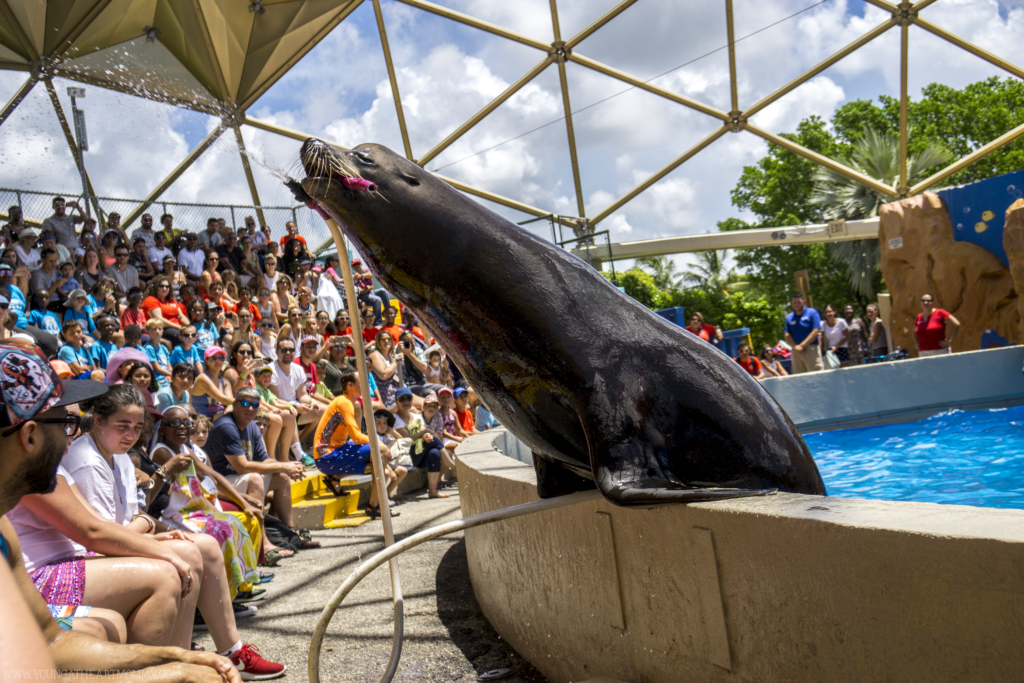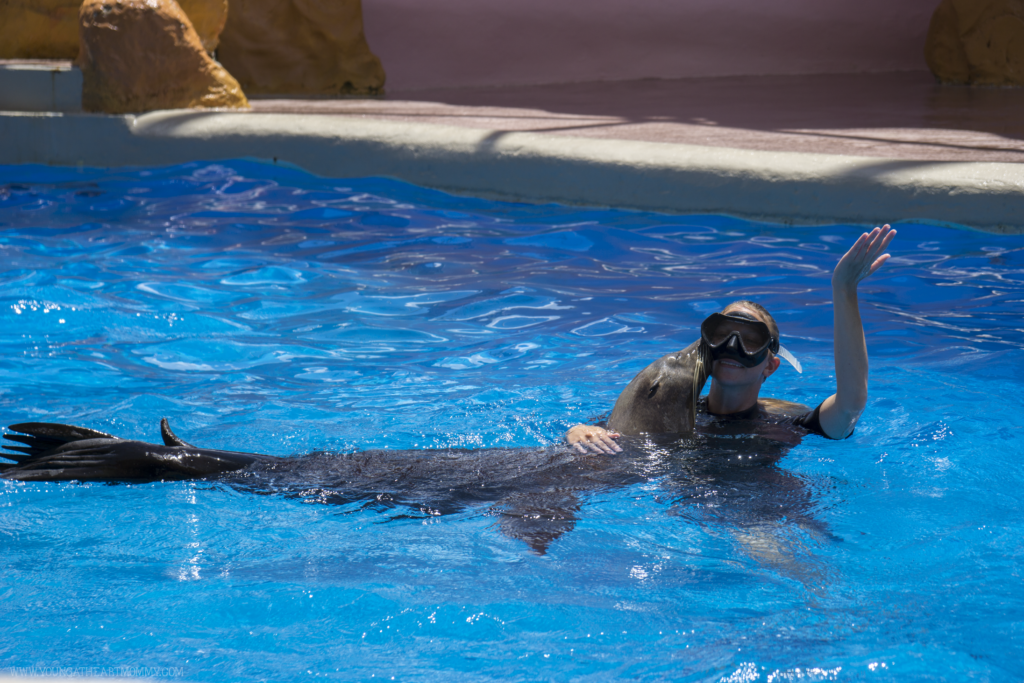 4. SEAQUARIUM STINGRAY FEEDINGS

Get your hands wet and feel the gentle glide of Southern and Cownose Stingrays as they swim on by. These extraordinary creatures have taken up residence in a 10,000 gallon touch pool located inside the Tropical Wings Exhibit. Here guests have the opportunity to feed the stingrays right from their fingertips! This is another fun hands on experience and like the seals, a tray of food is $5.


5. ANIMAL ENCOUNTERS & EXPERIENCES
Get up close and personal with underwater sea life and exotic animals during one of seven on-site interactions. Guests can choose from the following: Penguin Encounter, Dolphin Odyssey, Dolphin Encounter, Sea Trek Reef Encounter, Seal Swim, and the opportunity to be Trainer for a Day. Each provides a unique one-on-one experience in an intimate setting. Space is limited so these encounters should be scheduled and paid for in advance. There also a fascinating 2 1/2 hour VIP tour in which a guide takes you to a variety of activities that may include meeting an iguana or macaw, feeding manatees, stingrays and sea turtles and a photo opportunity with a sea-lion or dolphin.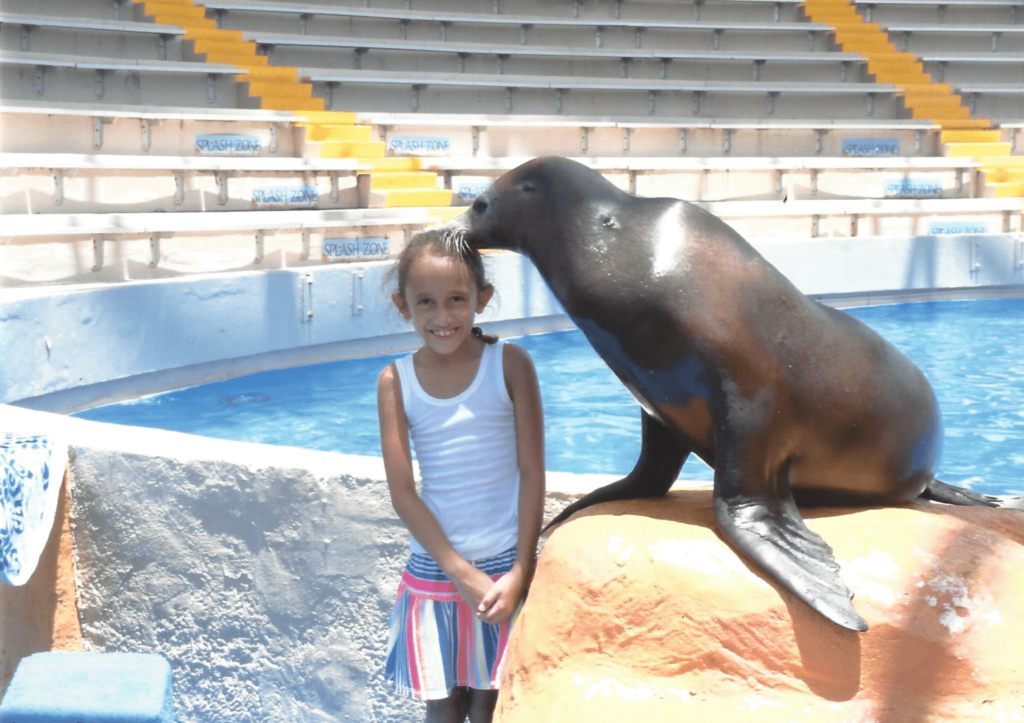 6. TROPICAL WINGS
Encounter the colorful Cockatiels, Macaws, Flamingos, Parrots, and resident peacock named Peeps. The Tropical Wings exhibit provides a view of some of the world's most exotic birds and reptiles. Listen carefully and you may even catch a quick "Hello" from one of the many parrots perched in the shady trees. Animal keepers are always on site for questions and more in-depth information on each species.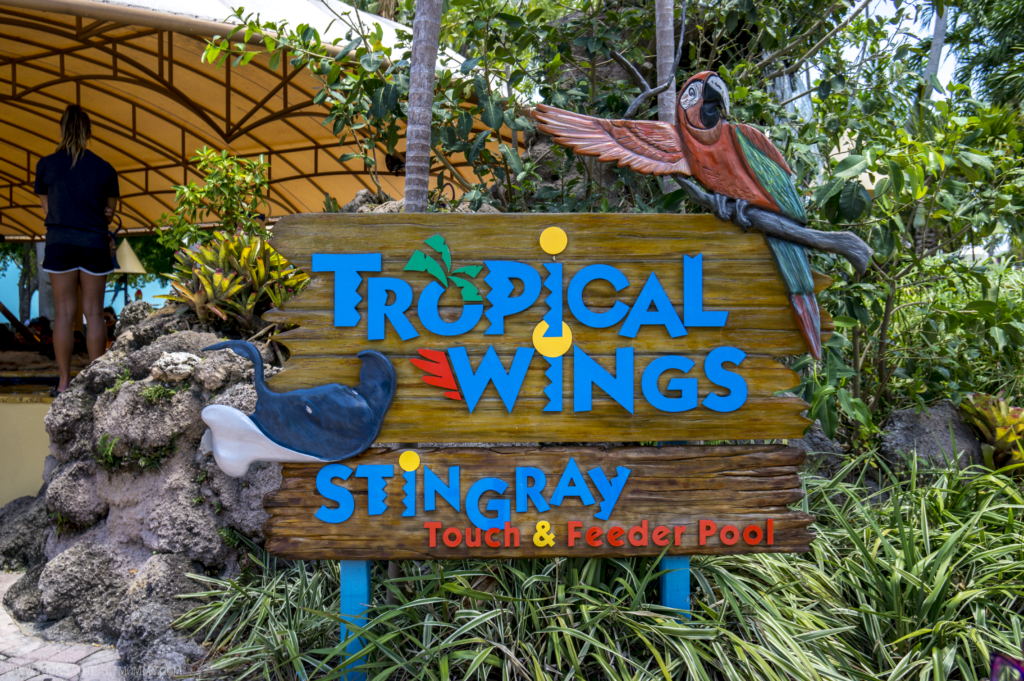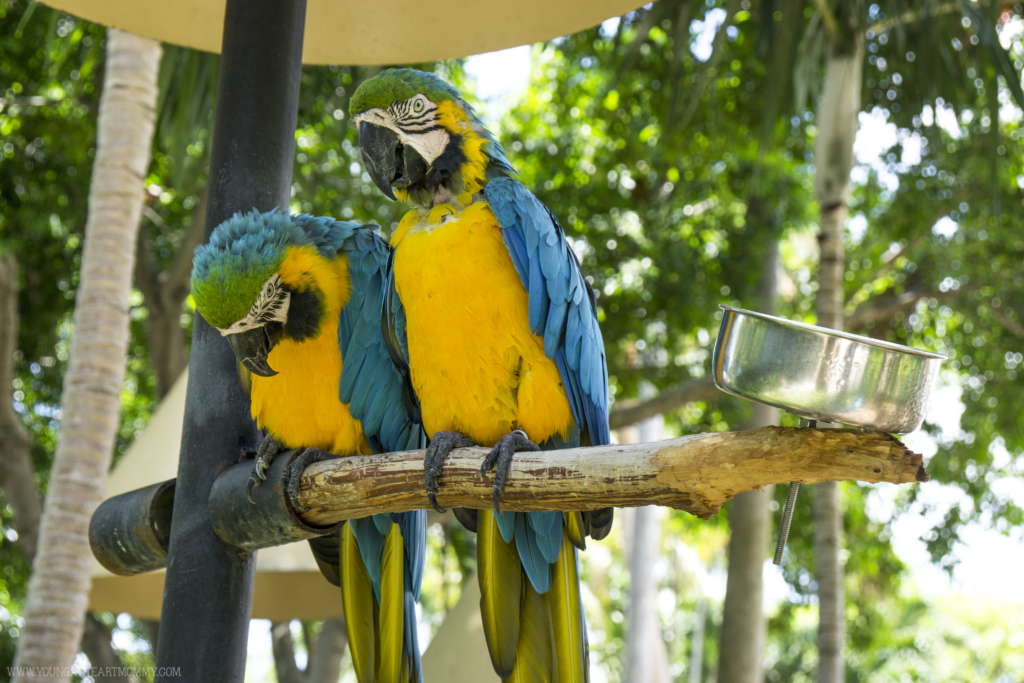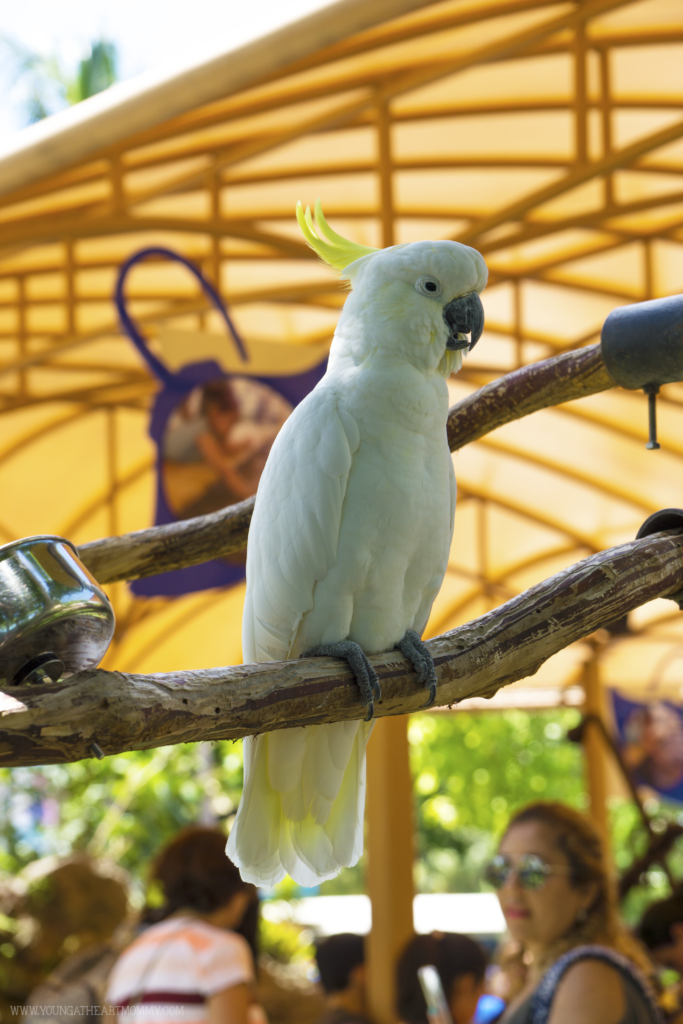 7. PENGUIN ISLE
These adorable creatures are Miami Seaqurium's newest edition. Most of all, their black and white suits make them unforgettable. In Penguin Isle the 10 endangered African Penguins can be seen playing and swimming within their habitat. Come face to face through the large acrylic windows and check out their moves as they glide through the underwater tunnels. Our new friend Blue was quite the entertainer and put on a show for all of us.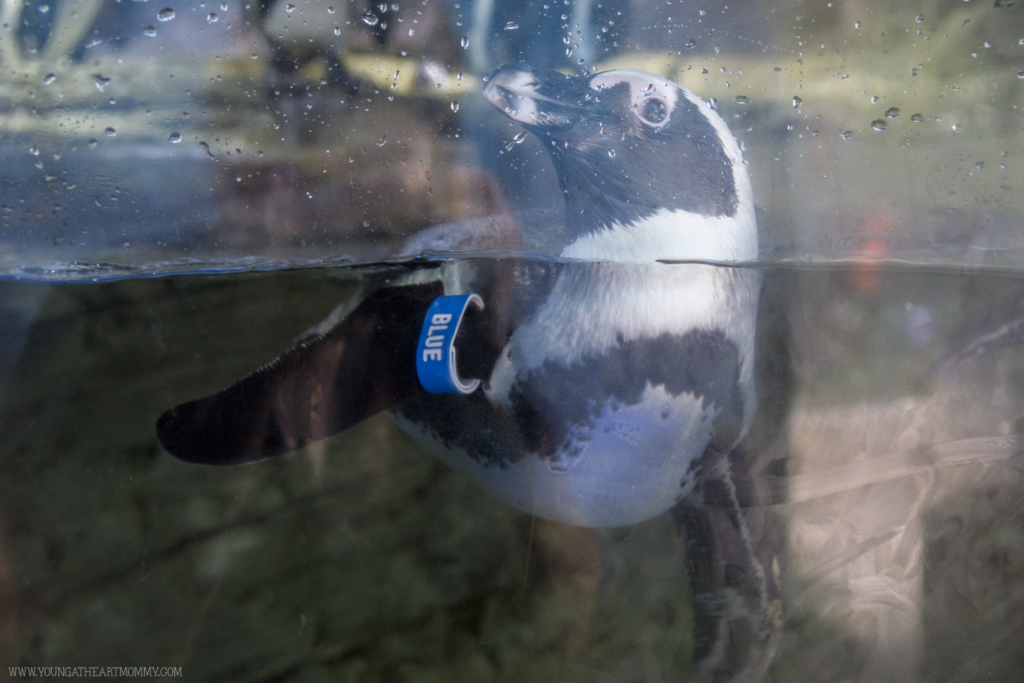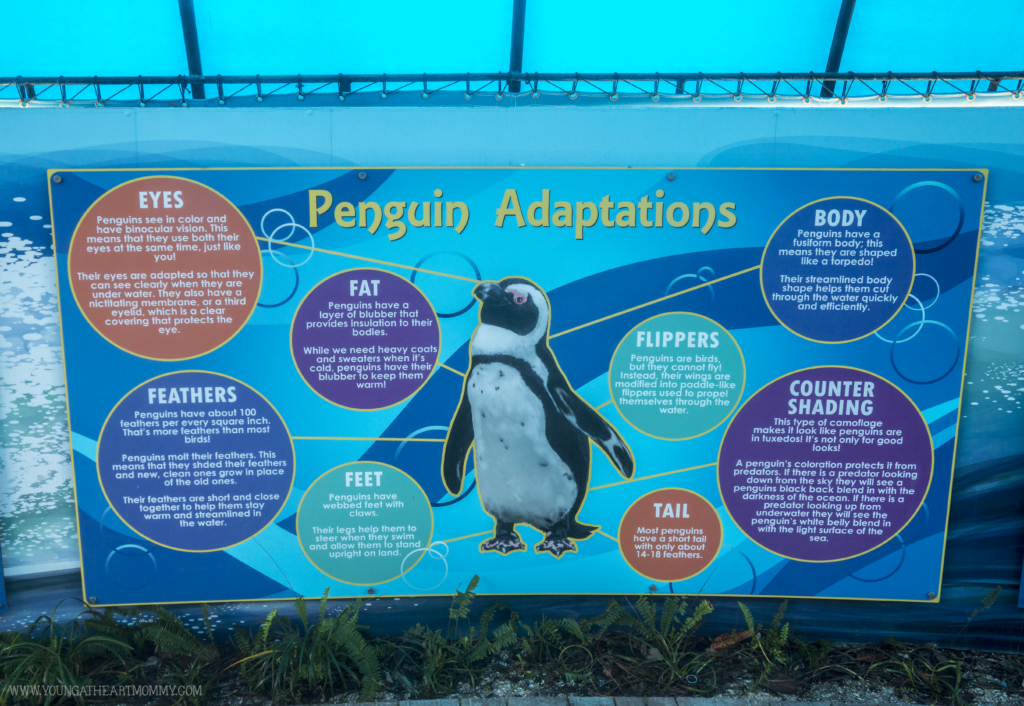 8. SHARKY'S ROPE COURSE
Located in the center of the park stands a multi-level aerial obstacle course ready to challenge the entire family. This interactive attraction allows park guests to climb three stories in the air to face 18 challenges including rickety bridges, suspended ropes and other balancing hurdles. Walk the planks and tiptoe the tightropes to test your courage. In addition to offering a good thrill, this is a great opportunity to check out Miami Seaquarium 32 feet in the air!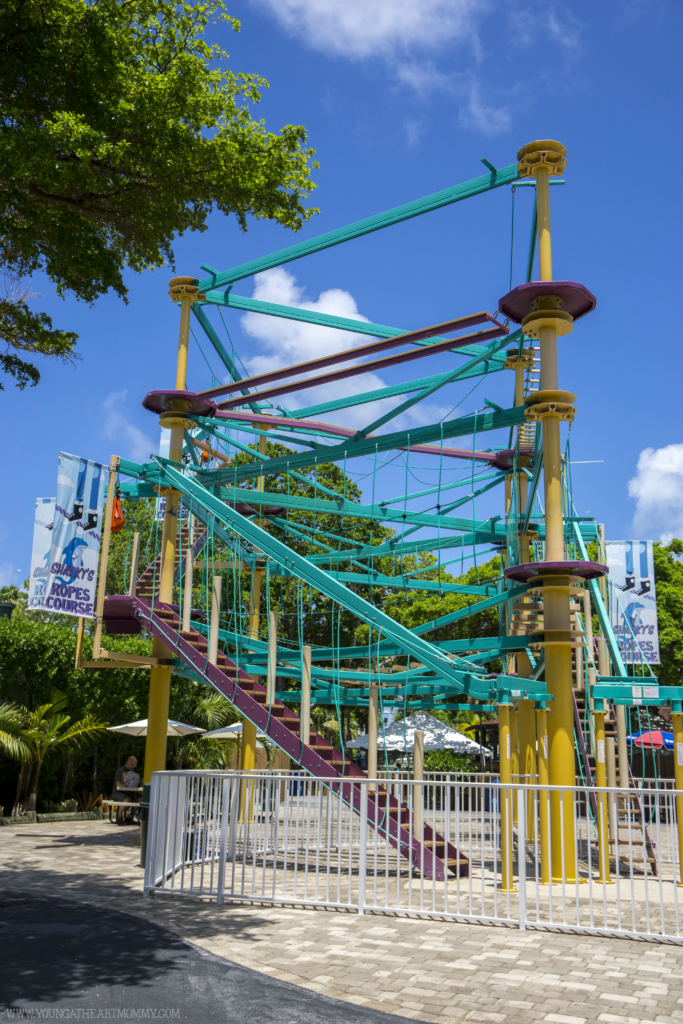 9. PARADISE COVE BBQ
A day of adventure can leave you feeling hungry. Head on over to Paradise Cove BBQ for finger-lickin' favorites like pulled pork sandwiches, ribs, wings, and turkey legs. There are various dining options at Miami Seaquarium but their rich & buttery slow roasted corn keeps us coming back for more. They have the best food in the park! You will also find beverages, frozen bananas, and souvenir cups here.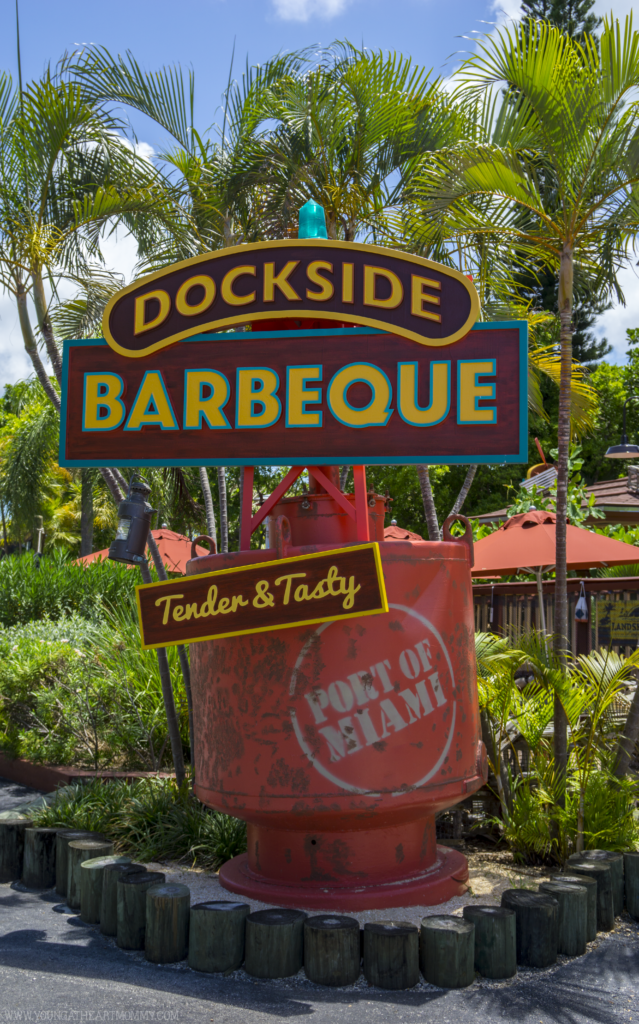 10. SUMMER SAVINGS PASS
Whether traveling from out-of-state or a Florida local, you'll want to get the most out of your time here. The Summer Savings Pass is good for unlimited visits to four of South Florida's most popular attractions between May 13th and September 30, 2017. These include Zoo Miami, Miami Seaquarium, Museum of Discovery and Science, and Lion Country Safari. At $58 per adult (plus tax) and $48 per child (plus tax), this is practically a steal for more than 100 days of fun. Therefore, grabbing a pass in the beginning of the summer guarantees a load of memorable moments to take home.


Has your family ever been to Miami Seaquarium?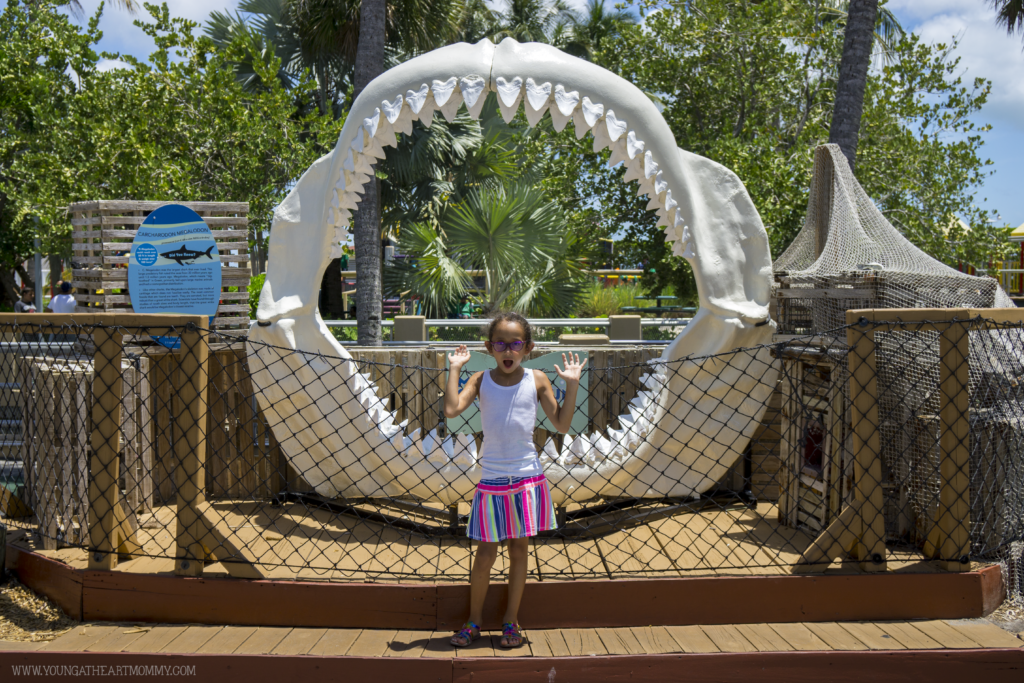 Now through July 31st you can score $5 off your tickets here!