The is a sponsored post on behalf of The Good Cards. However, I truly believe this innovative way to spread kindness is a winner.
Kindness is free. Sprinkle that stuff everywhere.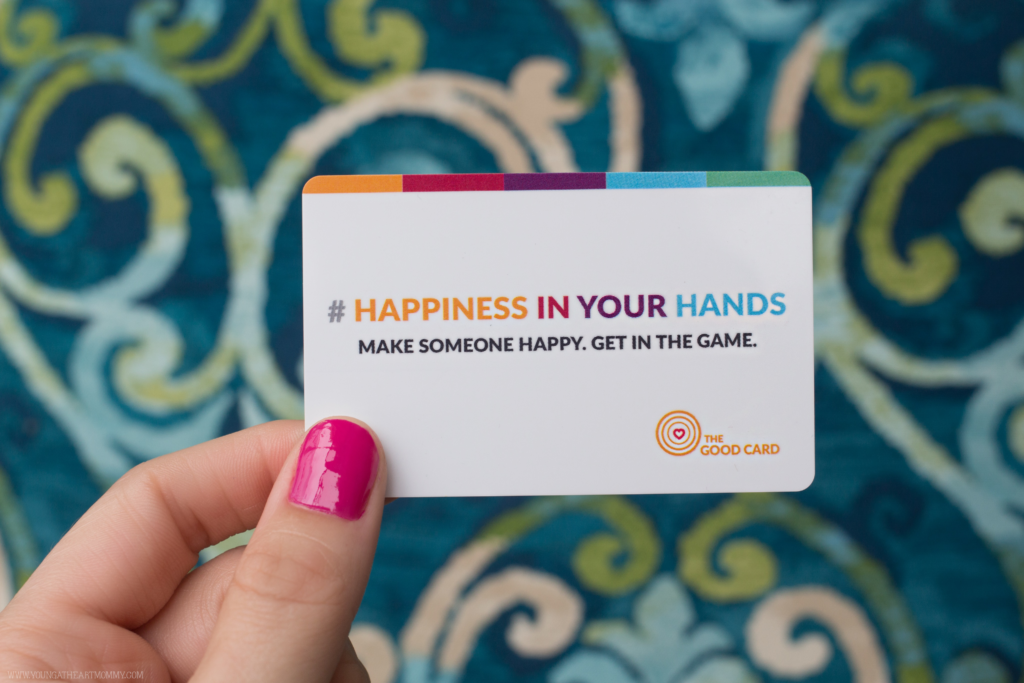 Have you ever heard the saying, "The best things in life are free?" It's one that's been around for years and is used in a variety of situations to demonstrate that money or materialistic items can't buy happiness. Well, the same is true for kindness. It doesn't cost a thing and can be as simple as a smile, compliment, or random gesture to make another feel good. The possibilities are endless when even a small selfless act is displayed. In a world strewn with so much negativity and hate, people tend to forget that we're all human beings living on this big blue planet together. Any one of us could make a difference and at any time. Kindness benefits the giver and the receiver. Join the movement to spread happiness with The Good Cards. A game like this has never been played before!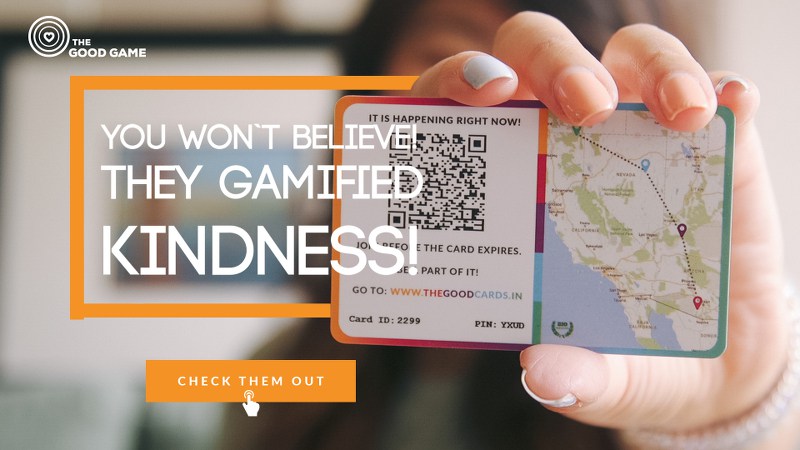 WHAT IS THE GOOD CARDS?
The Good Cards is the first real life game of its kind that rewards players for doing good and spreading kindness. Inspired by the inner light that drives us all to be the best versions of ourselves, the non-profit organization knows as Better World, has made it their mission to make a difference by using gamification and technology. This innovative project has been developed to gam-ify thoughtful deeds and selfless gestures, forming stepping-stones to change the world. It's possible and the movement to spread love has already begun! With the help of over 15 experts worldwide, the dream of two dedicated creators has already become a reality in 18 countries. This game doesn't only bring people together, it also creates a domino effect in which one small action impacts many.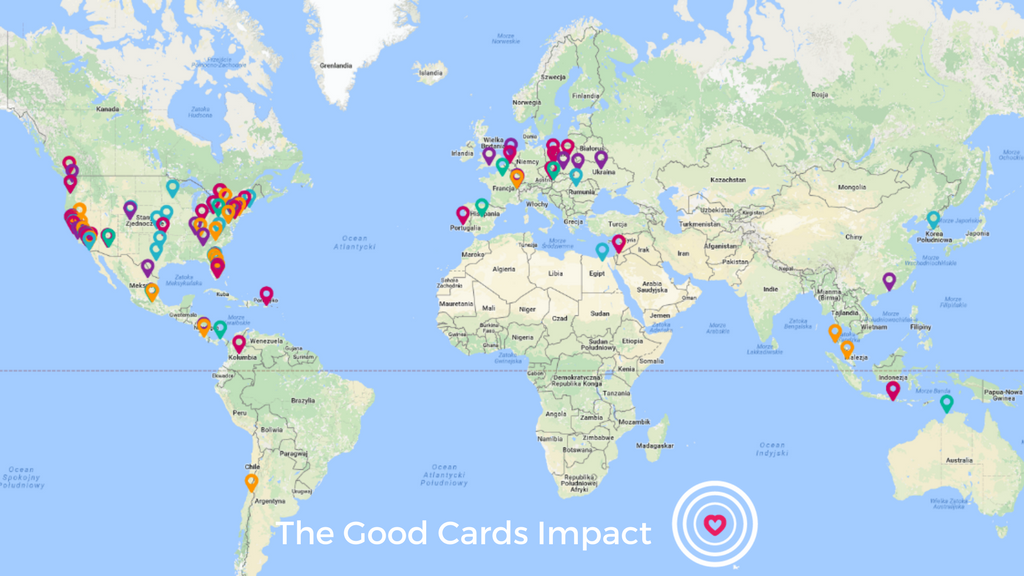 HOW DOES IT WORK?
The game begins when a "good card" is obtained either from another individual participating, anonymously, or by making a small donation of $2 to the Better World partner's kick-starter page. The card itself is made from biodegradable material so no worries if it's accidentally dropped along the way because their design is environmentally safe. However, you never know who might pick it up and continue the journey that's already started!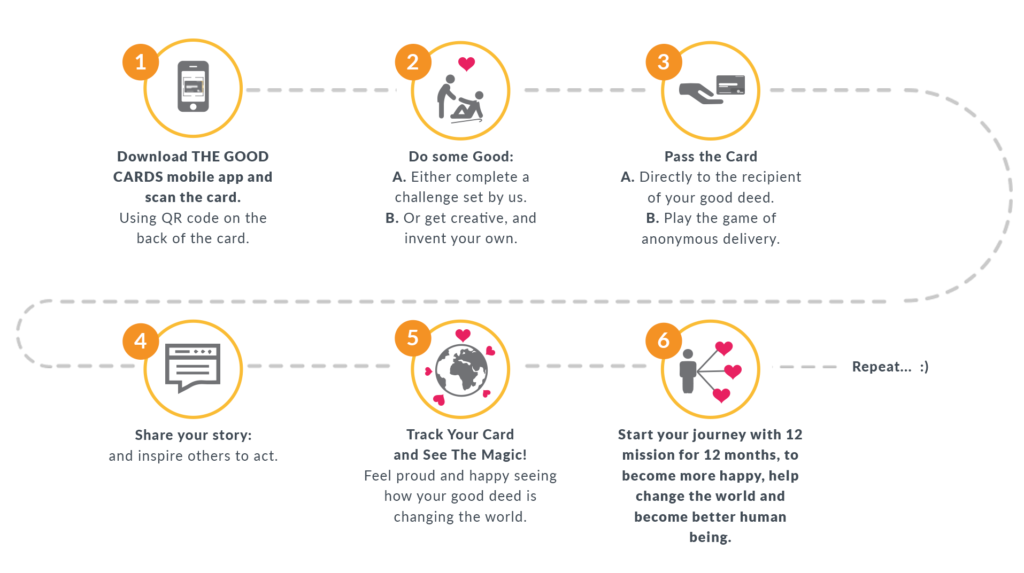 Using the QR code on the back, the card is scanned with The Good Cards mobile app which is available on both IOS and Android devices. This is where the fun begins. The app will provide a challenge in which users are guided to complete an act of kindness. Feeling creative? Go ahead and create a mission of your own to execute. Either way, the good card should be passed on to the receiver so they can continue the cycle by going through the same process with a new challenge. From there, they will challenge the next person to also pay it forward.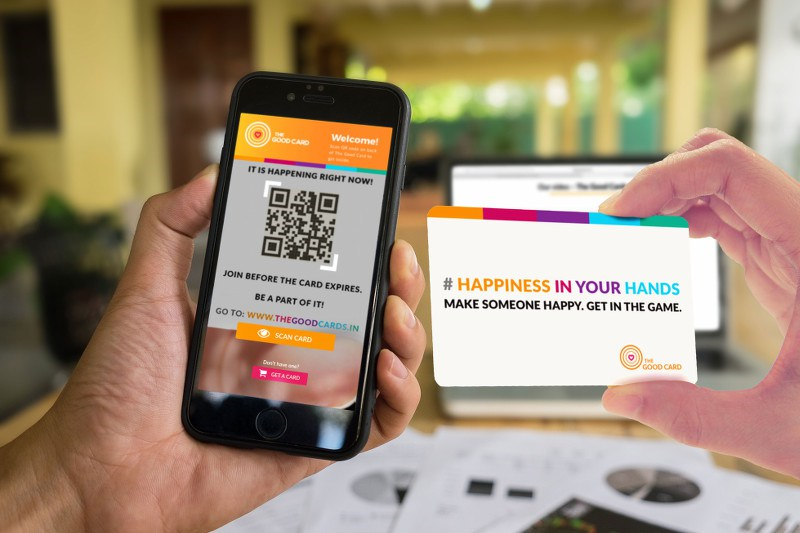 COOL APP FEATURES
Through the app users can track their card, see where it's going, where it's been, and just how many lives have been touched in passage. Each card has the potential to travel through the hands of hundreds of people, making the world a better place one kind act a time. The Good Cards have already made their way into my city and probably yours as well! The map feature allows you to see what areas of the world have active members. This includes a detailed look at the states and cities. Numerous first-hand experiences have already been posted. Scroll through list and read how others are delivering kindness in their community.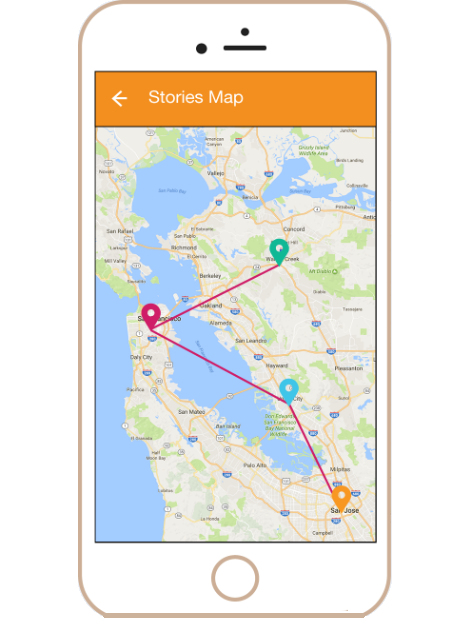 WHERE DO I START?

The movement has already begun! Head on over to The Good Cards kick-starter page and support the project. Depending on the amount donated, pledges receive some pretty cool perks like a wristband, Manifesto poster, dreamer's glasses, and community t-shirt. They're even offering an Early Bird promotion for only $25. It comes with 12 good cards for 12 months, a Special Mission wristband, and one poster. That's plenty of loot to share with friends, family, and co-workers.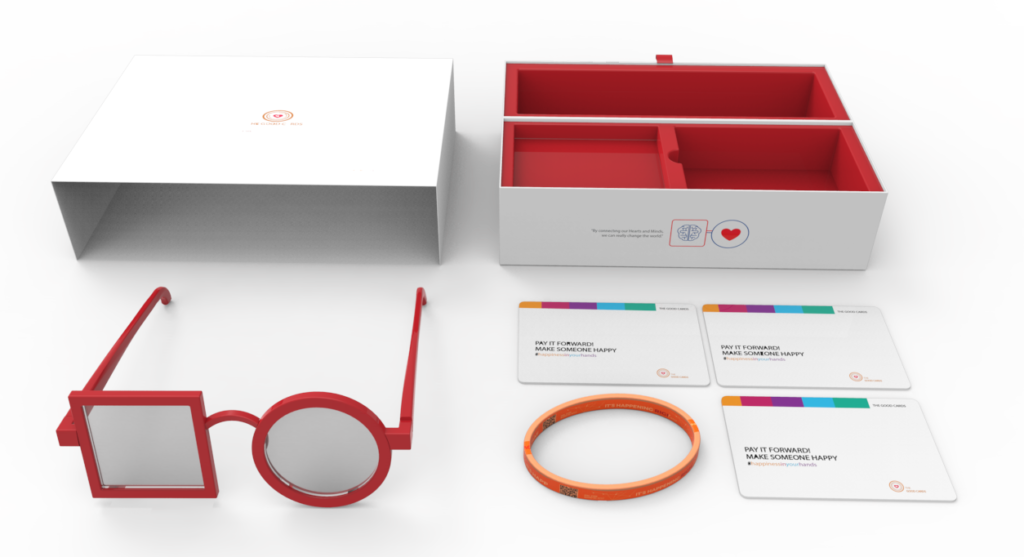 To learn more about The Goods Cards and this innovative movement, visit here. Follow along on Twitter, Facebook, & Instagram using #HappinessInYourHands to see how others are making a difference.

This is a wonderful opportunity to make a significant change in the world one act at a time and promote the power of kindness. Whether it's buying a stranger a cup of coffee or helping a neighbor bring in their grocery bags, one small selfless gesture is all it takes. There are thousands of apps out there but nothing quite like this. Be a part of something cool and help it spread like wildfire!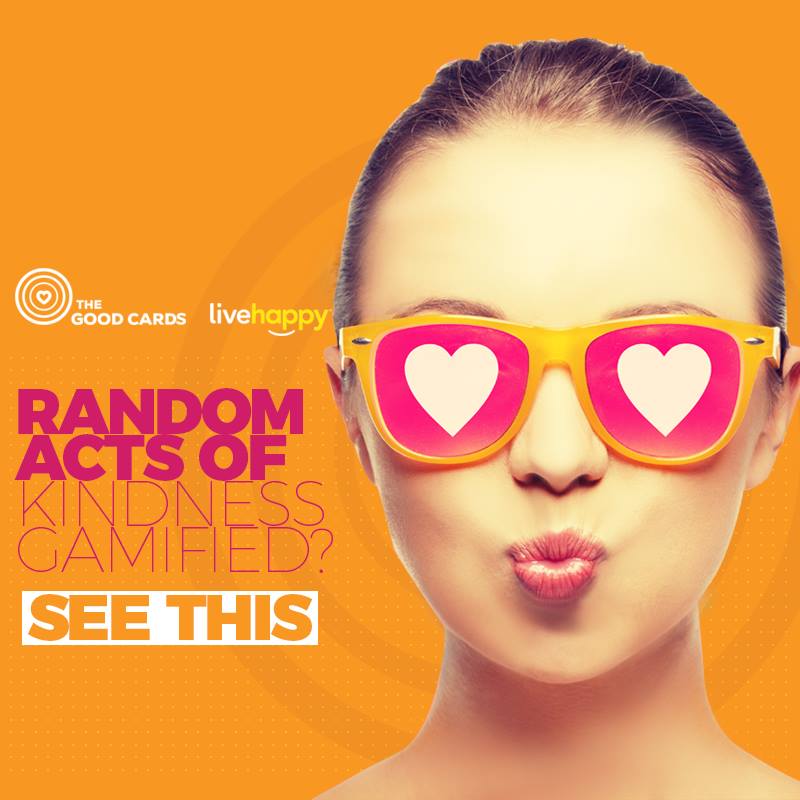 Now it's your turn! What have you done lately to make someone smile?