Dress up a classic vanilla cupcake with swirls of homemade buttercream, crushed peppermint pieces, and a melt-in-your-mouth meringue kiss. Peppermint Crunch Christmas Cupcakes are the perfect festive treat to satisfy a seasonal sweet tooth.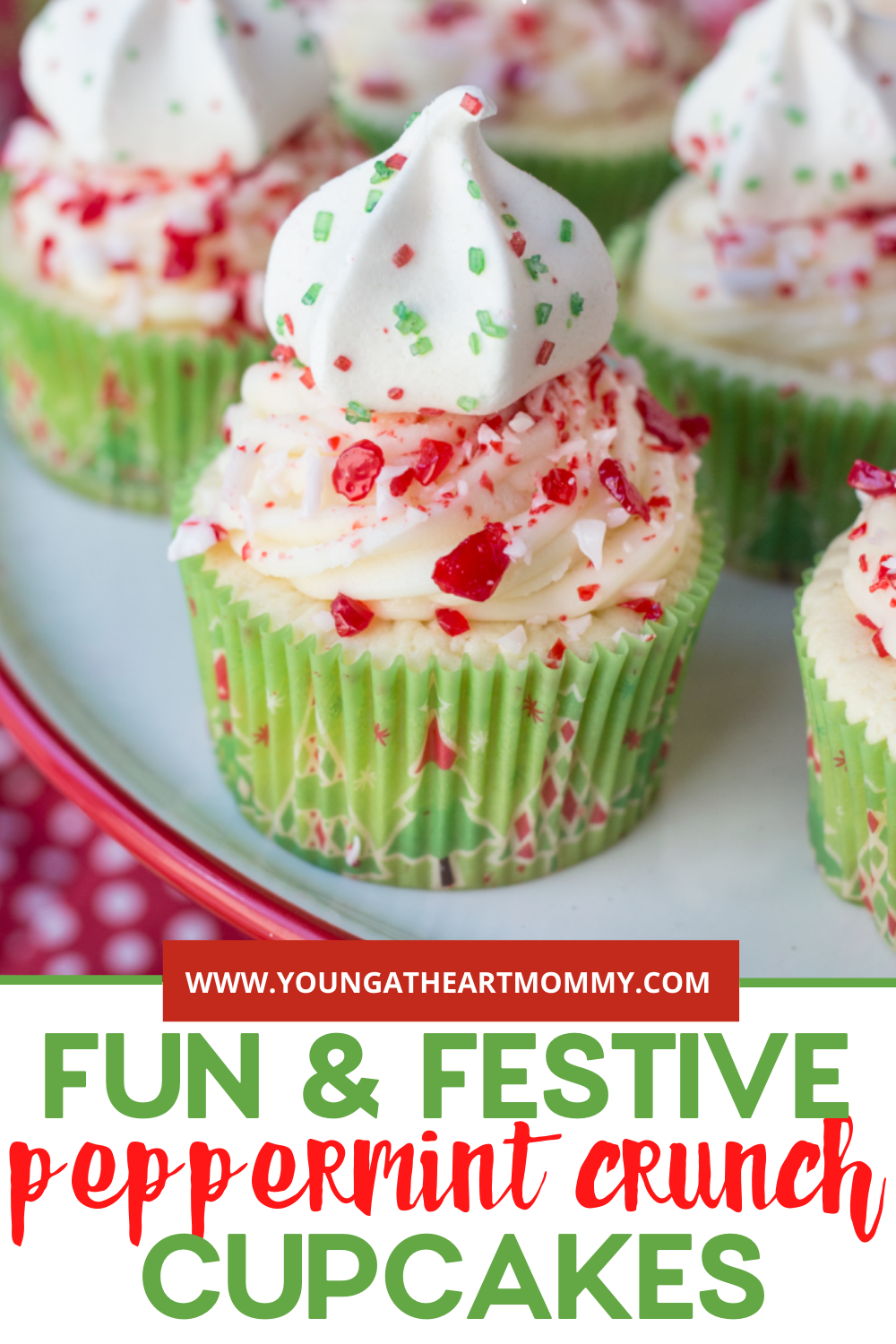 Toodie finished her last full day of school yesterday and to celebrate the start of winter break, we made a batch of festive cupcakes together. There's nothing like lovin' from the oven this time of year and whipping up seasonal goodies has become a tradition of ours. The holidays wouldn't be the same without a little baking action, at least in our home anyway. Is it really possible for anyone to get through December without baking a cookie, cake, or pie? Doutful, but if so, I want to meet this rare unicorn of a human being to persuade them that Christmas magic exists in layers of decadent buttercream. Come on over – we have Peppermint Crunch Christmas Cupcakes!

We're T-minus two days until Santa's arrival and with a very anxious seven-year old reminding me multiple times a day, I am well-aware that it's approaching faster than ever! After multiple parties and weeks of decking out the house to the nines, it's been one incredibly busy month. Time with my favorite girl was exactly what I needed to unwind, so we grabbed a box of our favorite Simply Sweet Vanilla Cake Mix from Foodstirs and made a cheerful dessert for the whole family.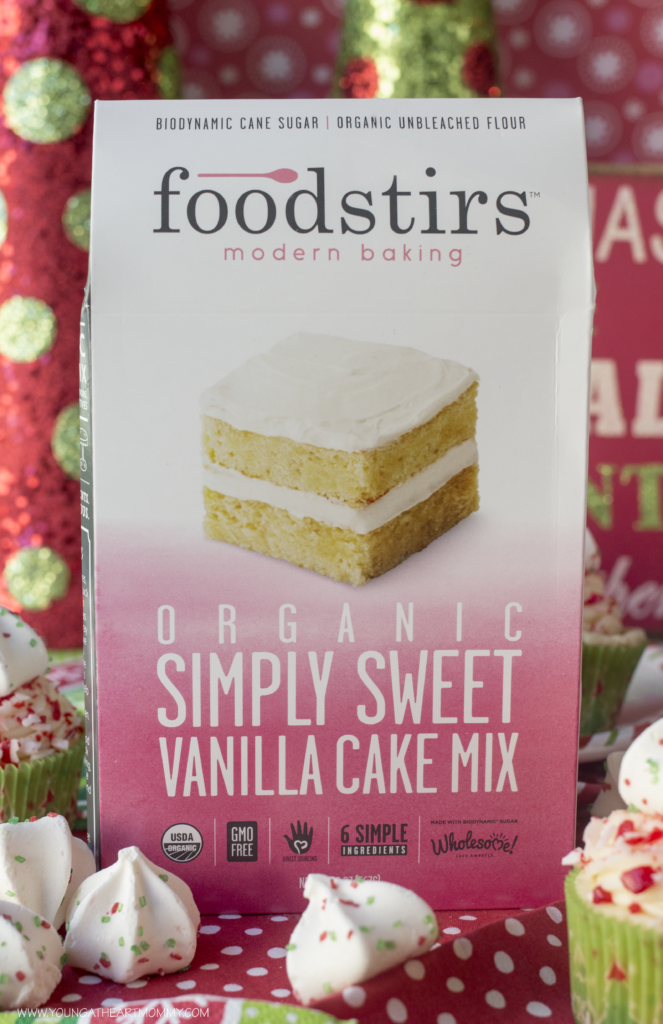 If you've never heard of Foodstirs, there are two things you must know beforehand. One- all of their mixes are organic and free of GMO's. No dyes, flavors, or artificial preservatives can be found within their products. Can you taste the difference? Heck yeah! They source the BEST ingredients to ensure that it's noticeable upon first bite. Two- they make baking from scratch easy, no first-born child required to achieve perfection! From Chocolate Chippy Cookies to Pancakes, even themed treats for movie night, there's something for every occasion.

PEPPERMINT CRUNCH CHRISTMAS CUPCAKES
As someone who has done a ton of baking in their lifetime (a whopping 31 years), I've had the opportunity to try numerous brands on the market. Most of these being commercial, every yellow cake mix and batch of brownie batter begins to taste the same after a while. It takes a lot to impress me. The Organic Simply Sweet Vanilla Cake Mix was a breath of fresh air! Not too sweet. Not too fluffy. Just right. The cake itself is moist and dense, so each bite is satisfying. They really made our Peppermint Crunch Christmas Cupcakes stand out and impress!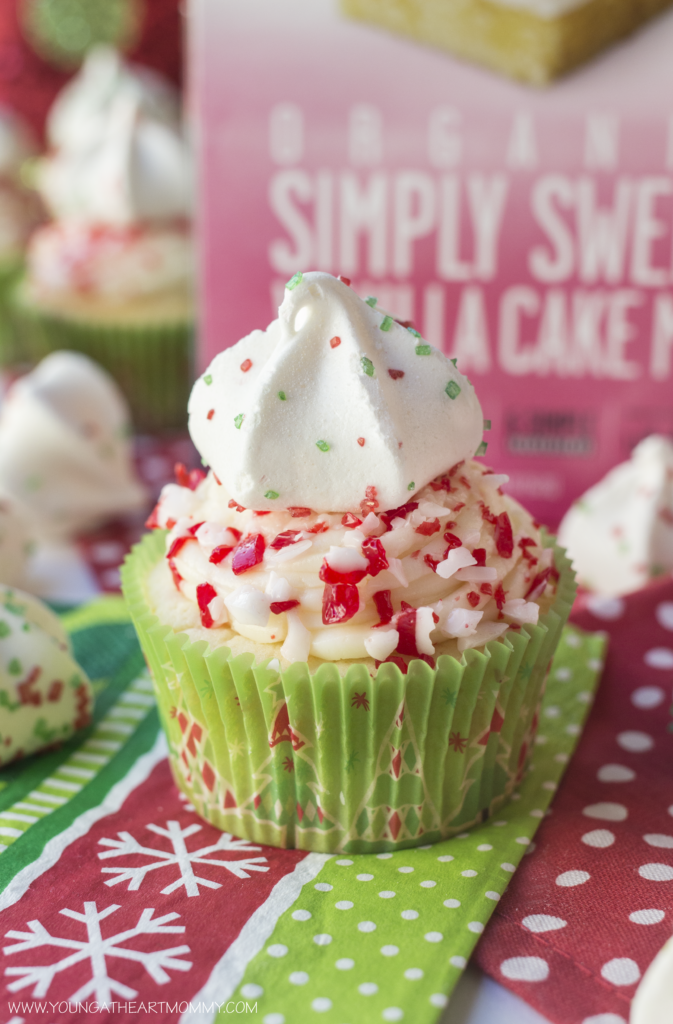 Ingredients:
Cupcakes-
1 box of Organic Simply Sweet Vanilla Cake Mix

3 eggs

9 tbsp. butter at room temperature

6 tbsp. milk

6 tbsp. yogurt (I used plain Greek.)

Christmas cupcake liners
Buttercream frosting & toppings:
4 1/2 cups confectioners' sugar

1 cup salted butter

8 oz. package of cream cheese

2 1/2 tsp. vanilla extract

crushed peppermint candy

peppermint or vanilla meringue kisses (purchased mine at Publix.)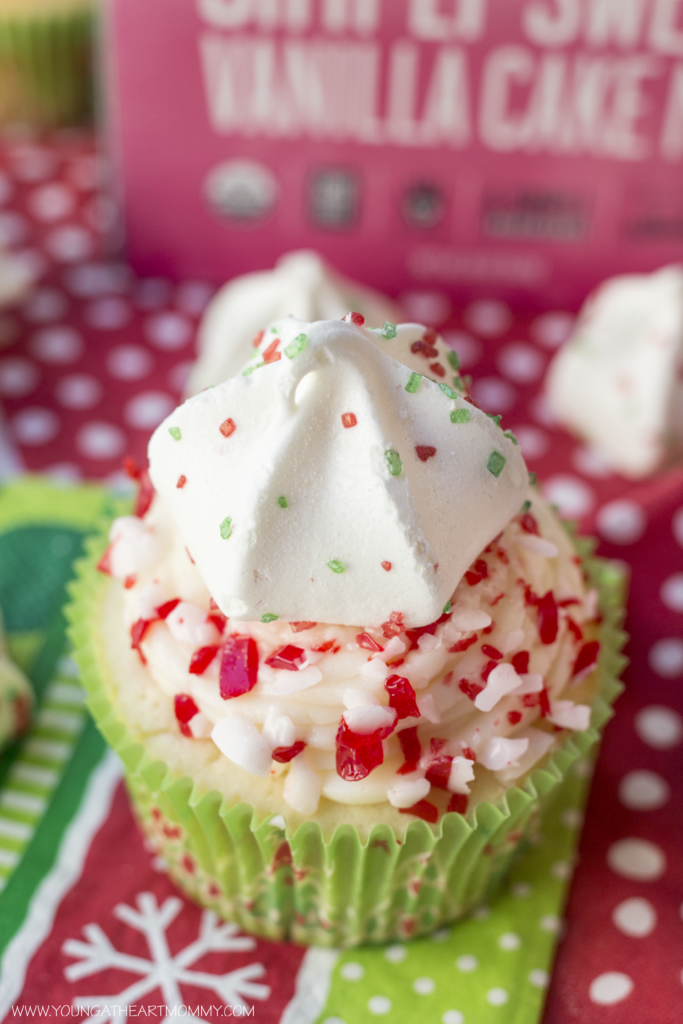 Directions:
1. Pre-heat oven to 350 °F. Fill cupcake or muffin pan with liners.

2. With mixer at low-speed, mix all cupcake ingredients until combined. Turn mixer to high and beat for 1 minute, scraping bowl as needed.
3. Divide batter evenly in prepared pan. Use a medium-sized ice cream scooper or large spoon to add about two generous dollops of batter to each liner.
4. Bake for 20-25 minutes, or until toothpick inserted in the center comes out clean. Cool for about 10-15 minutes before frosting.
5. Make buttercream frosting while cakes are cooling. In a large stand mixer fitted with paddle attachment, beat butter and cream cheese on medium speed until creamy. Reduce speed and add in powdered sugar little by little, regularly scraping the sides of the bowl with a rubber spatula. Once frosting is well blended and smooth, remove and add to a piping bag.
6. Add a buttercream swirl to each cupcake. Sprinkle on a generous amount of crushed peppermint candy and top with one meringue kiss cookie.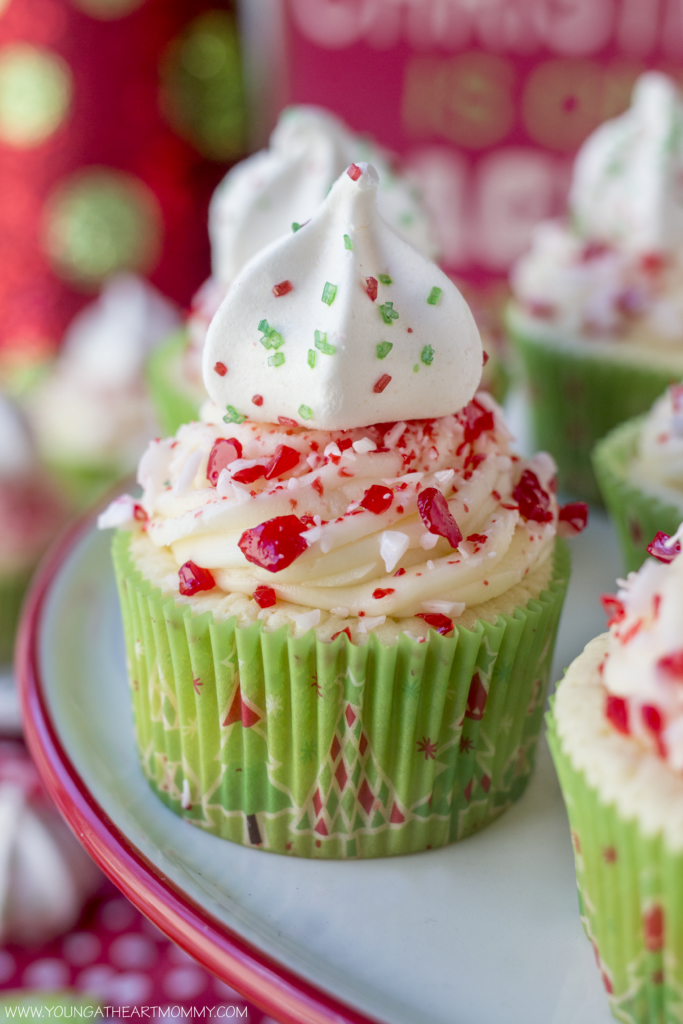 Nothing says "holidays" quite like the crunch of crisp cool peppermint. I love the combination of flavor and texture that these cupcakes deliver. This recipe makes 18 cupcakes, plenty to go around this season! You can pick up a box, or two, of the Foodstirs Simply Sweet Vanilla Cake Mix at The Fresh Market. They're currently running a Buy One – Get One FREE promotion so it's a great time to stock up on baking goodies.