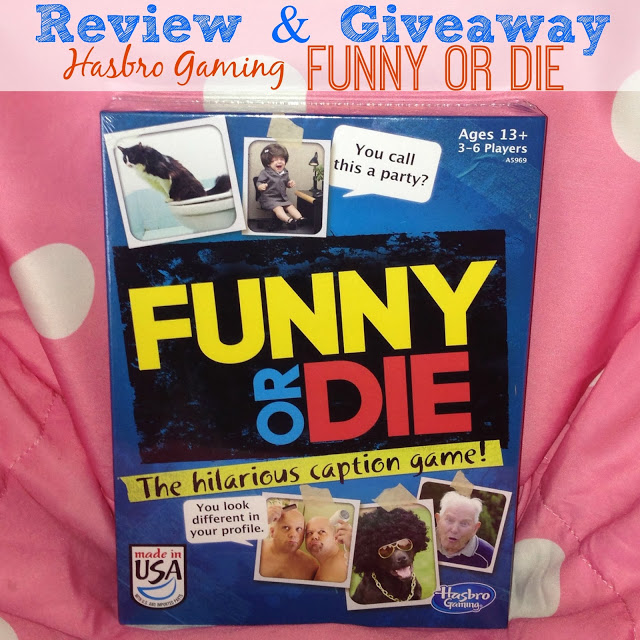 If you have a sense of humor, a witty personality, or even enjoy a good laugh I am sure you have browsed the internet at least one time for something to satisfy your funny bone. Ever visited Funny or Die? Recently I became familiar with the site and it has been bookmarked on my browser ever since. Funny or Die is a comedy video website that was founded by Will Ferrell & Adam Mckay's production company. The site features humorous videos, photos, music, and even articles for your entertainment. Hasbro gaming has brought the website to life by creating the Funny or Die game.


Game play begins with each player receiving $10K, five cards with funny photos/quotes, one "Funny" chip, & one "Die" chip. The object of the game is to match the photos and captions to make the funniest joke out of all players participating. Each of the cards has a silly caption on one side and a quirky picture on the other. Players draw three additional cards which are placed at the center of the table. Then they match their own captions or images to the drawn cards. The caption or image with the most "Funny" votes wins the round. Seeing what silly combinations your friends & family come up with is the most entertaining part of the game. While it took a couple of rounds to get it going, once everyone had the hang of it we were all laughing. It's definitely best to play this with those who have similar personalities and do not offend easy. Some of the photos are a little "out there" if you catch my drift..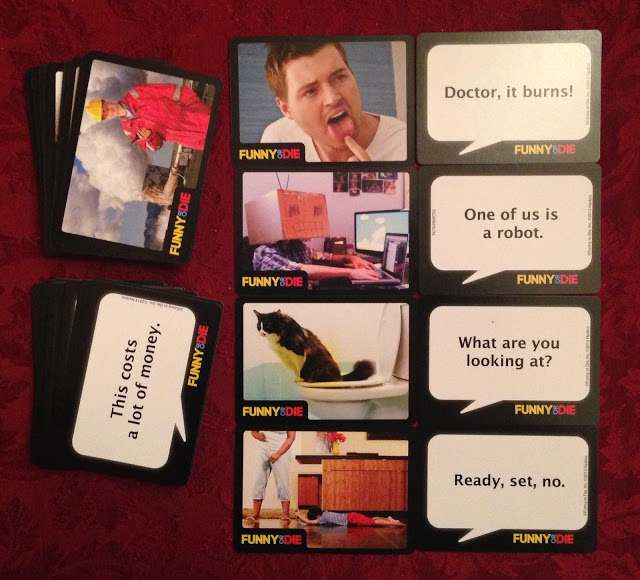 This game reminds me of the classic "Apples to Apples" but with more adult humor. I wouldn't recommend playing it with younger children as some of the photos and phrases may be inappropriate for the little ones. But for older children and adults it really is a ton of fun. It's also one of those games that doesn't drag on for hours. After about 25-30 minutes of playing you are able to get through several rounds one after the other.
FUNNY OR DIE
Hasbro is joining forces with Funny or Die, the popular comedy video website, to bring you the ultimate in caption craziness with the FUNNY OR DIE game. Try to one-up your friends by matching outrageous photos and captions to create the best laugh-out-loud combo. Everybody votes on which is the funniest and which one must "die." Players earn money for having the funniest pair and the player with the most cast at the end of the game wins. With hundreds of hilarious pictures and captions, the FUNNY OR DIE game will have players laughing till the very end.
(Age: 13+; Players: 3-6; Available: Summer 2013; Approximate Retail Price: $14.99)

Want to win your own copy of 'Funny Or Die?" Enter below through the rafflecopter form!
Disclosure: I received this game from Hasbro in exchange for my honest opinions and to provide a giveaway for my readers. All thoughts are my own.