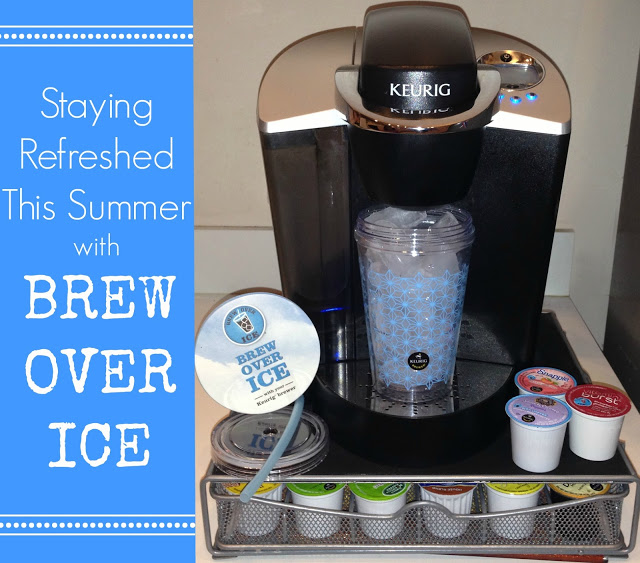 There are many things in this world that I can't live without, iced coffee being high on that priority list. It may sound ridiculous but if you have children I am sure you understand without any further explanation! I was never a huge coffee drinker before I had my daughter but four years later, it feels like it's automatically running through my veins. If I could shrink and attach my Keurig system to my key chain, I would in a heartbeat. I can't function without my iced coffee or tea in the morning. With Brew Over Ice I don't have to! Brew Over Ice gives you the opportunity to brew your drink hot and drink them cold. There are many delicious flavors and types of beverages available for the Keurig system. They were even kind enough to send me a few samples to try, and I couldn't wait to get my brew on! Addicted is an understatement.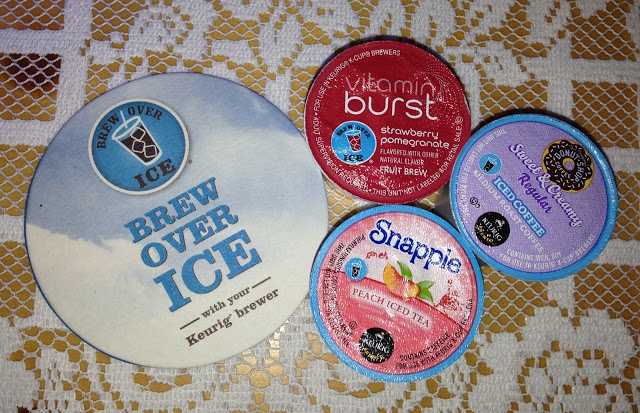 Brew Over Ice K-Cups are available in several varieties from coffee blends to fresh iced tea. The three samples I was provided with included a little taste from each category. While I was familiar with the Sweet & Creamy Iced Coffee, I had never tried the Snapple Peach Iced Tea or Vitamin Burst Strawberry Pomegranate flavors. Truthfully, I wasn't even aware that there were K-Cups available in anything BUT coffee! I was pleasantly surprised because I do love iced coffee but on those hot Summer days I tend to crave a cold lemonade or tea to fight the heat. The Sweet & Creamy Iced Coffee cups are one of my absolute favorite. I discovered them at my local grocery store a few months back and have been enjoying them ever since. I don't leave the house without my ice coffee in hand and this flavor satisfies my sweet tooth before the day even begins. It doesn't even need whip cream! It's creamy, sweet, and cold. Triple threat? I think so!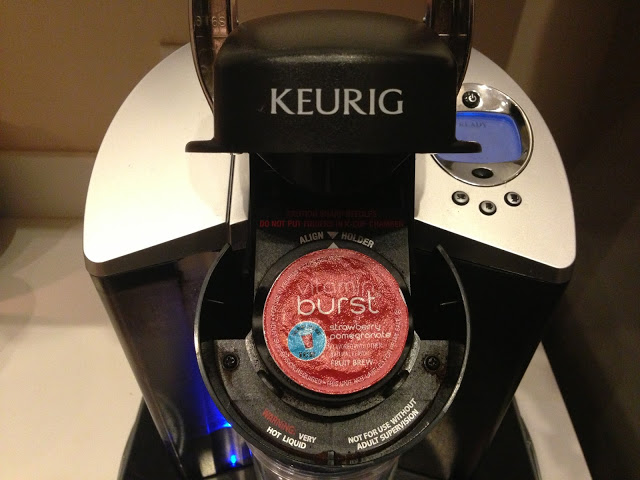 I was anxious to try the Vitamin Burst cup in Strawberry Pomegranate. I expected this to be more on the juice side given it is a "fruit brew" and completely opposite from what I am used to making with my Keurig. It's naturally sweet and high in Vitamin C. All I needed was my Brew Over Ice Tumbler filled to the top with ice cubes. Popped the K-Cup in and then I let the magic begin. I could smell the aroma of the fruity mixture immediately! It was a nice change compared to the typical strong scent of coffee beans that lingers through the kitchen in the morning.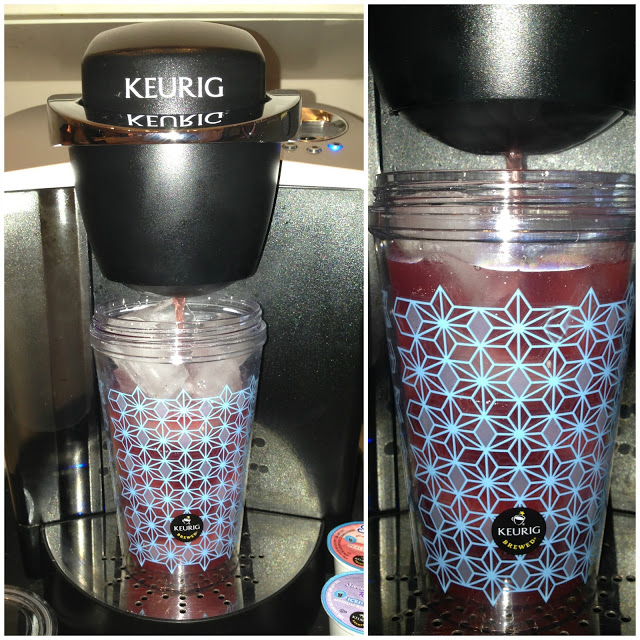 If your new to drinking any type of Brew Over Ice beverage, remember to always fill your cup to the very top with ice! It tends to melt really fast. I learned this the hard way when I was a Keurig "newbie." A lot of spills, watered down creations, and potent concoctions came from the first few months of becoming a Keurig owner. Proud to say I am now a pro-brewer, or so I like to think!
Brew Over Ice Cups are the perfect way to cool down, refresh, and relax during the Summer time in addition to all year round'. They have a ton of flavors and varieties to stimulate your taste buds any hour of the day. Not in the mood for coffee? Have a cold iced tea! Maybe a sweet lemonade? How about an iced tea lemonade- YUM! Regardless of your pick, these K-Cups are convenient in the kitchen and on the go. Since they are packaged individually, you can carry them in your purse or lunch bag. You never know when there will be a Keurig machine around!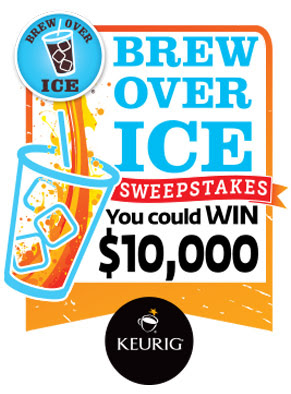 Keurig is also hosting the "Brew Over Ice Sweepstakes" on their website until September 3rd. You can play every day for your chance to win instant daily prizes and the Grand Prize of $10,000! Some of the prizes include a Brew Over Ice Variety K-Cup Sampler Pack or Brew Over Iced tumblers.
If you are a frequent K-Cup buyer or interested in trying them for the first time, there is currently a $2 coupon for online & offline use. This promotion is valid on any variety of Brew Over Ice K-Cup Packs.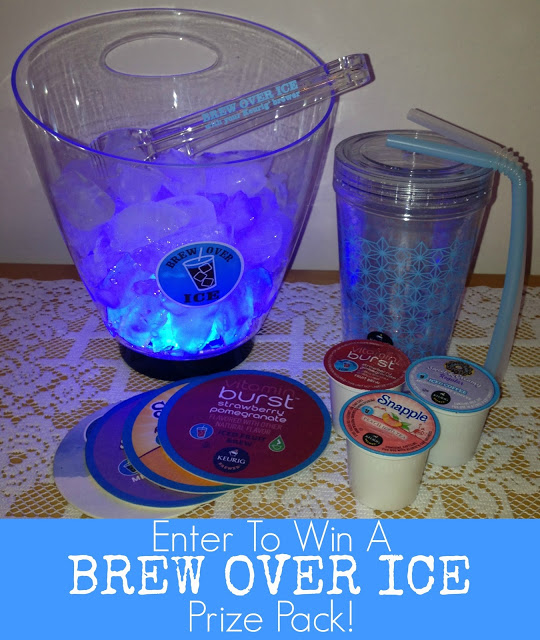 Ready to quench your thirst this Summer? One lucky Young At Heart Mommy reader has the chance to win their own Brew Over Ice Prize Pack! This includes 3 Brew Over Ice K-Cup samples, 1 Brew Over Ice Tumbler with two straws, 4 Brew Over Ice Coasters, and 1 Brew Over Ice Light-Up Ice Bucket with Ice Thongs. Enter below and get brewin'!


Disclosure: To facilitate this review and giveaway I have received samples courtesy of Brew Over Ice. As always, all opinions are my own!