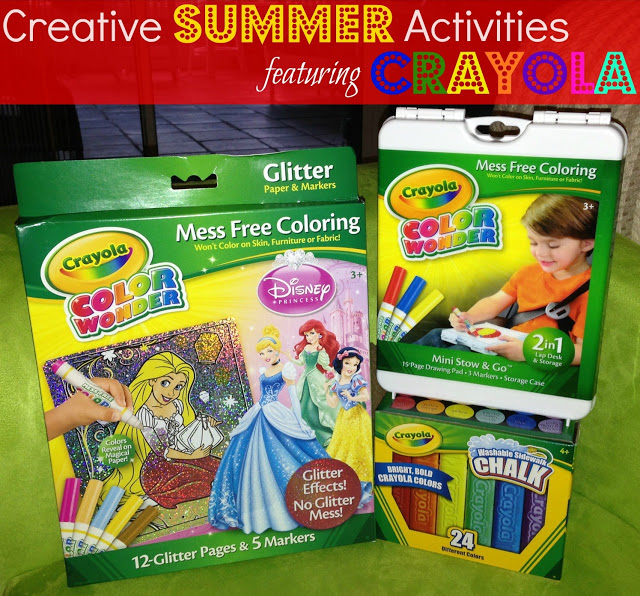 Summer has really started to grow on me. Usually I am one to prefer the cooler months and can't wait for October to roll around. But this year I have been spending much more time outside with Toodie, enjoying the sunshine & nature itself. While we have had more rainy days than sunny, we take full advantage when the weather is beautiful. Most of our time outside is spent playing with bubbles, running in the sprinklers, coloring with sidewalk chalk, and watering plants. Typical Summer fun activities right? Since Florida has had unpredictable weather this year, I always like to have activities ready for the outdoors and indoors. With the help of Crayola I am able to be prepared through rain or shine. Last week they were kind enough to send Toodie a few of their popular Summer time products! Included within the package was a box of Washable Sidewalk Chalk, Color Wonder Mess Free Glitter Paper with markers, and the Color Wonder Mini Stow and Go.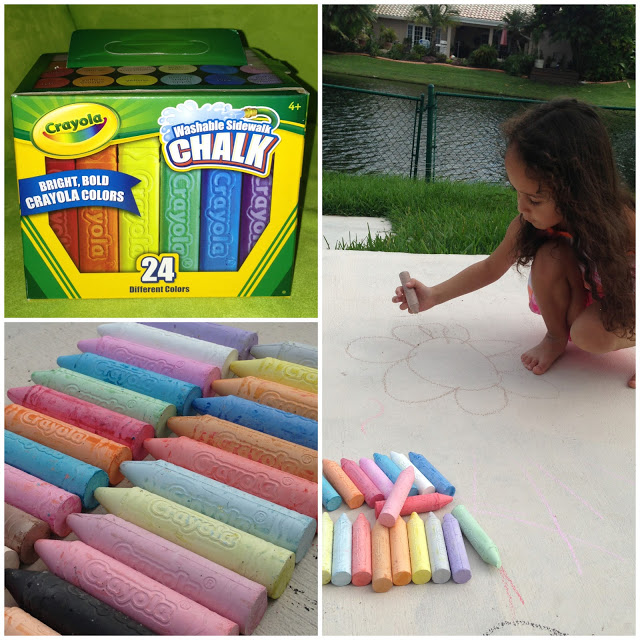 A standout from the crowd — it's the first sidewalk chalk featuring 48 classic Crayola crayon colors! And that's not all – the chalk is also bolder and more vibrant than ever.

With so many colors to choose from, kids can let their imaginations run wild to create beautiful masterpieces that may include "carnation pink" flowers, "sepia" colored tree trunks, "granny smith apple" turtles or "scarlet" colored lady bugs.

A new anti-roll shape prevents chalk from rolling away and the wide sides allow kids to draw thick lines.

Parents will appreciate that the chalk is washable from sidewalks and driveways – simply spray away with water!
Toodie loves drawing pictures with chalk. What's great about the Washable Sidewalk chalk is that it comes in 24 different colors and is in fact… WASHABLE! It comes off extremely easy whether you hose off the area with water or let it fade. The colors are also not traditional. They are bright, vibrant, and there are so many to choose from. I love that they are crayon shaped too! This makes them easy to hold for smaller hands.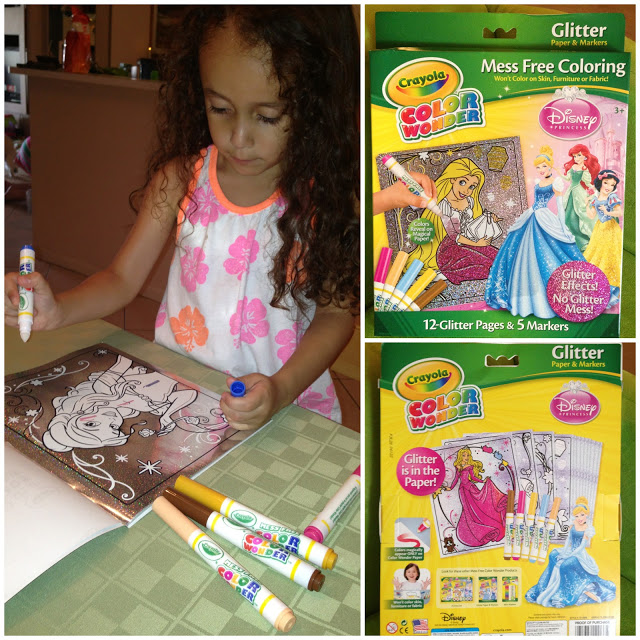 Color Wonder Mess-Free Glitter Paper and Markers:
Crayola's new Color Wonder Glitter Paper is full of glittery fun but without the mess, since the glitter effects are in the paper.

Kids can create dazzling, sparkly masterpieces with their favorite Disney Princesses and Fairies.

With Crayola's Color Wonder system, parents can rest easy since the mess-free Color Wonder markers will only appear on the special Color Wonder paper – not on skin, clothing, walls or furniture.

Kids can color and watch in awe as hidden images magically appear on the glittery paper.
In our home we are very familiar with the mess-free Color Wonder sets. When Toodie was younger we would find her drawings on the walls and tile, convincing us that we needed a better option! I started buying the color wonder markers and paper because they were so conveniant and I didn't have to worry about it ending up in the wrong place. Toodie was thrilled that the glitter coloring pages were Disney Princess themed! The pack came with 12 individual pictures to color and 5 markers. The markers can always be re-used and you can purchase more magic paper sheets!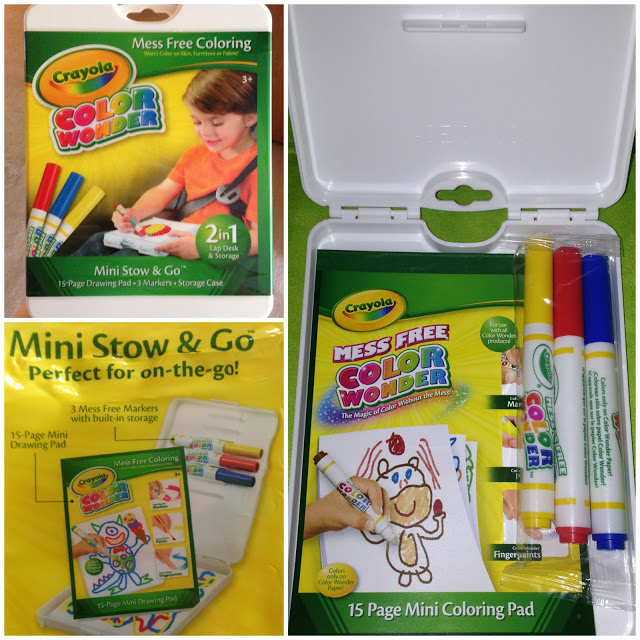 Color Wonder Mini Stow and Go:
•

Mess-free fun hits the road with Crayola Wonder Mini Stow and Go!
•
The Color Wonder Mini Stow & Go gives you a portable writing surface and storage for your creations and markers.
•

Markers color only on special paper and not on skin, furniture or carpets!
•
Each pack includes a 15-page mini Color Wonder Coloring Pad and 3 Color Wonder Markers
.
The Mini Stow and Go is ideal for traveling and restaurant visits. It's basically mini Color Wonder pages and markers packed in a slim storage case. Since receiving our Crayola goodies I have kept this in my purse for when we are out and about. It's great for entertaining little ones when you are away from home or running errands. There are even extra slots for you to put additional markers in.
Crayola has so many tools to encourage your child to be creative. These are just three! For more information on these Crayola products along with the many others they offer, visit their website here. Also, get social and follow along on Twitter and Facebook! Crayola has been kind enough to provide me with one Summer Fun gift pack to give away to my readers. If you would like the chance to win all three products mentioned above, enter below. Good luck and as always, thanks for stopping by!

Disclosure: The Crayola pack, information, and additional gift pack have been provided by Crayola. All opinions are my own!