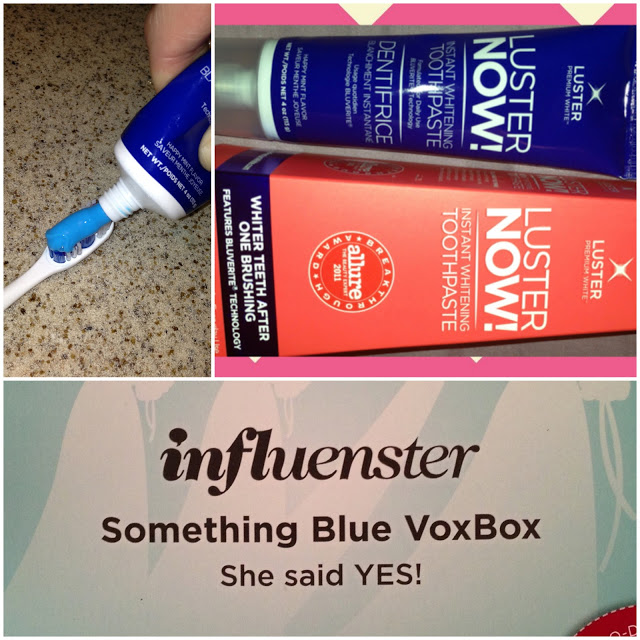 Since receiving my Something Blue VoxBox from Influenster, I have been taking the time to test and try each product found inside. You can visit my previous post to see all of the goodies that were packed inside the #IDoVoxBox this month. After a week of using the Luster NOW! whitening toothpaste I have a solid opinion on my experience with the product. Like I mentioned in my first impression review, I love whitening toothpaste. I have been using other brands for years but never found one product that I considered completely effective. While many of them show visible signs of whitening within the first week, I noticed that the results would never last. This was not the case with Luster NOW! and after using it for over a week I continue to see my teeth getting whiter.

This instant whitening toothpaste brightens your teeth with its minty blue formula. Finally, a toothpaste that tastes good! One thing I have HATED about other whitening products is the horrible taste, after taste, and burning sensation. Sometimes toothpastes like this can irritate your gums because of the potency. Fortunately, it is gentle enough to use on your teeth everyday and whitens instantly. If you have blonde or highlighted hair, you may recognize the concept used in brightening shampoos. The vibrant blue color reminds me the Shimmer Lights shampoo and conditioner to keep your highlights bright. This technology has now transferred over to dental hygiene. After over a week my teeth are brighter and much more shiny. I am really looking forward to the long term results of Luster NOW! and the overall improvement it offers.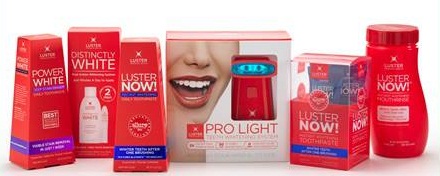 You can learn more about LUSTER Premium products by visiting their website. Also, follow along on Facebook to learn about new products, promotions, and how to keep your smile white!
Disclaimer: I received the products in this post compliments of Influenster for purposes of this review, however all opinions are my own.