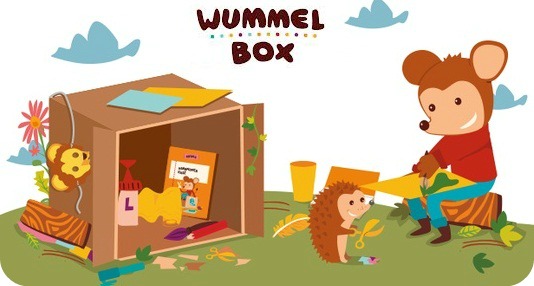 Hello friends! It has been a while since I had an exciting find to share with you. This month I was given the opportunity to review a new monthly subscription service for children. Meet the Wummelbox! The Wummelbox comes filled with arts & crafts projects that inspire creativity, imagination, and exploration. Cool fact? It originated in Germany and is actually known there as "Wummelkiste." It is geared towards children between the ages of 3 to 8. Each crafty project includes an illustrated booklet of directions along with just about all of the supplies required. There is also a "wummel" indicator on the front of each booklet that tells the difficulty of each craft and if parental assistance is needed. Between all three projects, Toodie was able to do at least one on her own while I was happy to help with the others. I noticed she was very intrigued by this box. While she always gets giddy when one of these packages arrive at our doorstep, she seemed extra curious about this one!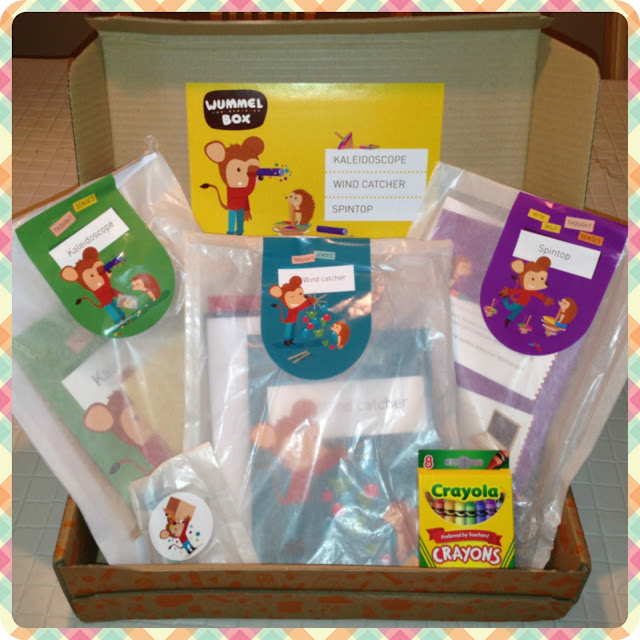 The kit that we received was the Color and Light box. It contained three individually wrapped projects including materials to make a

kaleidoscope

, wind catcher, and spintop.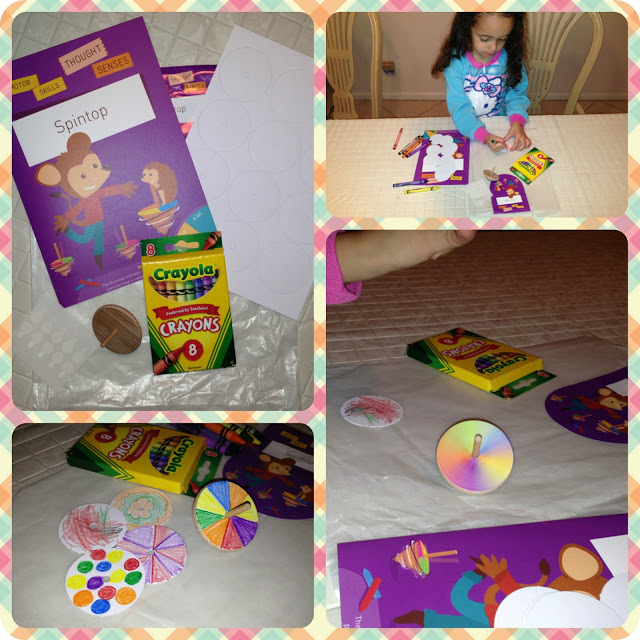 The first activity we worked on was creating a spintop. According to the Wummel indicator printed on the front of the instruction booklet, this project only required a minimum amount of parental assistance. With this craft being on the easier side I decided to let Toodie take the lead. Provided with a stamping template, crayons, adhesive dots, and a wooden spintop- she was able to create multiple top covers with different patterns and colors. Playing with combinations of colors, each top appeared different once spun around. After trying several, we both agreed that keeping the tops simple with only a few colors was best. She not only enjoyed coloring her own interchangeable tops, but also observing the results live in action. This was such a simple little project but I have to tell you, hours later Toodie went back and continued to play with her new spintop! She even experimented by spinning it on different surfaces within the house. The dogs weren't too crazy about it, but she sure loved it.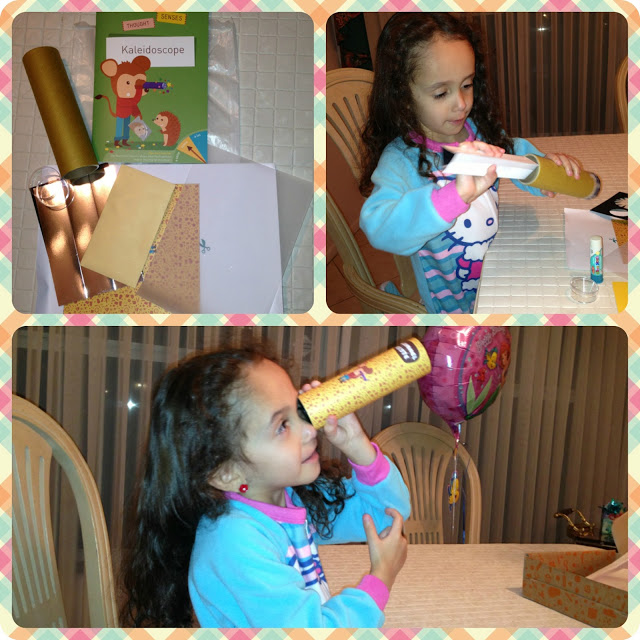 After her spintop was finished and placed to the side, it was time to work on a homemade Kaleidoscope. Once again, all of the materials were provided. Like the other, this project was simple but needed a little assistance from mom. Even though she is at the age of wanting 100% independence, Toodie didn't seem to mind me lending her a hand. This craft had several steps but each were printed separately, making the directions easy to follow. I personally enjoyed this one the most because it was very hands on. By combining a sturdy wooden tube, mirrored insert, a small box of glittered flakes, and an eye piece- Toodie had her very own homemade kaleidoscope! Even though the opalescent flakes were very thin, I couldn't believe how many beautiful colors appeared when reflected off of the light. Toodie spent quite a bit of time holding it up to the bright lights and even walked around the house testing it in front of each lamp.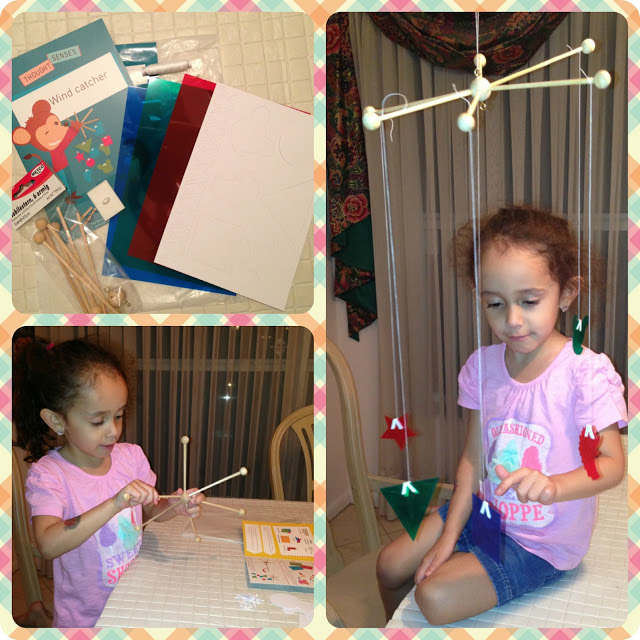 Last,but certainly not least, Toodie made a wind catcher. While it was called a wind catcher I considered it more of a mobile. This one required my assistance more than the others. It was more on the complicated side but not overly difficult that it left either of us frustrated. I cut out the pieces and Toodie was in charge of gluing and assembling. She attached the wooden rods together and waited for me to cut out the shapes from the colored sheets. When finished we hung the mobile from the bottom of the living room chandelier so the lights could reflect off of the shapes. Once it is completely dry and securely in tact, I will move it to her bedroom in front of her window.
The Wummelbox is $39.95 a month or $29.95 per month if you sign up for a three month subsciption service. A yearly subscription is $23.95 a month. For more information on the Wummelbox monthly subscription service for kids, head on over to their website. You can also connect with them on Facebook for updates and interaction with other parents! They frequently post current offers, fun recipes, and quirky videos.
Disclosure: This post has been sponsored by Wummelbox. All opinions are my own!