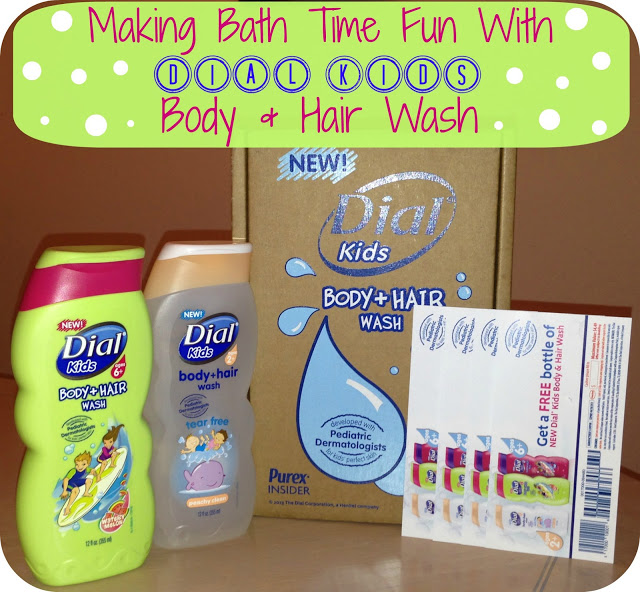 For 65 years, the Dial brand has spent their time developing trusted personal care products for clean and healthy skin. While Dial is typically found in our kitchen and bathrooms, they are excited to announce their entry into bath tubs! Focusing on children's personal care, a new segment known as Dial Kids Body & Hair Wash is offering specialized products. It offers age appropriate variants developed to address specific ski

n

needs of children. It is available in two formulas, one for children ages 2+ and the other for those in the 6+ category. Both have been developed by pediatric dermatologists who have made sure that each is gentle on our little one's skin. The 2 in 1 formulas combine shampoo and body wash for a multi use product that makes bath time fun and simplified. The Dial Kids Body & Hair Wash is tear free, hypoallergenic, and also PH balanced. It also does not contain any artificial dyes or added parabens.
As a toddler, Toodie has outgrown the traditional infant body washes and shampoos. But at the same time, her skin has always been sensitive and some products are too harsh for regular use everyday. The Dial Kids Body & Hair Wash meant for children ages 2-5 is ideal for those who fall right into this category. It comes in a Peachy Clean scent and provides ultra gentle cleansing with a fun, fresh, and light scent. I like that the fragrance is not over powering but it is still noticeable after bath time is over. It doesn't irritate the skin and it leaves it feeling soft and moisturized. This is exactly the type of product I prefer to use on my daughter's skin because I know that it is safe and formulated for her specific needs.
For children that are ages 6 and up, Dial Kids Body & Hair Wash offers a mild cleansing wash that will not dry out their delicate skin. This product is available in two scents, Watery Melon and Berry Cool. Both bottles come in bright vibrant colors and the scents take bath time to a whole new level of fun. Even though Toodie falls into the age range of the Peachy Clean wash, I am still comfortable allowing her to use these because they are a gentle formula. Watery Melon smelled sweet, fruity, and clean. It also lathered nicely on a loofa and wash cloth. Not to mention, it created a heap of fluffy bubbles in the bath tub.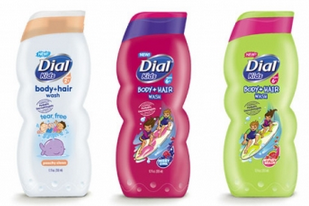 The Dial brand is hosting a sweepstakes to accompany the release of the NEW Dial Kids Body & Hair Wash. One grand prize winner will receive $1000 and 250 additional winners will receive a coupon for a free bottle of the Dial Kids Body & Hair Wash. Also, I am giving away (4) FREE product vouchers in which 2 winners will receive 2 coupons each. Enter below for your chance to win!
Disclosure: The Dial brand provided me with a sample of Dial Kids Body and Hair Wash in exchange for a product review. However, all the opinions expressed here are my own.