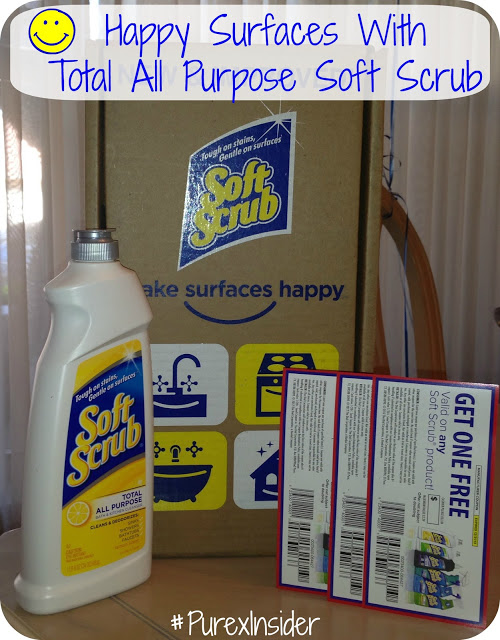 Cleaning the house is one chore I can never escape. On top of laundry, dusting the fans, and scrubbing the bath tub- there is always something that needs a good cleaning here! While I have a cabinet overflowing with different products, it is always nice to have just one that you can rely on to disinfect every room of the home.

The NEW Soft Scrub Total All Purpose Bath & Kitchen Cleaner can be used in the bathroom, kitchen, laundry room, and even patio. I have personally used it in all four areas to clean the counter tops, tile floors, patio chairs, and sinks. It is tough on stains, and gentle on surfaces. This new and improved whitening formula has a stronger whitening power and less residue, for better rinsing. Both of these equal better cleansing and faster rinsing for your tile, grout, sinks, and bath tubs. You can regularly use Soft Scrub in your kitchen or bathroom for an effective clean on those everyday stubborn stains.
In addition to an improved formula, the Soft Scrub bottle has also changed. The all-new bottle and cap design improve dispensing the product. This prevents spills and creates a more efficient cleaning experience without any wasted product. It is a versatile product that can be used in many places inside the home, leaving each smelling fresh. The lemon scent is very pleasant and light compared to others I have used. Many cleaning products can be too strong and over power the whole house with a unpleasant chemical odor. Soft Scrub has the right amount of fragrance without over doing it.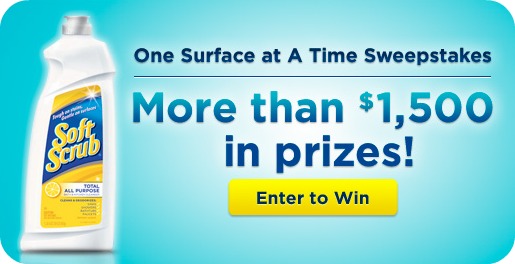 In celebration of the new Soft Scrub Total All Purpose Bath and Kitchen Cleanser, Soft Scrub is hosting another fabulous sweepstakes. By entering the One Surface At A Time Sweepstakes you are eligible to win more than $1,500 in prizes! One grand prize winner will receive $1,000 and a 1 year supply of Soft Scrub coupons. In addition, 250 winners will receive one Soft Scrub coupon. This sweepstakes ends on March 22, 2013.

As a Purex Insider, I was provided with THREE free product coupons to give away to my readers. If you are interested in trying the new and improved Soft Scrub cleanser, enter below through the rafflecopter form.
Disclosure: Soft Scrub has provided a free sample of their Soft Scrub Total All Purpose Bath & Kitchen Cleanser for review purposes. However, all opinions expressed are my own.