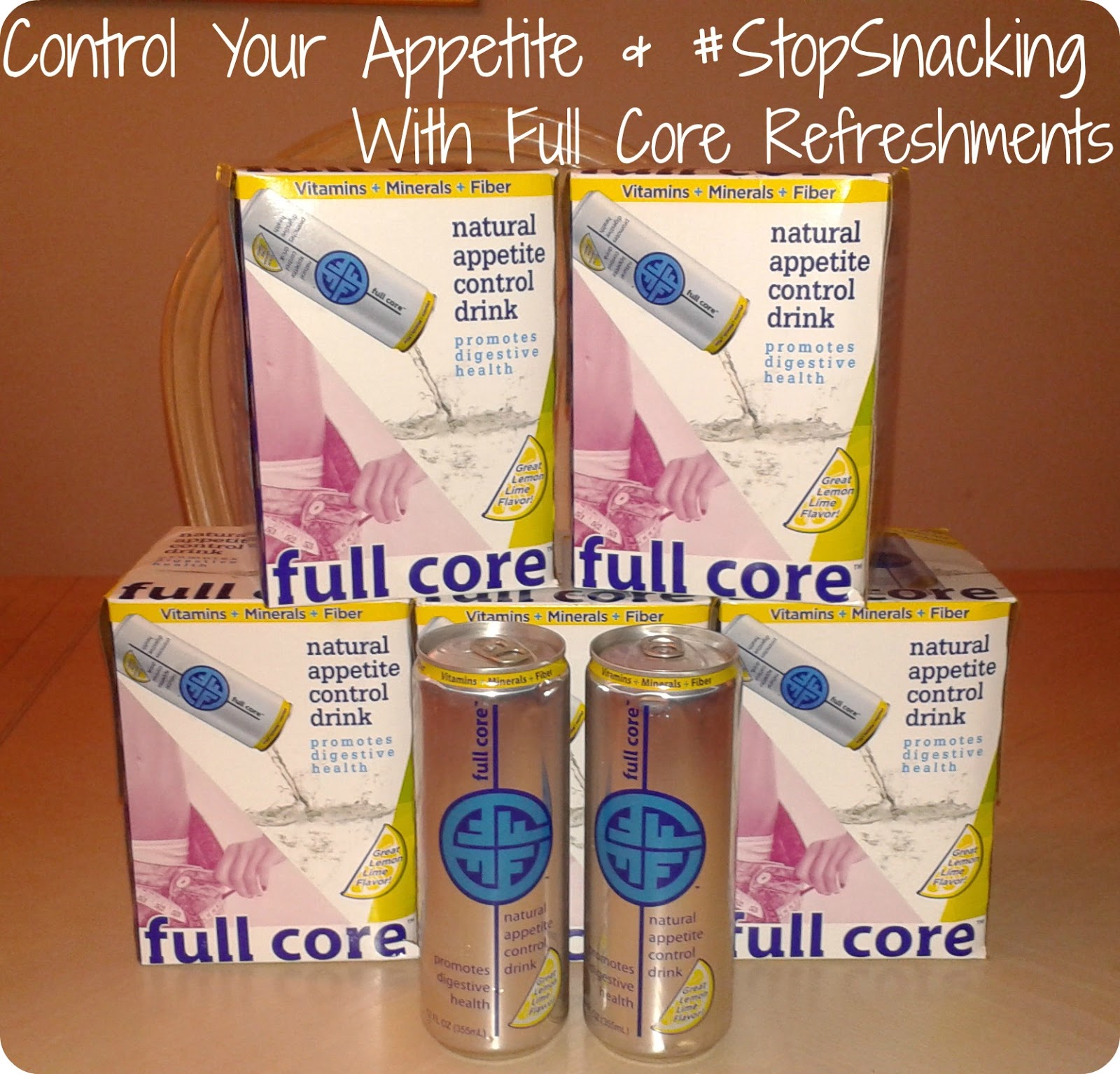 You would think with the holidays being over it would be easy to get back on track and shed the unwanted pounds that were nearly impossible to avoid. I always find myself determined and encouraged to stop snacking, eat healthier, and be active when a new year begins. While I am disciplined in my goals, I still have a few bad habits that need major improving. One of these being the urge to frequently snack throughout the day. Sometimes I just don't want a big meal. I would rather grab a bag of chips and go about my business. Being a mom I tend to focus on my daughter's meals

more than my own.

As you can imagine this unhealthy habit hasn't been very supportive in my plan to shed a few stubborn pounds. I think it's about time to look into something n

ew.

Feeling discouraged I was ready and willing to take the leap and try an appetite control drink known as Full Core

.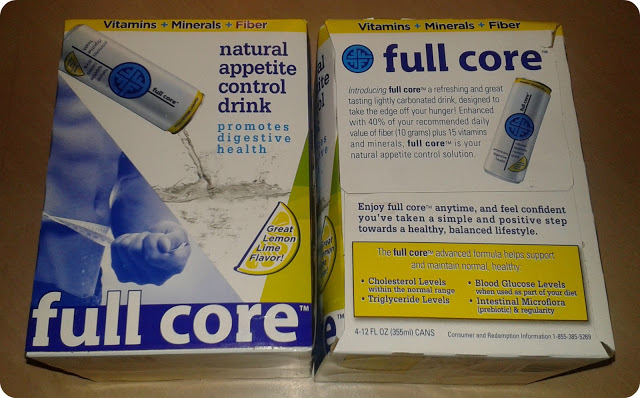 Many of you may be wondering what exactly Full Core is and how it is different from similar products on the market. I, myself, was in the same boat and decided to research before placing my order online. I came across a ton of helpful information and was intrigued by the benefits it offers. Full Core is a refreshing and fizzy lemon lime beverage that curbs your appetite and also promotes a healthy digestive system. It's the equivalent of enjoying an ice cold carbonated soda without all of the unhealthy ingredients inside. For me this is the jackpot, the mother load, the big kahuna! I have had such a difficult time kicking my soda habit and sometimes I can't help but crave something bubbly. This was

already getting me excited to try Full Core for myself. It is also blended with 15 essential vitamins, minerals, and 40% of the daily fiber you need. Not only will it make me stop snacking but it will help with my digestive health as well. Sold? I think I am!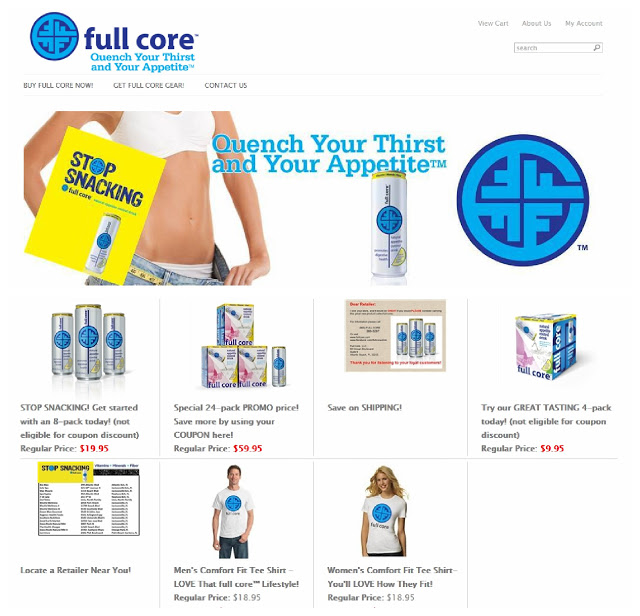 Full Core refreshments and merchandise can be purchased at one of their retail locations and also online. Since there nearest store was a bit far from my home, I was pleased to be able order on their website. You can take a look at my digital shopping trip here. After browsing through the

options I placed my order and waited patiently for it to arrive. I was very impressed with the shipping time. It took less than a week to arrive! For those of you who are also not close to a retail store, ordering online is very easy. The shipping costs are reasonable and as you can tell from my experience

, you don't have to wait very long.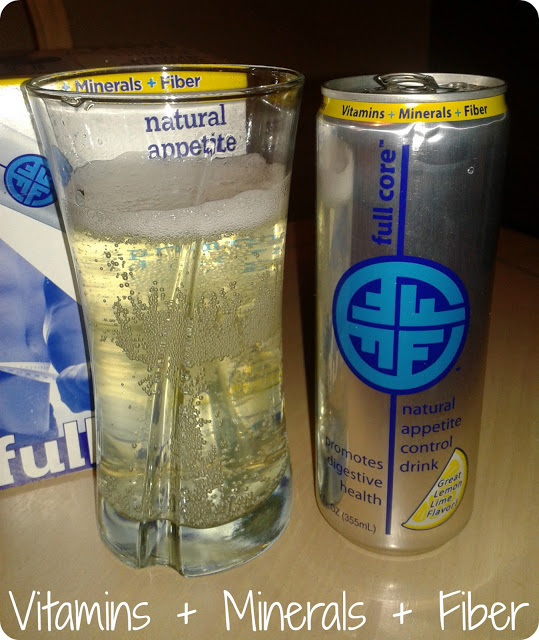 Anxious to try the sparkling beverage, I popped a couple of cans into the refrigerator and waited for them them to chill. It is best served cold and is even better poured over a cup of ice. I left mine in over night and decided to start the next day with Full Core in hand. After dropping my daughter off at school and running errands I was tired, hungry, and thirsty! Using Full Core as a cure I couldn't believe how refreshed and re-vitalized I felt. The taste is amazing. It is almost indentical to a lemon lime soda. Even better there was no after taste or jittery feeling. Within about 10 minutes I was no longer hungry and felt much more hydrated. I was surprised that I did not even have a slight urge to pick up a snack. Full Core completely satisfied me and left me feeling full. This is exactly the product I need to push me into losing the holiday pounds. Combined with a continuous work out plan and healthy eating, Full Core is going to be a vitale part in my journey.
You can learn more about Full Core and their products by visiting the websi

te
. in which you will find an online store. To interact with the brand follow along on Twitter

and

Facebook

.
Disclosure: I am a member of the Collective Bias™ Social Fabric® Community. This content has been compensated as part of a social shopper insights study for Collective Bias™ and Full Core. #StopSnacking #CBias #SocialFabric