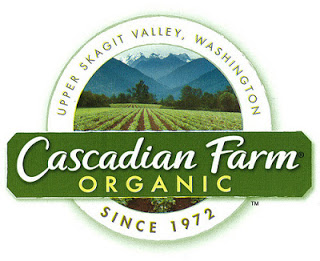 Since becoming a mom three years ago, my lifestyle and diet has noticably changed. Living in Colorado I was introduced to natural food stores, farmer's markets, and a healthy way of eating. I have noticed that eating organic is not only a trend but now a lifestyle for many Americans. I, myself have been trying to wiggle in more natural products into my family's diet. Eating organic is not only healthier but it allows you to enjoy the true flavors of each ingredient. One of the most popular brands I have purchased is Cascadian Farm.
All of the products that Cascadian Farm offers are grown without the use of synthetic pesticides, chemical fertilizers or genetically engineered ingredients. This means there are no artificial flavors, preservatives, or extra junk to alter the appearance. Cascadian Farm currently has 75 delicious, high-quality organic products on the market. These include granola, cereal, granola bars, frozen fruit, vegetables, and much more.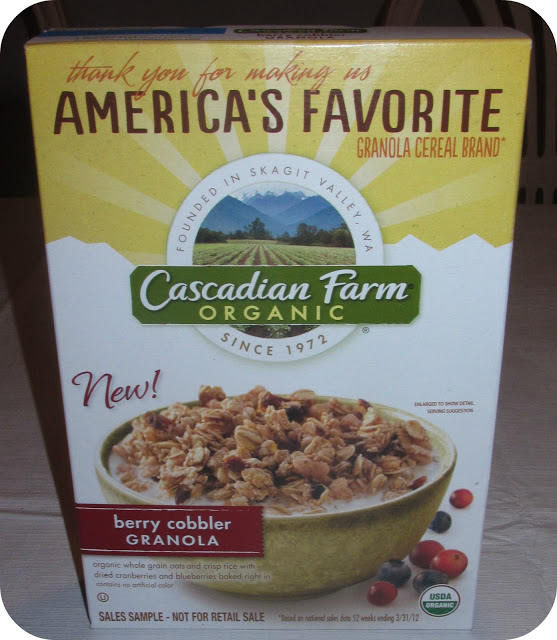 Cascadian Farm was kind enough to send me two of their upcoming products, Berry Cobble Granola and the Crunchy Granola Bars in Oats & Honey. The first thing I was eager to try was the Berry Cobbler Granola. Does the title alone not sound absolutely yummy? I love granola and am always taste testing new brands to find what I like to call, my "Holy Grail Granola!" Cascadian Farm is actually known as being America's Favorite Granola Cereal Brand. Granola can be eaten so many ways and I don't think many people realize how versatile it can be. You can eat it on yogurt, in milk, baked into treats, or even tossed in a trail mix.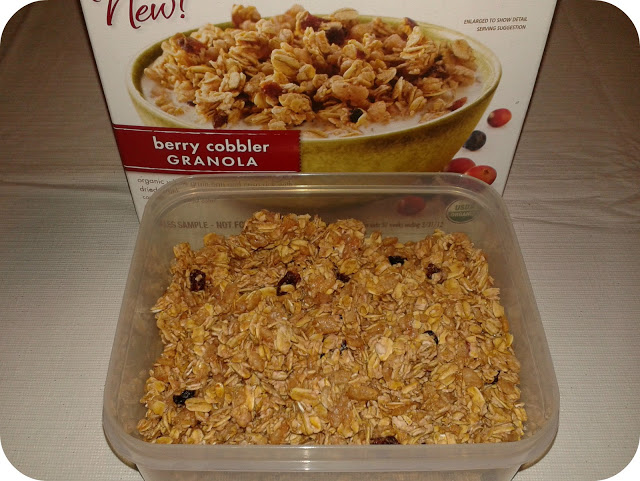 The Berry Cobbler flavor is made with organic whole grain oats, crisp rice, dried cranberries, and blueberries. Short and simple, huh? The medley of these

ingredients

baked into the granola makes it crunchy and flavorful. It doesn't get soggy quickly and when you open the bag there are big crunchy chunks instead of a ton of small flakes. When you bite into one of the dried fruit pieces, they are chewy and add a nice contrast of texture. I don't think it's going to get any better than this but I am anxious to try the Crunchy Granola

Bars too.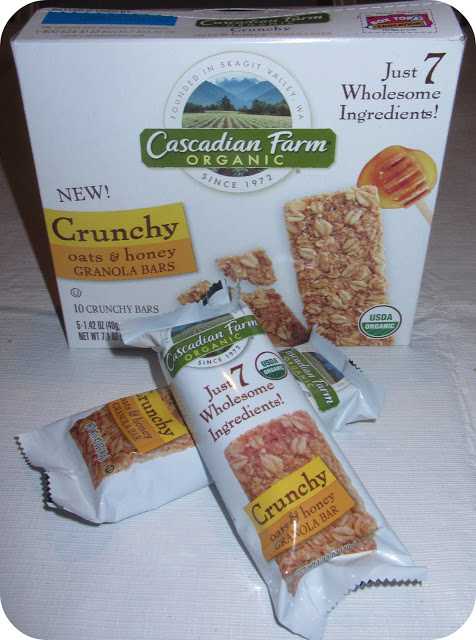 The Cascadian Farm Crunchy Granola Bars are available in two flavors at the moment. These include Almond Butter and Harvest Spice. In 2013 we will see the release of three new flavors, Oats & Honey being one of them. The other two are Peanut Butter and Oats & Cocoa- YUM! When I received my package I was thrilled to see the Oats & Honey inside because I regularly eat snack bars with both main ingredients.
Each box contains 10 individual packages with two crunchy bars inside. While they are delicious eaten just as they are, I like to sometimes break mine up and toss them into vanilla yogurt as a snack! The Oats & Honey flavor has the perfect amount of sweetness, crunch, and hint of vanilla. Compared to other leading brands, you can really taste all of the natural flavors blended together.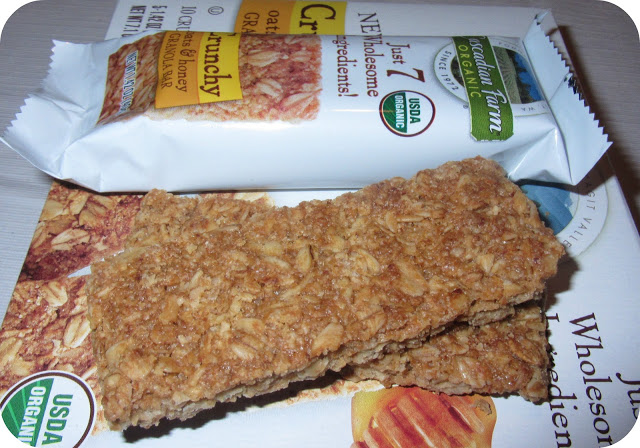 By taste alone it would be hard to tell that they are only made with seven wholesome ingredients. I'll admit, I am not used to buying products with such a short list of ingredients on the back. It was refreshing to see that I recognized everything inside- rolled oats, sugar, sunflower oil, honey, sea salt, molasses, and vanilla extract. With 23 grams of whole grain per serving, these are an excellent healthy snack for adults and children. It is estimated that 48 grams of whole grain are recommended each day. By eating one package of crunchy bars that takes care of almost half! They are great for packing in lunches or serving as an after school snack. I really haven't been able to stop eating them myself…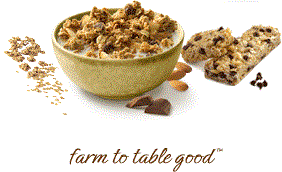 With basic natural ingrediants, Cascadian Farm is keeping it simple while also delivering a ton of flavor in each

of their products.

To learn more about Cascadian Farm

and their organic products

, visit

the

website here. You can also interact with the brand by liking them on Facebook. Keep an eye out in 2013 for more

delicious releases!
Disclosure: I received complimentary products to facilitate this review. I will not be compensated and all opinions are my own.