In today's hectic society beauty is widely portrayed by edited photos in magazines,

airbrushed

models, and unrealistic images of picture perfect celebrities. The media can be harsh and sometimes it sets a bar of very

unrealistic

standards the younger generation should be striving to be like. Instead of embracing imperfections, young girls can sometimes be discouraged and ashamed of the qualities that make them unique. Growing up isn't easy and no one said it was. On top of the typical growing pains you have to deal with acne, parents, friends, fitting in, and finding who you are. There's a heck of a lot going on at this point of time. I remember those days myself! I was always fortunate enough to have a supportive loving family and close group of friends to get me through the bumps in the road. Not every moment was perfect, but now that I look back at those days I have come to realize that they weren't as bad as I thought. As a teen every downfall is dramatic and the end of the world. Today I am well in my 20's and nothing has stopped me yet

!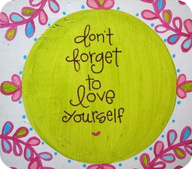 Surprising Self-Esteem Statistics
Dove® research shows that it is still important for us to address girls' anxiety about looks, as there is a universal increase in beauty pressure and a decrease in girls' confidence as they grow older. Key findings from our latest research include:

• Only 4% of women around the world consider themselves beautiful (up from 2% in 2004)
• Only 11% of girls globally are comfortable using the word beautiful to describe themselves
• 72% of girls feel tremendous pressure to be beautiful
• 80% of women agree that every woman has something about her that is beautiful but do not see their own beauty
• More than half (54%) of women globally agree that when it comes to how they look, they are their own worst beauty critic
Source

– Dove Research: The Real Truth About Beauty, Revisited
I feel it is never too soon to begin talking about self esteem, confidence, and self worth with our daughters. Toodie is approaching four and even at such a young age she loves being encouraged and praised. She thrives off of it and it brings me joy seeing her face light up with a huge smile. Whether she is showing me an artistic painting or tracing her alphabet, it amazes me how intelligent she is. Each day I make the conscious effort to tell her how special and smart she is. I hope that all of my positive words mold her into a strong independent woman one day.
Many of us are familiar with the popular Dove® brand and their continuous support for young woman. They are focused on creating top of the line beauty and hair products but also on their commitment to inspire. The Dove® Movement for Self-Esteem encourages girls of all colors, shapes, sizes, and backgrounds to embrace their beauty. Every time you are at the store stocking up on your favorite Dove products, you are contributing to the movement by making a donation. These proceeds go towards inspiring self-esteem programs for young girls everywhere. Dove has already reached more than 9 million girls so far and with all of our help they are determined to reach 15 million by 2015.
If you have a little girl, tween, or teen in your life then you may want to consider sparking a conversation sooner than later. Not sure where to begin? Start by downloading The Let's Talk Toolkit which is a wonderful resource that provides advice from the creator Jess Weiner, Dove Global Self-Esteem Ambassador. Remember to Ask, Share, Listen and Act. This kit will provide you with unintimidating ways to create a natural chat about these topics

, making

it more comfortable for you and your child. Also, stop by the Dove Facebook page where you will find the Self-Esteem Wall in which you can share your story and commitment to girls' self-esteem with your friends or family. This is such a

n

important campaign and it is up

to us to keep this momentum going.
Disclosure: This post has been sponsored by Dove. The information within the post have been provided by the Let's Talk Campaign. As always, all opinions are my own!