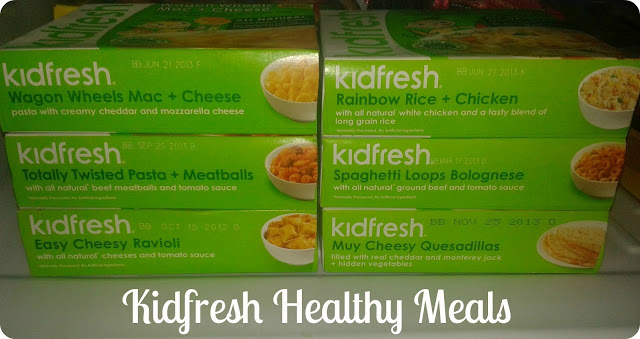 As parents we are always searching for healthier meal options for our children and ourselves. It can be tricky avoiding processed foods, artificial coloring, and mystery ingredients labeled on boxes. This past year has been a stepping stone for my family because I have changed our eating habits tremendously.
In addition to purchasing fresh vegetables and fruits, I read labels and make sure I know exactly what we are eating. I have not only been trying to improve my own eating habits, but also those of my daughter who is growing like a weed. Since it is not always possible to cook a full course healthy meal every single night, it is nice to have other nutritious options to choose from. Breakfast, Lunch, Dinner, and even snack time can sometimes be stressful and conflict with busy schedules. With this in mind I took a trip to my local Publix supermarket to find the Kidfresh frozen kid's meals. The team behind Kidfresh has mastered the art of sneaking vegetables into their meals and getting them into little tummies! Before leaving to the grocery store, I checked the Kidfresh Facebook page and printed a coupon for $1 off. You can print one too by entering your email.
Prepared with my KidFresh coupon and a list of groceries, we arrived to Publix for some late night shopping. My plan was to tackle the freezer section but I decided to get the essentials first. It had to be the quickest shopping session ever. I think I really got myself excited about checking out Kidfresh!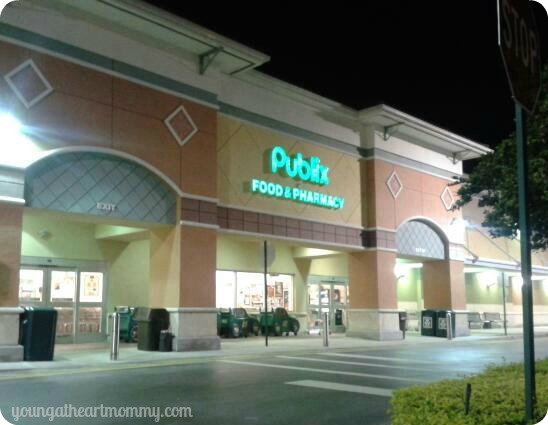 After picking up what we needed, I headed over to find the KidFresh meals in the freezer section. I expected them to be near the other healthy kid's meals but was surprised to see the display by the ethnic foods. The bright green packaging stuck our like a sore thumb and caught my eye immediately. Every variety was fully stocked and available for purchase. I also noticed that there was a small sign under each, listing the nutrition facts. This gave me a quick glimpse as to what the meals offered. I didn't see this information under any other brand, only Kidfresh.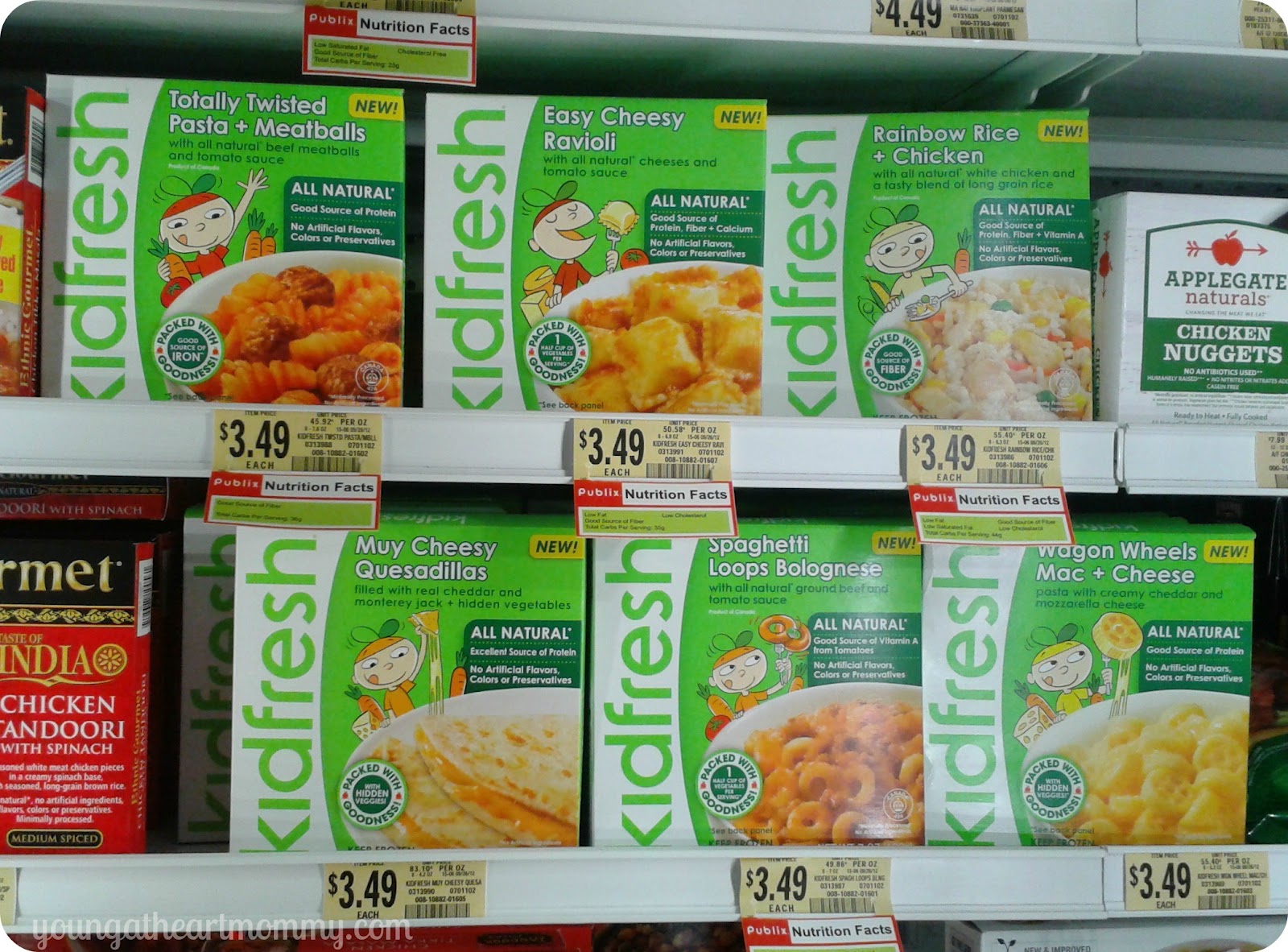 Having a hard time choosing which to toss in the cart, I decided to get one of each! With the $1 coupon handy, two of the meals were almost free. What is better than saving money AND getting healthy alternatives for your children?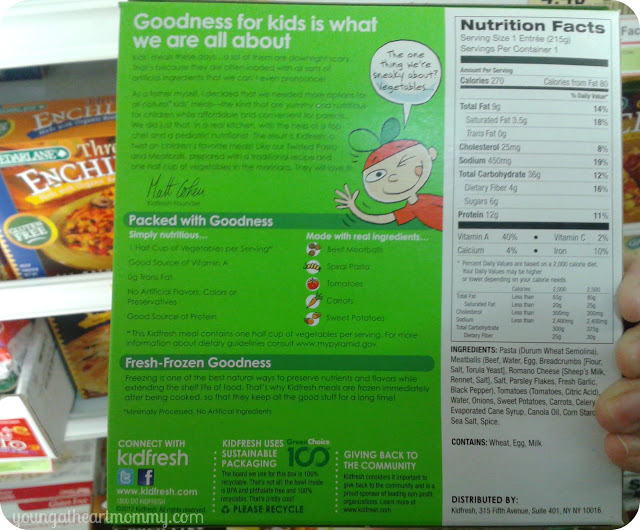 I wanted to learn a little bit more about Kidfresh and what made them so unique. The back of the package was full of useful information and taught me a thing or two. I took a moment to read further. Each delicious entree is made from all natural ingredients and contains 1 half cup of vegetables per serving. Seems like an easy way to get protein, fiber, and calcium into my daughter's diet without her even knowing. I am liking Kidfresh already.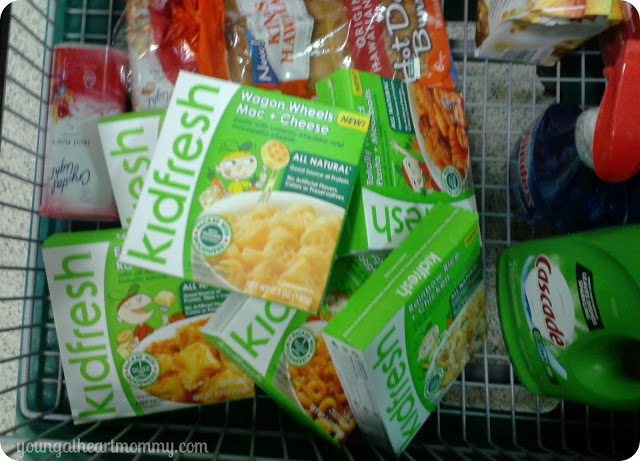 With all of the benefits presented, I piled in the packages and headed to check out. It was a relief knowing that I was purchasing food that may be frozen, but is still loaded with vitamins and nutrients.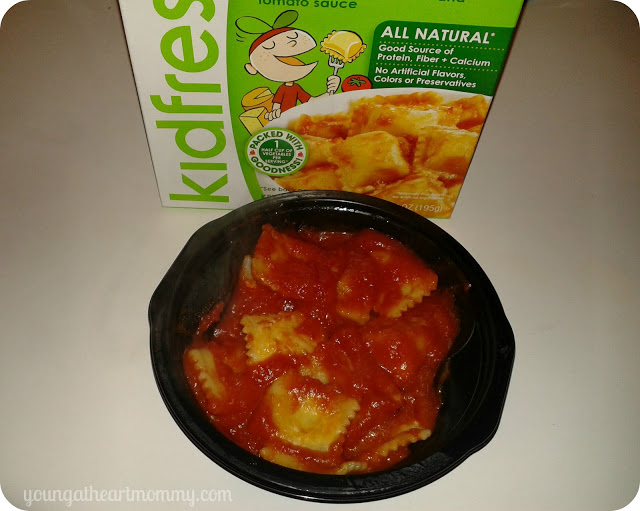 Tonight's dinner would be the true test. I heated up the Easy Cheesy Ravioli in hopes that Toodie was enjoy it without noticing the hidden veggies. I recognized that the tomato sauce was thick, chunky, and made with real vegetable. The ravioli squares were plump and stuffed with Ricotta, Romano, and Parmesan cheese. This was such a refreshing change from what we are used to. Most frozen meals are processed and very bland. Before serving, I snuck a bite in myself and enjoyed the medley of tomato, squash, and natural cheese. I was sold. It was hard to believe that this meal consisted of so many hidden vegetables, even carrots. The flavors blended perfectly and now I understand why Kidfresh is so good at what they do. Toodie loved her dinner and actually finished her whole entire meal. It may seem like no surprise, but with her being such a picky eater this rarely ever happens. Her bowl was empty and her belly was happy. Finally, I don't have to feel so bad about giving my kid a frozen dinner. Kidfresh came out on top tonight!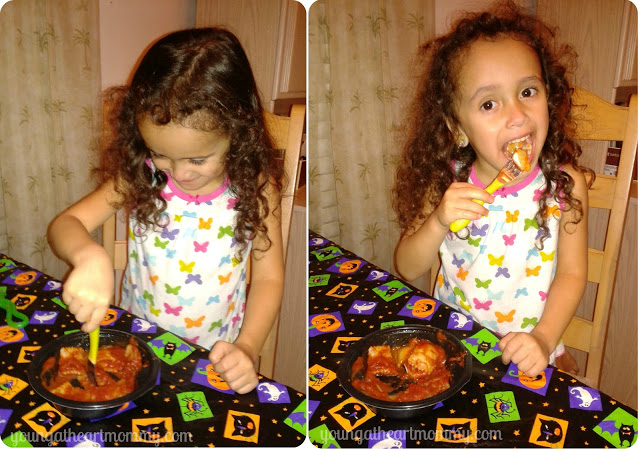 If you would like to find out more information about Kidfresh, you can follow along on Facebook and Twitter. This will allow you to stay up to date with their products and be the first to hear about promotions.
Also, take a peek on my Google+ album for a closer look into my shopping experience & new found love for Kidfresh meals!
Disclosure: I am a member of the Collective Bias™ Social Fabric® Community. This shop has been compensated as part of a social shopper insights study for Collective Bias™ and Kidfresh #CBias #SocialFabric