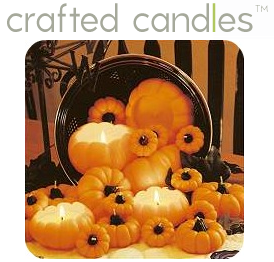 When Fall arrives there are several things I look forward to. On top of the slight weather change and homemade pumpkin pie, Fall C

andles

are a must have. I don't think a day goes by that I forget to burn a candle in at least one of the rooms in my home. I love the designs and sweet spicy scents that you often find in Fall themed candles this time of year. They make my home feel more cozy and welcoming for guests in addition to my own family. As a die hard candle fanatic, I am always interested in exploring what a company has to offer. This is why it is my pleasure to introduce Crafted Candles, an online retailer of high quality candles.

Crafted Candles offers a wide variety including tapered, pillar, floating, and decorative candles. Some are scented while others are not. Whichever you may prefer, they have a full selection of different sizes and colors to choose from. There are many choices accommodating holidays and celebrations from Easter all the way to Christmas. The Fall section caught my interest immediately because of the bright colors and fun shapes. Thanksgiving is next month and that means a huge family dinner is in the works. These candles are ideal for holiday meals and get togethers. They are all made of food grade wax making them safe to use around food and on the table. You can decorate individual place settings with the Pumpkin Patch Floating Candles

or dress a seasonal centerpiece to pull your table together.
There are endless options and with so many to choose from, creativity is key!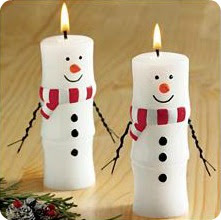 They also have quite the selection of Christmas Candles available. When the end of the year rolls around, there is one thing that is always on my mind and that is Christmas gifts. Each year there are several people I have to purchase for and I have found that each of them have one thing in common. They all love candles, just like me! Not only do they make wonderful gifts but they can also be used as festive decoration. The Marshmallow Snowman Candle is one of my favorite choices because they're individually packaged and hand painted. These would be adorable sitting next to Santa's milk and cookies. In their Holiday & Seasonal section you will find Winter Candles, toppers, and accessories. They have everything you need to get into the spirit while giving your home that warm and comfy feel.

Would you like the chance to shop Crafted Candle's huge assortment of candles? Enter through the rafflecopter form below and you could win an $100 gift certificate to expand your own collection!
Disclosure: This post has been sponsored by Crafted Candles and powered by Couponista Queen. I am being financially compensated for this post but as always, all opinions are my own.