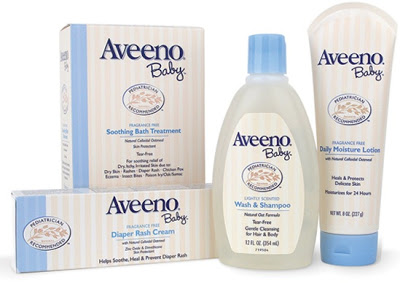 Diaper rash, eczema, and discomfort are all things that parents are familiar with and also struggle to treat effectively. We scour the aisles of the drugstore looking for the best products to make our children more comfortable and put us at ease.
AVEENO Baby provides skincare solutions and comfort to parents who have children suffering from diaper rash, eczema, or any sort of irritation
. They are designed to offer solutions with the expectant and experienced mom in mind.
There are two products in particular that I would like to share with you today.
The Aveeno Daily Moisture Lotion along with the Wash & Shampoo can be found within their permanent line for babies or toddlers. I have personally used both of them on my daughter and have had successful results in treating her dry skin. When Toodie born we were living on the West coast in Colorado where the air is very dry and lacks humidity. At 6 months old, I started to notice dry patches of skin on her back and torso. She was itchy and I did everything I could to prevent her from scratching. Soon after, I was told she had a mild case of eczema and was given a list of trusted brands to treat it. On the top of list was Aveeno Baby.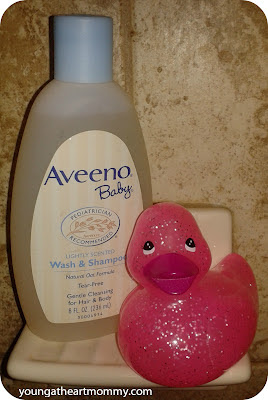 The Baby Wash & Shampoo is made from natural oat extract which helps to make a rich lather that cleanses the skin without drying it out. You can use this to wash your child's hair and body because it's gentle enough for everyday use. It leaves behind a very soft fragrance so your little one will smell clean and fresh. The formula is hypoallergenic and tear free making it safe to use on infants. After a warm bath with the Baby Wash & Shampoo their skin will be moisturized and silky smooth. I love the baby smell! Even though Toodie is a toddler, it reminds me of when she was an itty bitty baby in my arms. That scent is something I will never forget.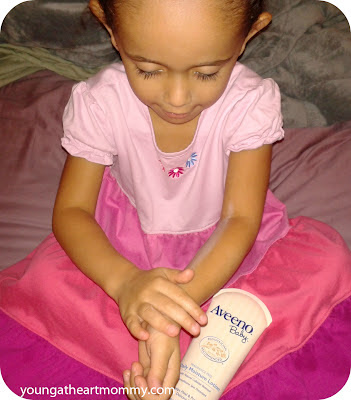 After bath time, the Daily Moisture Lotion helps heal and protect delicate skin for a full 24 hours. Like many of the products within their baby line, it contains a natural colloidal oatmeal blend with rich emollients. If you are not familiar with colloidal oatmeal, it is made of finely ground oats. You will find this in other treatments designed to relieve itchy dry skin, eczema, chicken pox, bug bites, and even poison ivy. Since it contains Vitamin E it also acts as an anti-inflammatory. It keeps your child's delicate skin soft and moisturized without any greasy residue left behind. I have always preferred using this lotion on my daughter because it is fragrance free and since it does not contain alcohol, I never had to worry about it drying out her skin. When she was first diagnosed with a mild case of eczema, the Aveeno Daily Moisture Lotion was on the list of recommendations provided by her doctor. It always relieved the scattered dry patches and kept her from itching away at them.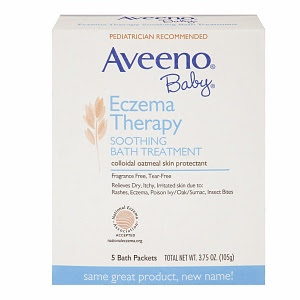 Another part of the Aveeno Baby line I wanted to add is the Eczema Therapy Soothing Bath Treatment. This is a favorite of mine can can also be found in its older packaging titled Soothing Relief Bath Treatment. I have used this so many times for many different reasons. When we began the potty training process Toodie was very hesitant and refused to have her pull up changed. At three, it's all about independence and control. She would run and hide making it impossible to even get it off! The moisture would sometimes cause a rash leaving her skin red and bumpy. These bath treatments would not only soothe the affected area but heal it in the process. Each box comes with 5 packs of the colloidal oatmeal in which you pour into warm water and allow to dissolve. This is great for diaper rash and also eczema. We have even used it to soothe irritation from constipation. You can find these bath treatments along with others in the Aveeno Baby Line as well.

For more information on the Aveeno Baby Line you can visit their site or connect on Facebook. Here you will find pictures, video review, and answers to any skincare questions you may have.
Disclosure: I received the products above for my consideration and to share my honest opinion and experience. I am under no obligation to post a positive review on them. I will not be compensated for this post. As always, opinion are my own!