I consider myself to be a hair junkie. While I do have a short list of favorite hair care products, I am always open to trying something new and innovative. When a box of HBL products arrived on my doorstep, I was ready to give them a test drive. HBL hair care was developed by Patrick Dockry who was determined to create a new experience
encompassed in 13 premium products.
They are free of any harsh sulfates or parabens that often strip your hair of its protective layer. All of the HBL products are pH balanced and formulated with high quality ingredients to keep the hair healthy.

These hair care products offer gentle, color-safe cleansing, conditioning and styling solutions for EVERY hair type.

The taller sleek packaging makes the products easy to store and tuck away in your shower or cabinet.

Here are a few of the products I was sent and their description.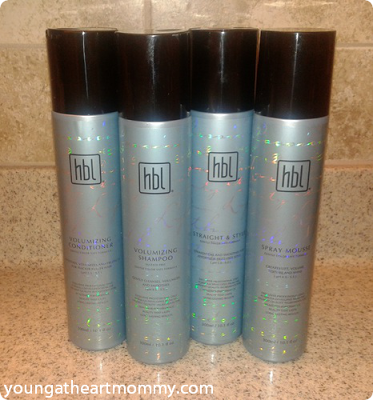 Volumizing Shampoo: Gently cleanses, smoothes and adds volume to all hair types. Jojoba Seed Oil moisturizes strands and improves elasticity while Keratin Amino Acids naturally repair and strengthen. Silk protein seals and smoothes the cuticle.

Volumizing Conditioner: Smoothes, volumizes and protects hair for fuller, thicker and more manageable results. Vitamins A, B and E act as natural anti-oxidants as Panthenol thickens and moisturizes the hair shaft and silk protein seals and smoothes the cuticle.
Spray Mousse: Creates lift, flexible volume, texture and soft shine in an easy-to-use spray application. Panthenol plumps and moisturizes the hair shaft to make it appear thicker while Glycerin works as a humectant to keep hair moist while special resins create a soft luster.
Straight & Style: Creates straight, smooth, frizz-free styles effortlessly, while still allowing you to flip, curl and style all in one product. This lightweight cream contains Panthenol, which thickens and moisturizes strands while Guar naturally softens hair and scalp. Glycerin works as a humectant, absorbing moisture from the air to keep hair moist.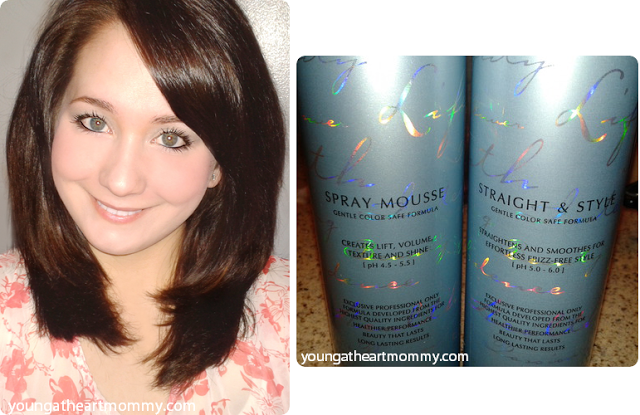 After using the Volumizing Shampoo & Conditioner there was a noticeable difference in the texture and appearance of my hair. I won't even pretend to have "perfect" silky locks because my hair has been through it's trials and tribulations! Since I have been coloring my hair for the last 10 years, it has become slightly damaged due to over processing. Up until a few months ago when I went from blonde to brunette, my hair was dry and brittle causing a lack of volume and extra "oomph." In the process of getting it back to a healthy state, I have noticed that my ends are still dry because the bleach is growing out. At the same time, the roots seem to hold more natural oils causing them to be limp. After I used this volumizing duo my hair felt clean but still had that soft feel to it. I was most impressed by the conditioner because I could tell it added a lot of moisture making it easy to comb through after washing. There was no tugging, ripping, or struggle to detangle my damp hair. I didn't even need to tease my hair because the
Spray Mousse
helped lift my root and add more volume. The Straight & Style eliminated any frizz and added extra shine without making my hair greasy. Using all four of these products was a treat for my lifeless hair and brought it back to life!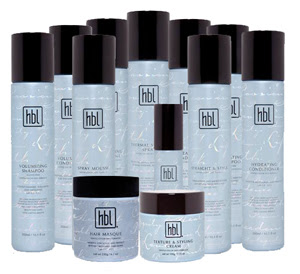 I was very impressed with all four products and am happy to offer one of my lucky readers the chance to try them as well! HBL is sponsoring a giveaway for all FOUR of the products mentioned above. To learn more about HBL or purchase their products visit their site here. If your hair needs a little TLC then enter below for your chance to win.
Disclosure: I received the products above from HBL for my consideration and to share my honest opinion and experience. I am under no obligation to post a positive review on them. I will not be compensated for this review. As always, opinion are my own!