BOOGIES- all kids have them whether they end up on a tissue, their sleeve, or your furniture! If you are a parent then you have probably fell victim to your own shirt becoming a personal tissue for your child's icky boogies. Three years ago when Toodie first entered the world, my mother introduced me to the great invention known as the Boogie Wipe. Toodie always had your typical crusty runny nose and typical tissues were often too rough. When the Boogie Wipe came around I was beyond thankful!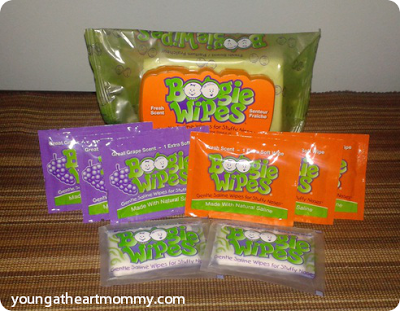 Boogie Wipes are made with natural saline designed to gently dissolve the mucus caused by common colds, allergies, and the everyday boogies! These wipes are extra soft, moist, and paraben free. They do not irritate little noses and from my experience, are way more effective than your typical dry tissue. Say goodbye to raw,red, sore noses!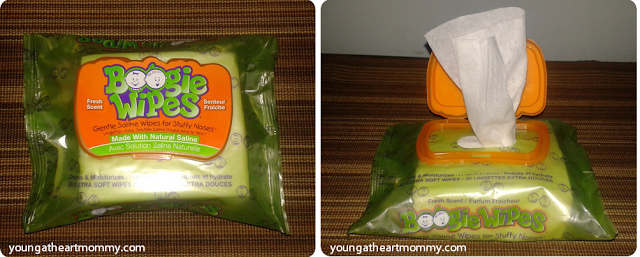 Boogie Wipes are available in four scents- Great Grape, Fresh Scent, Minty Methol, and Simply Unscented. Great Grape has always been my favorite! Each of them are "lightly" scented so you do not have to worry about any harsh fragrances or irritations. Boogie wipes are a MUST HAVE for parents because they can be used for all ages. They come in a 30 count package (as pictured above), 90 count canisters, and boxes of 10 individually wrapped wipe packets. The individually wrapped packets are the ideal size to carry a few in your purse, diaper bag, or even in your car.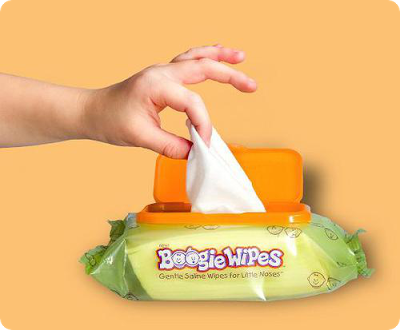 Enter below through the rafflecopter form to win your very own Boogie Wipes! One lucky reader will win (2) packs of 30 count Boogie Wipes in Fresh, Grape, Menthol, or Unscented.
Disclosure: I received this product from Boogie Wipes for my consideration and to share my honest opinion and experience. I am under no obligation to post a positive review on them. I will not be compensated for this review. As always, opinion are my own!