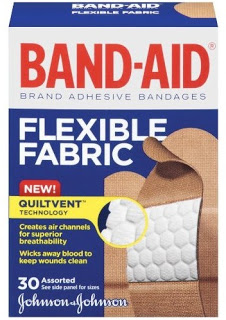 Every day, kids go out to recess or to physical education classes, where they play games and sports that can result in small cuts or scrapes. It's better to be prepared and be able to cure small wounds since it's impossible to prevent all accidents. Since Toodie started school earlier this year, each week she seems to come home with a new scrape from the playground. I usually do the "I'm A First Time Mommy" freak out, but inside I know that she's a kid and it's bound to happen. It's just part of growing up. I've learned to have my mommy kit prepared and packed full of everything I need to take care of the re-occurring boo-boo's. The one essential item I always make sure to have on me are Band-Aids. I don't think I can even count how many boxes of Band-Aids we go through each month. I would like to say that Toodie uses them for scratches and scrapes ONLY, but she enjoys wearing them as fashion accessories as well! Band-Aids are an essential back to school item that all parents should have handy in preparation for minor accidents.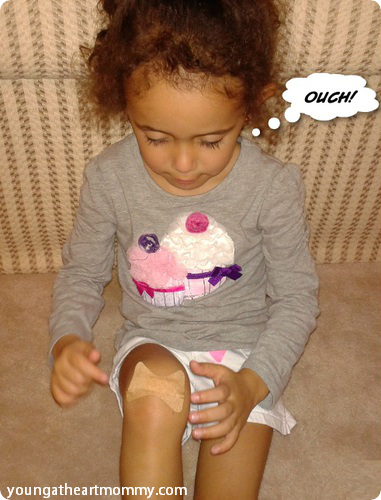 Band-Aids are well known and dependable. They offer many benefits and protect even the smallest injury from becoming infected. By creating air channels for superior breathability, cuts are kept clean and bacteria free helping them to heal quickly.
The Band-Aid Flexible Fabric Quiltvent Bandages are made with a

unique Memory Weave fabric that moves with you for extra flexibility, better fit, and greater comfort. This means that even when your children are back to being active, the bandage will not fall off or be affected by play. The full width pad adds extra protection for the wound and makes removal gentle. These are great is you have a child that loves to play outdoors or is constantly moving. The bandage won't only move with them but it will give the wound that extra cushion. Toodie is always banging up her knees and the Flexible Fabric Bandages do a nice job of making the area more comfortable.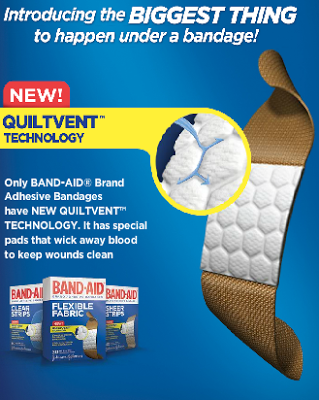 If you're short on your Band-Aid supply or would love the extra preparation, you can enter below to win boxes of your own. One winner will receive (4) boxes of Band-Aids to keep the boo boos protected during the new school year!
Disclosure: I received the product above for my consideration and to share my honest opinion and experience. I am under no obligation to post a positive review on them. I will not be compensated for this review. As always, opinion are my own!