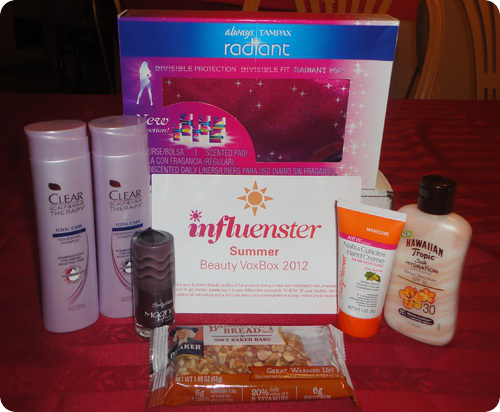 Summer Beauty Vox Box 2012
Hawaiian Tropic Silk Hydration Lotion Sunscreen SPF 30
Tampax and Always Radiant Collection
Quaker Soft Baked Bar in Banana Nut Bread
Sally Hansen Magnetic Nail Color
Sally Hansen Nails and Cuticles Hand Creme
Based on demographics, select Influensters also received:
Clear Scalpy & Hairy Beauty Therapy

( Shampoo & Conditioner)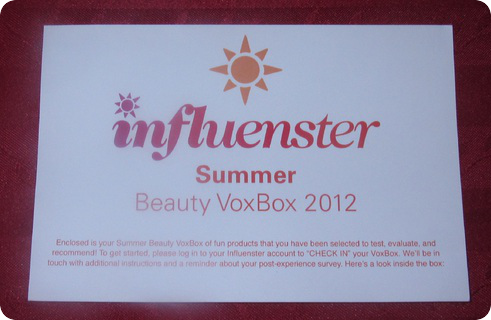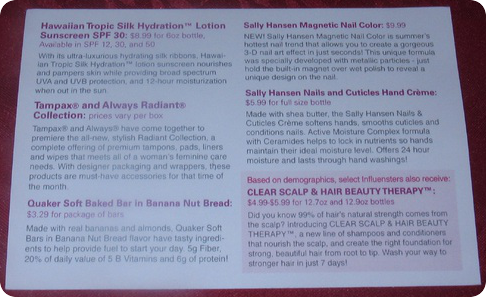 The Summer Beauty VoxBox came with a lot of new things I haven't tried before. I didn't expect this box to arrive so soon since I just received my Mom VoxBox weeks ago. I am still busy testing out all of those products! Now I have double the products to try, which is just an extra perk. This is what makes the program so unique. The more active you are, the more boxes you will qualify to receive.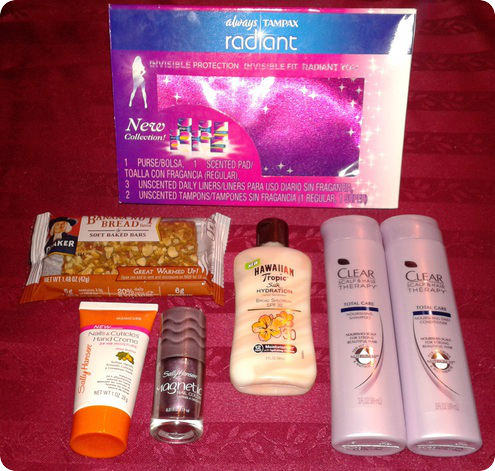 While I am excited to try all of these products, the one thing that stuck out to me first was the Sally Hansen Magnetic Nail Color. I have seen this nail polish before in the store but never could bring myself to buy it. Magnetic Nails are HOT right now and all of the popular nail polish brands are dabbing into the trend. Within minutes of painting your nails all you have to do it place the magnet over top to get the 3D nail art that so many are raving about. The color that I was sent to try is "Polar Purple." Influenster must know that I love purple-y polishes.
Yes, I just couldn't resist painting one nail and giving it a try! On a side note- this stuff drys super quick. I think it's a winner because I HATE siting around waiting for my nails to dry.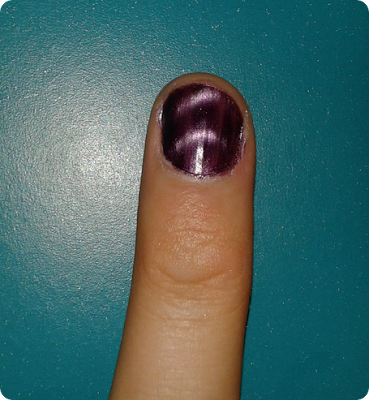 On top of the nail polish there are several other products in the box that I am interested in trying- like ALL of them! As always, reviews will be up soon.

Disclaimer:
I received the products in this post compliments of Influenster for the purpose of reviewing and sharing my thoughts, however all opinions are my own.