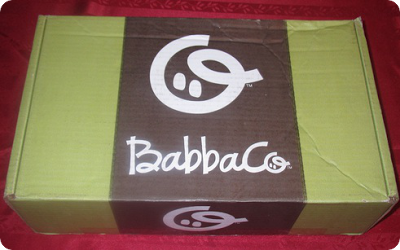 If you read my previous post about my upcoming BabbaBox review- then you have reached the right place! My Babbabox arrived last weekend and we wasted no time in getting started with all the activities it offered. The contents were wrapped in Babbaco tissue paper with a description sticker of this month's theme. July's theme is "Sun,Moon, & Stars!" If you are interested in reading my thoughts on my first experience with Babbabox then continue reading. I also have a giveaway for one of my lucky readers at the very end!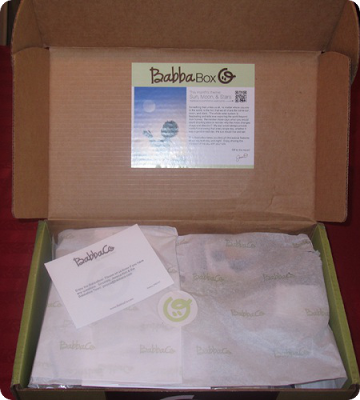 Besides the description, the box also came with an informational card telling you what was inside. One thing that came off as very exceptional was the fact that each activity has a small picture underneath to tell you what developmental skill you child will be benefiting from.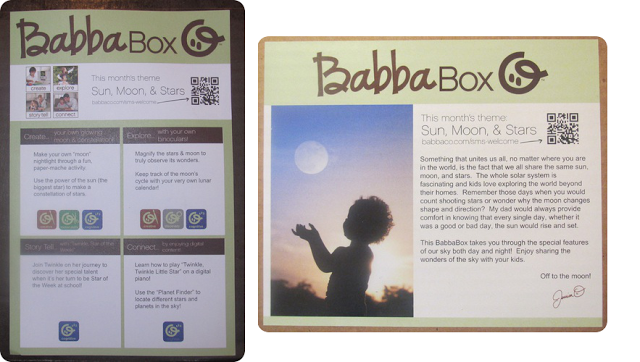 The Babbabox has so many positive features to highlight, I'm not even sure where to begin! The thing that I love the most about it is you are not just getting random crafts or activities. Each box is themed and put together with care. Everything included is not only fun, but also educational. You're child will have numerous things to do and be learning at the same time. What parent wouldn't love that? It's a win-win situation.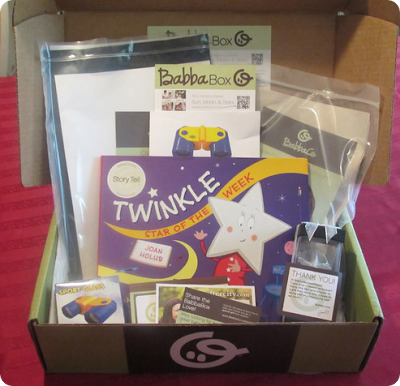 Also, everything is packaged individually and contains all that you need for each project. No running around to make sure you have all your supplies because Babbabox comes with all of the products you need. Now let's take a closer look into the "Sun,Moon, and Stars" themed box this month.
This book could not have made it's way to our collection at a better time. Toodie has been signing "Twinkle Twinkle" on a regular basis and she knows all of the words.We read the whole book together and she was intrigued by all of the colorful and detailed illustrations. "Twinkle, Star Of The Week," is all about Twinkle the star and her fellow classmates becoming superstars by sharing their special talents and hobbies.
As a mom, I thought that the story was very cute and well written.
Whenever I can get Toodie to sit and pay attention all the way through from start to finish, I know that it's a book to keep around! This is just the first item we pulled from the BabbaBox and I am already pleased.

Next up, an educational craft that fits perfectly with this month's theme. The "Create Your Own Moon" project allowed Toodie to make her own paper-mache moon nightlight. Everything we needed came inside a big ziploc bag along with easy to follow instructions. After mixing up the glue paste, Toodie ripped up her strips of paper to cover the balloon with. This was our first time using paper-mache and I was surprised it wasn't too messy.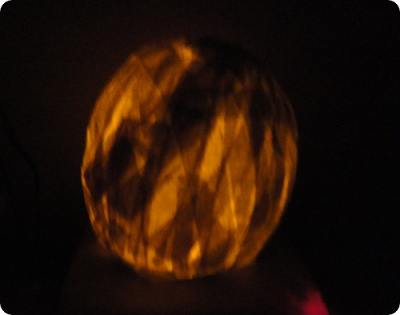 After her moon was formed, dried, and lit – Toodie had a new nightlight for her room. As you can see, it gave off a fairly good amount of light. Using the tea light to brighten the Moon formation was a genius idea! Makes me wonder why I never thought of doing something like this before?! Very cool I must say..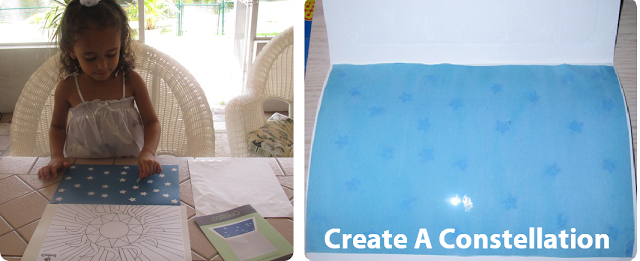 The next day Toodie worked on making her own constellation. At three she has no concept or understanding of what a constellation is but she did make a a star scattered sky instead! She placed the star stickers on the solar activated paper. We let it sit in the sun for a few minutes before removing the stars. Toodie was fascinated by this project and watching the paper change colors.

At night it was time to observe the moon and stars. Toodie used her binoculars and colored in the moon's shape on her lunar calendar.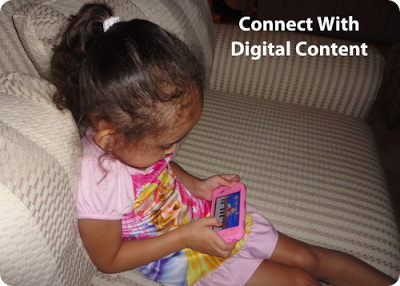 Last, but certainly not least, our box came with a QR code to access extra content. Toodie was able to learn how to play "Twinkle Twinkle" on a digital piano. She also explored the planets and stars closer.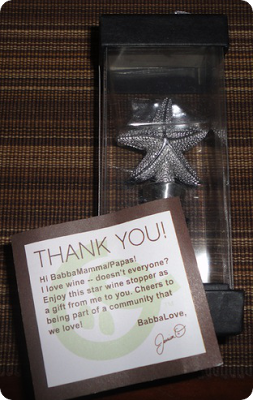 They also sent a little gift for us mom's out there. To wrap up the theme, I received a star shaped wine topper! That was a nice surprise.
I am beyond happy and impressed with my BabbaBox experience. Kuddos to Jessica Kim for creating such a brilliant idea. As a mom who does crafts with her child regularly, this box is well worth the price. The BabbaBox is organized, packaged with care, and contains stimulating activities for your children. Also, remember that you are not obligated to purchase the BabbaBox on a monthly basis. You can buy and try- even purchase on annually! I personally spend $30 or more a month of craft supplies, and most of the time I have to make a second trip. For $30 you are getting numerous projects and you are given every item you need to complete them.
If you are interested in trying the BabbaBox yourself the following code will score you 20% OFF your first box.
Want to win your very own BabbaBox?
Please enter through the rafflecopter form below!
Disclosure: I received a free BabbaBox to review and provide insight on my experience. BabbaCo also provided me with a Babbabox to give away to one of my readers. All opinions are honest, un-cut, and my own!